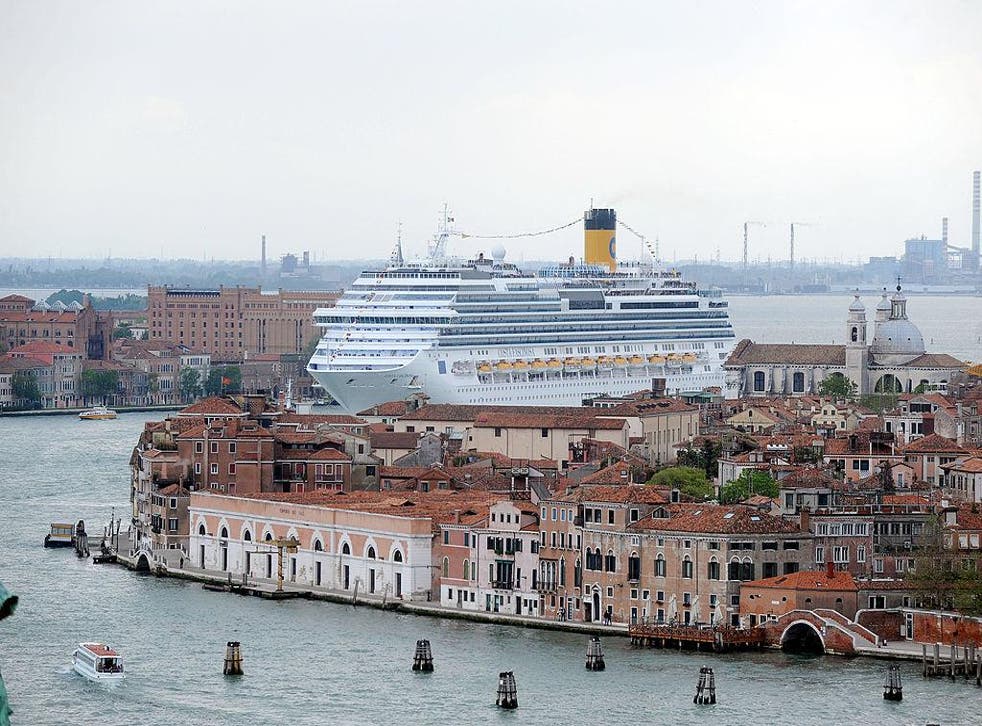 Venice during the summer is 'like war', according to tourism chief Paola Mar
Exclusive: 'Our hands are tied', Paola Mar tells The Independent about the effects of mass tourism
Julia Buckley
Monday 31 July 2017 16:55 Comments
"In July and August it's like war," says Paola Mar.
The woman in charge of tourism in Venice has a tough gig. An architect by trade, Mar must tread a gossamer-thin line between the needs of a globalised world that thinks canalside selfies are a human right, and increasingly furious locals, protesting about being pushed out of their jobs, homes and city in favour of Airbnbs, souvenir shops and an incessant stream of people wearing cruise-ship stickers and following umbrella-toting guides.
This month, she successfully saw off a threat from Unesco to add Venice to its "at risk" list, where it would have joined Aleppo, Damascus and Vienna. The Austrian capital was a shock addition to the list, taking the slot which everyone was convinced had Venice's name on.
Tourists behaving badly in Venice

Show all 13
But today, she's less bothered about Unesco than she is by the influx of tourists that swamps the city every summer, and is in full force this Tuesday lunchtime (60,000 visit Venice every day, dwarfing the 55,000 residents). And she's not talking about cruise ships – the "grandi navi" which have become a byword for Venice in peril – or the tour groups which commandeer gondolas by the dozen. According to Mar, the major issue is day-trippers from Italy's holiday resorts.
"We're two hours from Trieste," she says, drawing me a map. "We're one hour from Lake Garda, 90 minutes from Cortina, two hours from Rimini. This is the problem."
When it rains, she says, people on Adriatic beaches pack away their deckchairs and go to Venice. When they get bored midway through their holiday, they go to Venice. When they're looking for days out, they go to Venice – often in boats laid on by local tour operators. And they don't spend a cent.
"The problem is that Venice is perceived as a beach," she sighs. So they bring packed lunches and squat on steps and canalside and in St Mark's Square to eat them. They don't buy anything. And they often arrive in swimsuits, because they've stepped from the sunlounger onto a boat which delivers them straight to the Riva degli Schiavoni waterfront. She calls them "mordi-fuggi" tourists – eat and run. And she says the tourism problems that are swamping the city must be "confronted 360-degrees".
So what can she do about it? The airwaves are rife with suggestions: increase tourist taxes (which are currently levied only on those staying overnight), imposing an arrival tax on journeys ending here, or ticketing entry to what used to be La Serenissima – her serene highness – but is today more like Disneyland-on-Sea. But it turns out outsider meddling is another crucial issue she has to tackle.
She rolls her eyes when I helpfully suggest a tax on people arriving by train or boat to the city, to hit the day-trippers.
"Everyone says this," she says with a polite smile. "Everyone comes up with ideas. Do you not think we've thought of that?"
EU freedom of movement rules, she says, mean they can't charge people to enter the city. The Italian constitution won't allow that either. "We can't close the city," she says.
They can't increase the "tassa di soggiorno" – overnight tax – either, because those rates are set nationally. "Our hands are tied," she says miming manacles. Although there is one thing they can do.
Talk of introducing ticketing for Piazza San Marco did the rounds around the world in May when it was first brought up in a council meeting, but Mar insists that's not on the cards – at least, for now. "Look me in the eyes, because this is important," she says. "I don't want to do that now. But the only place that could be closed in this city is Piazza San Marco."
The square – which Napoleon is said to have called "the drawing room of Europe" – is designated a "sito monumentale vincolato" – or enclosed monumental site. As such, it's the only place that could legally be closed off and ticketed. Mar has ordered people-counters to be put in place this year to track visitors in and out of the square.
"I have no intention of doing that," she says about ticketing. "But this is the first time we've looked at tourism as a whole. We need to know all the possibilities. Then we can choose."
In the meantime, they've unleashed plan B – a behavioural campaign aiming to shame tourists into behaving properly – and inspire them to travel responsibly. Things like swimming in the canals, attaching "love locks" to bridges, picnicking in public places and riding bikes through the city – which Mar says she's seen personally – can now be met with hefty fines of up to €500. Equally, people are encouraged to keep to the right when walking, not pause on bridges, recycle, and buy from artisans rather than the trashy souvenir shops which many locals say are the final straw for the city.
The #EnjoyRespectVenezia campaign, as it's known, also encourages people to get off the beaten track. "Venice isn't just Piazza San Marco and Rialto," she says. "For me, the beauty of Venice is losing yourself. You only need to turn a corner and you find the spirit of the city that's alive."
Whether the campaign will actually spur people off the beaten path remains to be seen, of course. Mar's ideas of sending tourists to learn stand-up rowing – "voga alla veneta" – or glass-blowing on Murano can sounds like wishful thinking, given that many people come as a one-off for an afternoon, the Chinese and Japanese spend on average 1.5 days in town, and the French, English and German only eke out three.
On the plus side, she says, the campaign will give ideas on where else to go via social media. Plus, it has a precedent. A similar campaign they tried at Carnival time seemed to have an effect – or, at least, saw a lot of retweets.
The 12 golden rules of the #EnjoyRespectVenezia campaign will be put on posters and flyers around town, pushed on social media and – if all goes to plan – pop up every time someone books a trip to the city through a site like Booking.com or Expedia. The cumulative effect, she hopes, will shame people into behaving responsibly. And if they don't, she's hiring more police for the summer to hit them with those fines.
Tourism is important to Venice, Mar insists – and not just for economic reasons. "This is a place where you've always met people," she says. "It was the first place in Europe to be a melting pot. We had the first Jewish quarter; the Fondaco dei Tedeschi [a former German trade hall-turned luxury department store] was a big place for meetings and diplomacy in the 15th century.
"But it depends on the type of tourism. We want slow tourism, not mordi-fuggi types."
They also want legal tourism, and are working on a crackdown of illegal lets and B&Bs. They're in talks with Airbnb to discuss what can be done, and are launching a hotline for locals to call if they suspect a property is being sublet illegally. Unlike other Venetians, she doesn't have a problem with the Airbnb model in theory – "Who sold the apartments in the first place? It's easy to talk," she counters when I ask what she has to say to locals protesting about a lack of affordable housing, now that foreigners have snapped up half the city.
She looks aghast when I ask why she doesn't follow in the footsteps of Barcelona, whose mayor has openly told people not to visit. How very un-Italian! But also, she points out, how useless. "Have people stopped going to Barcelona?" She shakes her head. Crowd control Venice-style, she is adamant, must be carrot as well as stick.
In the meantime, she's consulting with locals as well as doing practical things like opening a new picnic area, and producing maps showing where you can eat without being fined and the location of public toilets (another gruesome issue for Venice).
But mainly, it's about changing people's behaviour. Nobody is saying we need to turn intellectual art critic instead of tourist, she's at pains to point out – she's partial to a holiday selfie herself, she says, and insists that "we can never go back" to a time before mass tourism – but the problem for Venice is that "it's an international stage. If you do something stupid here, you go viral overnight." Two weeks after we meet, a group of Belgian teenagers posted a video of themselves leaping into the Grand Canal. They went viral – though had the grace to apologise after they'd reaped criticism as well as online adulation.
In the meantime, Mar is bedding down in the trenches for the August warfare. Where most Italians decamp to the beach for the entire month – as she tried, last year, only to find herself tethered to the phone, discussing the latest outrage to be committed by visitors – she'll be patrolling the city, monitoring whether her campaign will have any impact. "August will be the worst," she says, having just walked past pontoons lined with picknicking tourists and pushed through thickets of selfie sticks to reach her office on the Grand Canal. I can almost feel her shudder.
The issues with Unesco aren't over – Venice has been granted two years to get its act together before they revisit the "at risk" list – but in the meantime, people are watching. They've been chosen as a pilot project for "safeguarding", she says – the Italian government has given them €10m to monitor the flow of visitors – and they're joining forces with Florence and Rome to lobby together as "cities of art" in the hope that they might be treated differently than other places regarding issues like tourist tax. "We want to be seen as a world apart," she says. "I talk to colleagues to work out best practice."
But for now, it comes down to manners. "When I go abroad, I inform myself about how I should conduct myself," she says. Whether she can persuade others to do the same remains to be seen.
Register for free to continue reading
Registration is a free and easy way to support our truly independent journalism
By registering, you will also enjoy limited access to Premium articles, exclusive newsletters, commenting, and virtual events with our leading journalists
Already have an account? sign in
Join our new commenting forum
Join thought-provoking conversations, follow other Independent readers and see their replies