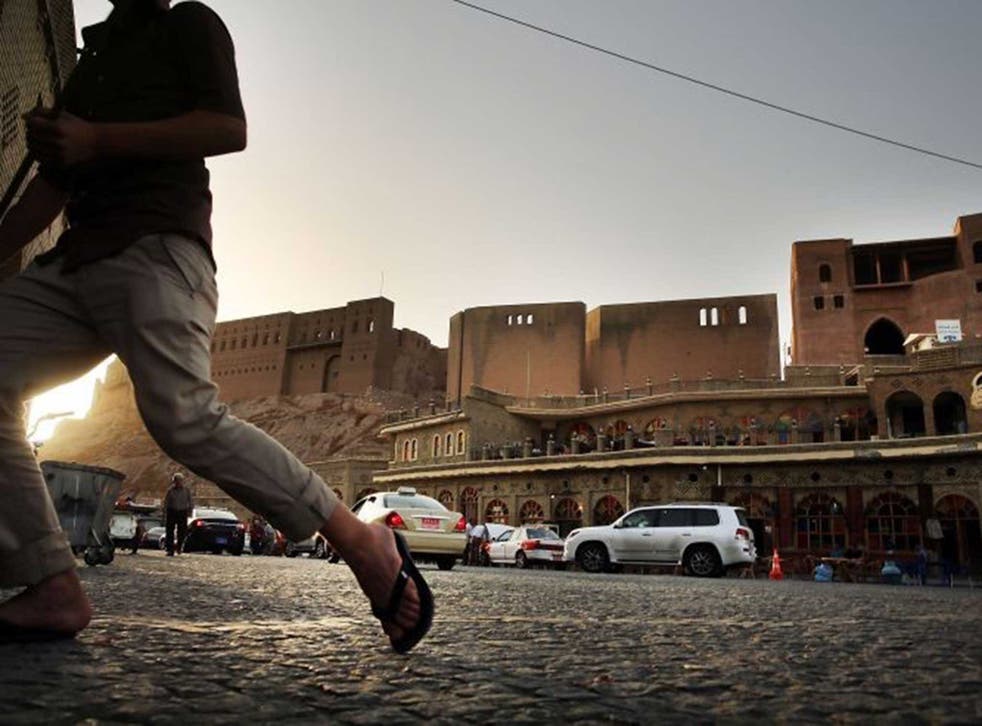 Weary? In need of some sun? Relax and unwind with a trip to... Iraqi Kurdistan
In spite of Islamic State, a Wigan travel agency reports a surge in demand for its trips to the region
A holiday in an area under threat from Islamic State militants is probably not most people's idea of a relaxing break. Yet a UK tour company is reporting a "massive increase" in bookings for trips to Iraq.
Wigan-based Lupine Travel has had demand for its tours to Iraqi Kurdistan treble following the recent escalation of the threat to the region by IS, and has taken about 100 bookings in a few weeks.
The agency's owner, Dylan Harris, has filled the forthcoming tour in October and two trips in May and October next year, each taking 30 people. As there are a further 40 people on a waiting list, he is thinking of running two additional tours in December and February.
Mr Harris, 35, said that while the Iraq trip had proved popular since it launched a year ago, he was "really surprised" by the recent surge in interest. "Generally when things like this happen, the numbers go down," he said. "I also do trips to Ukraine, which was my most popular trip until this year, and this year it's just gone crashing down. Nobody wants to go there. Iraq looks a lot more dangerous, so you'd think there would be less interest, but for some reason there is a lot more."
He said recent bookings were from a mix of "thrill-seekers" who perceived the trip as dangerous, and charity workers keen to check out how their organisations might get involved in the region in the future.
The nine-day October tour, which costs £749 excluding flights, will start in Diyarbakir, Turkey, before crossing into Iraqi Kurdistan. Sights include the city of Erbil with its ancient citadel, a journey along Hamilton Road past gorges, canyons, lakes and mountains; and a sombre stop at Amna Suraka in Sulaymaniyah, where Kurds were imprisoned and tortured under Saddam Hussein's regime.
The Foreign and Commonwealth Office (FCO) currently advises against all travel to Erbil city and all but essential travel to the other areas in Iraq visited on the tour.
"The closest we get [to the trouble] is Erbil," said Mr Harris, who carries out background checks on the people going to Iraq and has offered to send their names to the FCO. "A couple of weeks ago we were waiting to cancel it because IS were getting very close, but the air strikes have knocked them back quite significantly now.
"We're getting updates by the day from each separate destination, so if it ever got to the point where it was looking too dangerous there is no way I would travel. The trip would be cancelled. But everybody knows that already and understands the situation."
Mr Harris is arranging to add visits to refugee camps in Duhok to the tour. "I know it can be seen as a bit voyeuristic but we're going to find out what these people need," he said. "We're going to ask people to bring stuff over to donate. It gives people an idea of what it is actually going on, and the scale. There are two million refugees over there. It's all well and good just hearing the figure but actually seeing it for yourself, hopefully it can help people to better understand."
Lupine Travel, which launched in 2007, specialises in "unique destinations", including Iran, Turkmenistan and Chernobyl in Ukraine. The company also has an office in Dandong, China, on the border with North Korea, which recently surpassed Ukraine as its most popular destination.
Join our new commenting forum
Join thought-provoking conversations, follow other Independent readers and see their replies