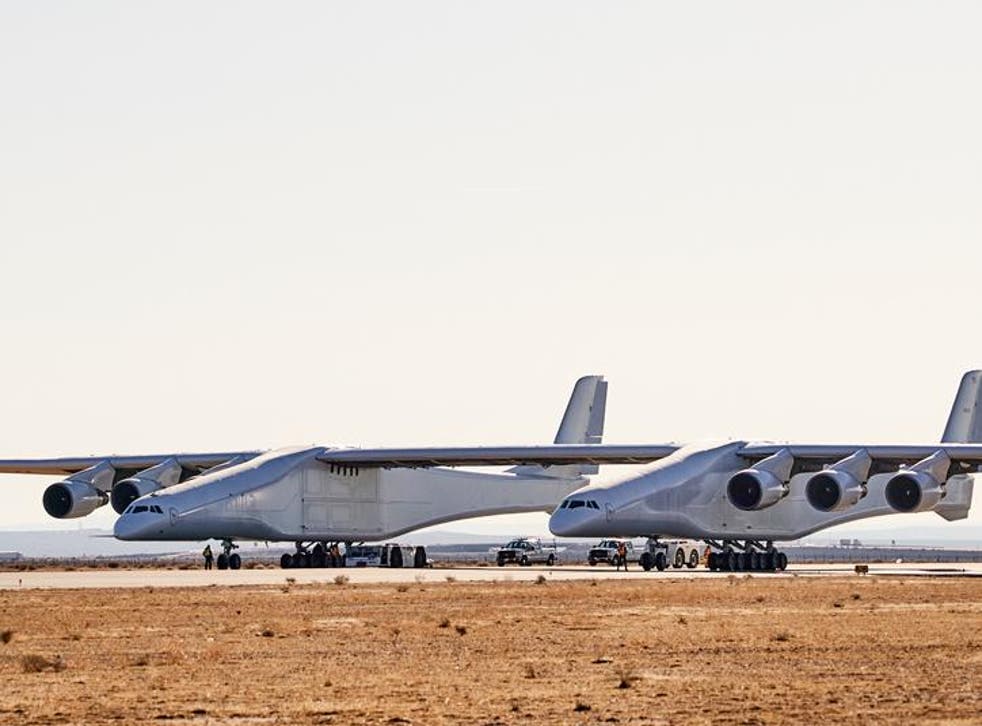 World's largest plane with wingspan bigger than football pitch to take first full flight
Stratolaunch currently under testing in Mojave Desert to reach necessary take-off speed
The largest plane ever built – backed by Microsoft co-founder Paul Allen and his company Vulcan Aerospace – is set to take full flight for the first time within months.
Known as Stratolaunch, the huge aircraft is so big that it requires two cockpits and six jet engines to take off.
The aircraft also has a wingspan of 385 feet, over a hundred more than the average football pitch.
Its six Pratt & Whitney PW4056 747 jet engines are used to power a monster jet with 28 wheels that weighs 580 tonnes when fully loaded with a rocket payload.
It is believed the plane may be used to launch a rocket under the codename Black Ice. Initial details of the project were announced in early 2018; Black Ice is set to be a reusable rocket plane the same size as the NASA Space Shuttle orbiter.
In 2017, Paul Allen revealed his ambitions for the huge aircraft.
Speaking to the Washington Post, he said: "I would love to see us have a full reusable system and have weekly, if not more often, airport-style, repeatable operations going."
When asked about the possibility of manned missions, Allen added: "If you caught the bug back in the Mercury era, of course it's in the back of your mind.
"But I think you're seeing right now, other than [space station] resupply missions, most space flights are about launching satellites. That's the reality."
An announcement was made at the 34th Space Symposium in Colorado that Stratolaunch was being prepared for a maiden flight this summer.
To date, it has undergone two taxi tests with top speeds of 28mph and 46mph, while another is planned to see if it can achieve 138mph, the necessary speed for successful take off.
According to the Stratolaunch website, the aircraft is currently under construction at the Mojave Air & Space Port in the Mojave Desert, California.
The company aims for it to be fully operational by 2020.
Allen has been involved in space flight projects for several years. He funded SpaceShipOne, which was the first private spacecraft to carry a civilian into space and back.
Commercial space travel has been mooted by various companies and individuals for many years. Richard Branson's Virgin Galactic initially aimed for a 2017 launch. While this has yet to be achieved, the company plans to roll out commercial space flights in the coming years.