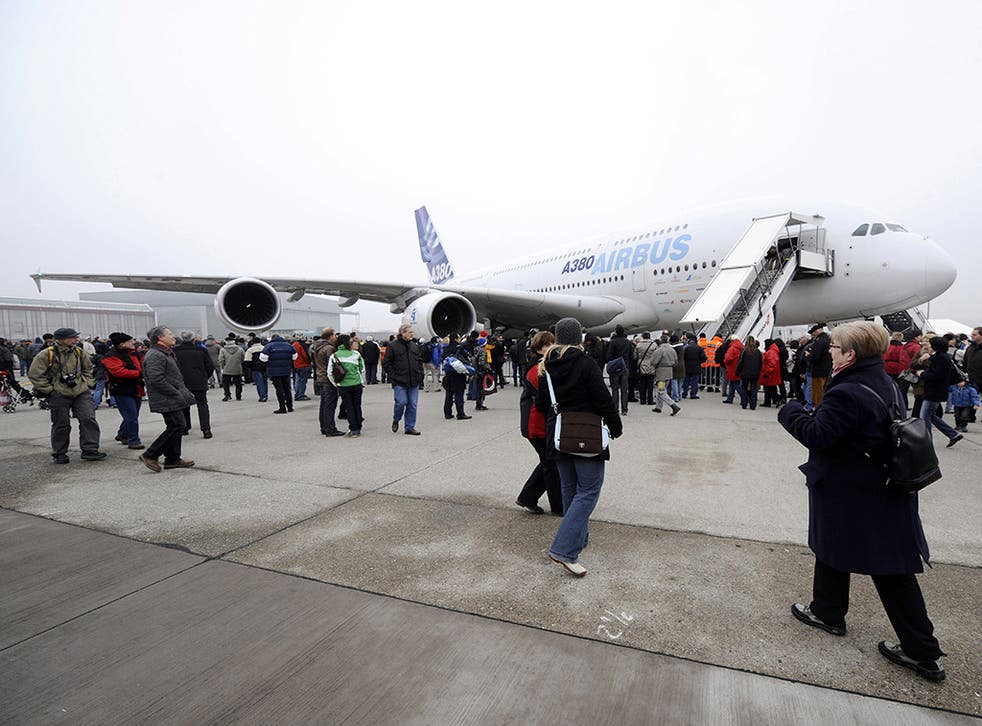 Sharing a plane with 614 other passengers is soon to become a reality
Some airlines are even considering an 11-abreast configuration on the Airbus, something that has not been used in any other aircraft
The world's biggest passenger plane, the Airbus A380, is finally to overtake the rival Boeing 747 for the highest number of passengers carried in scheduled flight. Emirates is soon to take delivery of a two-class version with 615 seats, and will start flying the plane between Dubai and Copenhagen in December.
The Boeing 747 Jumbo jet transformed aviation when it entered service in 1970 with a flight from New York to London. The plane typically holds 350 to 400 people, but a specially adapted version for Japan Airlines carried 563 passengers on short-haul flights.
The A380 "Superjumbo" started flying commercially in 2007. It is significantly bigger than the 747, and is certified to carry up to 853 people in an all-economy arrangement. But no airline has so far configured it with anything like that capacity. Korean Airlines has only 407 passengers on its Superjumbo, while some Air France jets carry 538.
Emirates is the biggest customer for the plane, and has installed facilities for first-class passengers such as an inflight shower. At present the densest passenger configuration is a version seating 517. It includes 14 first-class seats, which in the new version are being removed to make room for seven times that number of economy seats. Many of Emirates' routes do not have a high proportion of wealthy flyers or business passengers, and the thinking is that the new version is the most efficient use of on-board space.
The new configuration retains the 10-abreast economy class that is common to the A380 and the 747.
Some airlines are considering an 11-abreast configuration on the Airbus, something that has not been used in any other aircraft. But Emirates is believed to have dismissed the idea.
The highest number of passengers ever carried on a single aircraft is 1,122, aboard an El Al Boeing 747 in 1991 during "Operation Solomon," to airlift Ethiopian Jews to Israel.
Join our new commenting forum
Join thought-provoking conversations, follow other Independent readers and see their replies