Traveller's Guide: Skiing in Italy

Show all 8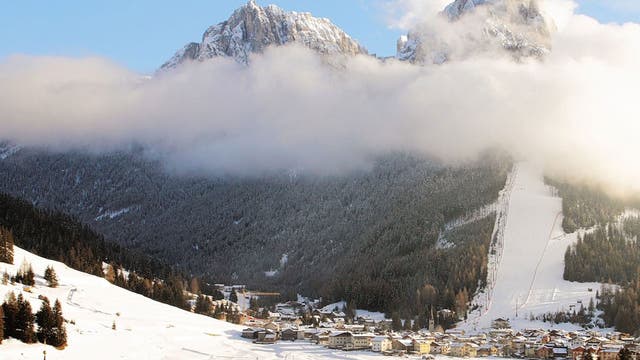 Traveller's Guide: Skiing in Italy
You are spoilt for choice on the sunny side of the Alps, with vast high-altitude linked terrain in the north and the chance to ski in Sicily in the south, says Patrick Thorne
Italy is perhaps the least well known of the "big four" Alpine skiing nations. Like France, Austria and Switzerland, it is home to more than 300 ski areas. Well-known resorts include Bormio, Cortina d'Ampezzo, Courmayeur, Madonna di Campiglio, Sestriere and Val Gardena. However, its ski areas are more widely distributed and more diverse.
"Italy offers excellent value for money, historic resorts, family-run hotels and great food and wine," says Ian Davis, the enthusiastic product and distribution director for Crystal Ski, which operates in 18 Italian resorts. "The snow-making and grooming is outstanding, there are minimal lift queues and relatively short transfers."
Crystal produces an annual survey of ski-holiday trends. According to this year's edition, 15 per cent of all skiing breaks booked by Britons last season were to Italy, making it our third-most-popular destination nation after France and Austria.
The main tour operators offer holidays to larger Italian resorts in the north-east and the north-west of the country – to the Dolomites and the Alps, respectively. In the Alps, Italy shares Mont Blanc – or Monte Bianco – with the Chamonix Valley in France and the Matterhorn – or Monte Cervino – with Zermatt in Switzerland.
Yet there are dozens more small ski areas spread along Italy's spine, including weekend resorts for Romans and Neapolitans in the south of the country. There are two ski areas on the volcanic Mount Etna on Sicily and even a few drag lifts on Sardinia (00 39 0784 30083; www.bruncuspina.it).
However, it is wrong to think that all Italian resorts are small-scale, traditional centres. Although the French have created more purpose-built resorts and bigger ski regions over the past 50 years, the Fiat car company was responsible for the first specially built centre: Sestriere (00 39 0122 79 94 11; vialattea.it) in 1934. This now sits at the heart of one of the world's largest ski areas, the Milky Way, with 400 kilometres of pistes spilling over the border into France. It was also the main host of the 2006 Torino Winter Olympics – the last Winter Games staged in Europe.
On the other side of northern Italy, the Dolomites are seen by many as Italy's greatest asset for skiers. The mountains are among the most spectacular anywhere in the skiing world: mighty precipices of pink granite stretching up for thousands of metres, to create a spectacular backdrop to every snapshot.
The Fassa Valley, a training ground for Italian Olympians, is one of the best in the region. Cosmos (0871 902 5838; cosmos.co.uk) offers a week in the four-star Astoria Hotel in Canazei in the very off-peak week of 11 January 2014 for £735pp half board, with flights from Manchester.
Useful staples such as pizza and pasta make Italian resorts a good choice for families with fussy younger diners. However, that stereotype ends at Alta Badia (00 39 0471 836176; altabadia .org) which has built a reputation as a gourmet heaven under the banner "A Taste for Skiing".
The area is home to several Michelin-starred chefs. But rather than hide away in their gourmet restaurants, there is a vast array of culinary-themed on-snow options to consider. They range from high-calibre "powder breakfasts" through to dine-around gourmet lunch passes for multiple mountain huts, as well as local wine-tastings and culinary safaris.
Neilson (0844 879 8155; neilson.co.uk) has a week's off-peak half board in the four-star Sport Hotel Panorama in Alta Badia, departing on 4 January, for £1,315pp including flights from Gatwick and transfers.
Cross-border skiing
With its long border, you can ski into (or out of) Italy at half a dozen places. Along with the Milky Way link, there's a second route to France with La Rosière linked to La Thuile (lathuile.net) in the Aosta Valley.
It is a popular option for people in search of heli-skiing (which is banned in France) and for kite-skiing on the windy border plateau. Interski (01623 456 333; interski.co.uk) offers a week's fully catered stay at the Chalet Alpina with flights from Gatwick and transfers for £769, departing on 11 January.
Alternatively, from Cervinia (00 39 0166 949136; cervinia.it) you can take a lift up to Zermatt (00 41 966 8100; zermatt.ch) in Switzerland, accessing some of the world's biggest lift-served verticals. The lift pass for the joint area also costs substantially less when purchased in euros rather than Swiss francs.
Free-riding in Livigno
Livigno (00 39 0342 052200; livigno.eu) built a reputation as Italy's alternative to Andorra, thanks to its duty-free status. More recently, it has reinvented itself as a family-friendly choice with three "Family Weeks" and the promise "Kids Go Free" this season. The first child (under 12) accompanied by two paying adults gets free accommodation, ski rental, ski school and ski pass, and a second child goes half price. The dates are not helpful for British families: the weeks start on 18 January, 22 March and 29 March.
Livigno is also capitalising on its long season and reliable snow to attract free-riders. Crystal offers a week's B&B at Hotel Caravasc for £409pp, departing Gatwick on 18 January.
Ski in southern Italy
There are half-a-dozen ski areas within 160km of Rome, in the Apennine mountains. One of the largest and best equipped, Campo Felice (00 39 0862 917 803; campofelice.it), is 120km from the Italian capital and has 30km of runs linked by a dozen lifts. While snowfall can be problematic in a warm year, it averages 80cm each winter and has robust snowmaking. Skiing on Sicily's Mount Etna is problematic because of volcanic activity and lightning strikes. However, two ski centres have battled through the natural disadvantages to run lifts on Europe's most active volcano. Etna Sud (00 39 095 911 158; funiviaetna.com) has a bigger lift-served vertical than Etna Nord (00 39 095 643 094; www .prolocolinguaglossa.it).
Ski safaris
The Dolomiti Superski region (dolomitisuperski.com) was the world's original giant area pass. More than 40 years ago, the area, which combines a dozen valleys with 1,200km of pistes, began issuing a single lift ticket for all. Today, it takes a quarter of the entire Italian ski market.
Most interesting for tourists, though, is that many of the valleys are interconnected. For example, the Badia, Fassa and Gardena valleys are linked around a 40km "hub" of pistes and runs known as the Sella Ronda. This allows for wonderful day trips, skiing from one to the next, always with the aid of ski-lifts. Some experts have estimated that 500km of pistes are connected altogether – making it the world's second-biggest ski area, behind France's Trois Vallées region.
You can make your entire holiday a ski safari. Dolomite Mountains (00 39 0471 840005; dolomitemountains.com) offers the chance to ski from "hut to hut", staying in comfortable mountain rifugios and three-star hotels en route. A week's ski safari from 16 March on half-board, including an accredited guide, lift pass, all local transport and luggage transfers, but excluding flights, costs £2,050pp.
Classic Cortina
An element of timelessness makes Cortina d'Ampezzo (00 39 0436 869 086; cortina.dolomiti.org) one of the world's great unspoilt ski resorts. The main pedestrian street, Corso Italia, is lined with designer shops and enticing restaurants. There are three main ski areas offering a wide range of terrain, including Olympic downhill race courses dating back to the town's hosting of the Winter Games in 1956, and the marvellous 8km-long Hidden Valley run.
You can stay at the exquisite five-star Cristallo (00 39 0436 881 111; cristallo.it), first opened in 1901 and beloved of Frank Sinatra and Peter Sellers (€1,960 for three nights B&B, from 2 December). Alternatively, and more affordably, Inghams (01483 791114; inghams.co.uk) offers the four-star Chalet Hotel Parc Victoria, a Cortina icon since 1892, for £499pp, departing 11 January, including flights from Gatwick to Innsbruck and transfers to the resort.
Travel essentials
Getting there
Besides the tour firms mentioned, Italian ski specialists include family specialists Esprit Ski (01483 371105; espritski.com), Ski2 (01962 713330; ski-2.com), Momentum (020 7371 9111; www.momentumski.co.uk), Thomson (0871 971 0578; thomsonski.co.uk) and Zenith (020 3137 7678; zenithholidays.co.uk).
For independent travellers heading to the north-western Italian Alps, the skiers' stalwart, Geneva airport, is closest to some well-known resorts including Courmayeur (aosta-valley.co.uk).
Turin is the better bet for Sauze d'Oulx (00 39 0122 850380; comune.sauzedoulx.to.it) and Cervinia, while Milan is the closest option for resorts such as Bormio (00 39 0342 901 451; bormioski.eu).
For the Dolomites, the options are more likely to be a drive through the Brenner Pass from Innsbruck or a shorter trip from Verona, while resorts on the southern side of the mountains, including Cortina, are closer to Venice.
Many bigger-name Italian resorts provide low-cost shuttle services to connect with flights. Madesimo (00 39 0343 53015; visitmadesimo.it) is offering free weekend transfers from Milan airports during December and January.
Join our new commenting forum
Join thought-provoking conversations, follow other Independent readers and see their replies