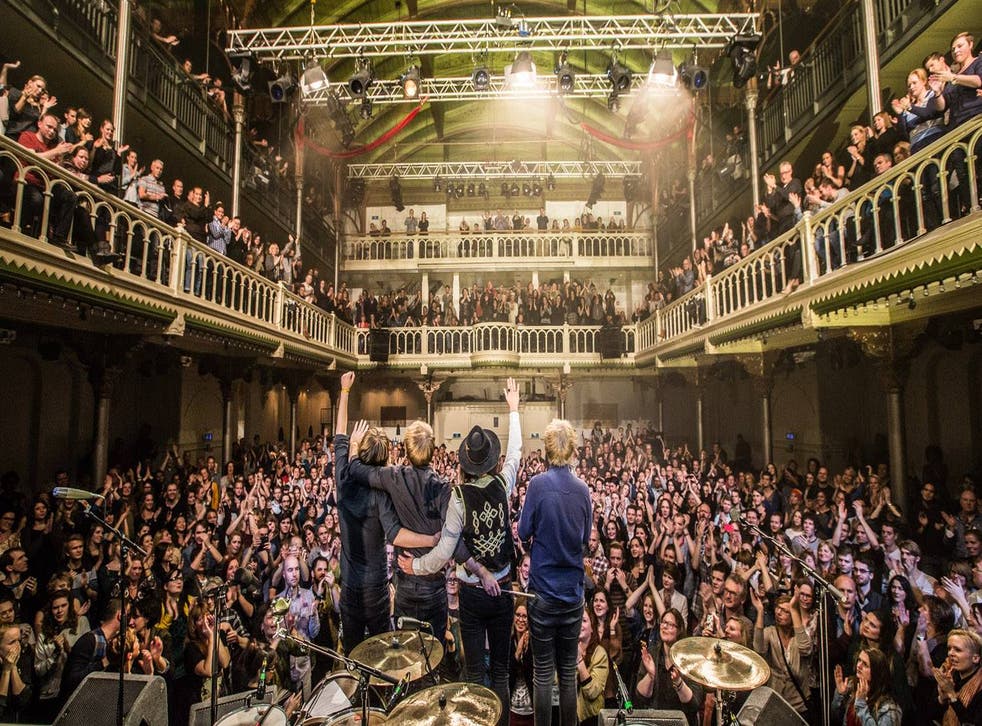 Top 10 bars and clubs in Amsterdam
It's been voted the 12th most fun city to visit in the world
To many tourists who indulge in Amsterdam's nightlife, the Red Light District and its many coffee shops are often the only entertainment they might discover, besides maybe a few cheesy bars in the city's centre.
However, away from the clichéd tourist hotspots, Amsterdam has a thriving club scene, one which is supported by a discerning, open-minded and dedicated clientele, together with several generations of musicians who have a global presence and the country's liberal approach to the entertainment industry, which allows for a more relaxed atmosphere in many of the city's club spaces.
In fact, the city's premier electronic music conference, ADE, recently celebrated its 19th year.
In the same week Amsterdam was voted the 12th most fun city to visit in the world, here's our guide to 10 of the best places to party in Amsterdam.
Trouw
Trouw is without a doubt one of Amsterdam's best club spaces, if not one of the most highly-regarded venues in the world. Ask anyone their top 10 clubs on the planet and you're likely to find that Trouw will be in the list somewhere (usually nearer the top). The building is a former newspaper printing press, converted to accommodate the very best in house, techno and disco, along with live acts, an art space and a sublime restaurant. The bad news is that it's only a temporary space and will cease to exist at the beginning of 2015. So make sure you get there as soon as you can, it is immense.
Wibautstraat 127
1091 Watergraafsmeer
Amsterdam
Chicago Social Club
One of Amsterdam's smaller music venues, Chicago Social Club is a two-floor affair and still pretty big. Its location is pretty central, just a minute or two off Liedseplein, one of the main squares, and so it is very easy to get to. Inside, the sound system is strong though not too overpowering and the musical programming is always on the ball – eclectic, contemporary and hugely appealing. Add to that their licence means they can keep serving their delicious cocktails until 4am and you've got an essential destination.
Leidseplein 12, Korte Leidsedwarsstraat
1017 Amsterdam
Paradiso
Another one of Amsterdam's large-scale dance music retreats, Paradiso's reputation is long-standing, having played host to some of the industry's biggest names during the last couple of decades. It has been open since 1968, so it has years of vibrations and frequencies embedded in the walls of its hallowed halls. Next January Kraftwerk will host their 3D concert at Paradiso over the course of nine evenings… which is incentive enough to pay it a visit.
Weteringschans 6
1017 Binnenstad
Amsterdam
AIR
A purpose-built club mecca, AIR has been going strong for a few years now and operates within a slightly more commercial realm than Trouw, which largely supports so-called 'underground' music. AIR bring in the likes of Pete Tong, Jaymo & Andy George and a host of local stars to get the dancefloor pumping. One thing to remember, the bars only accept 'Air cards', so make you sure you purchase one and load it up with cash before you consider getting the drinks in.
Amstelstraat 24,
1017 Binnenstad,
Amsterdam
Canvas
A great place to get warmed up for Trouw, Canvas is located on the seventh floor of the newly-opened Volks Hotel, which is literally opposite the jewel in Amsterdam's club crown. Their line-ups are always very enticing with names like Move D, Tyree Cooper and Dave DK booked in for November and plenty more besides. In fact, the bookings there are so good you may want to spend the whole night at Canvas and give Trouw a miss.
7th floor, Wibautstraat 150
1091 Watergraafsmeer
Amsterdam
Melkweg
Open for business since 1970 (way before modern-day music had ever been thought about) Melkweg is on the street parallel to Chicago Social Club and is pretty big with two main music rooms, a restaurant, a gallery and more space upstairs, where there are theatre rooms too. Which, of course, will tell you that it's a multi-purpose venue. Musically speaking, they cater for a wide range of visitors and styles, from the more commercial Porter Robinson to techno legends like Bart Skills. If you get the chance, make sure you go there for their 'Breakfast Club' event, where you can dine out on a lovely warm organic brekkie and then hit the club for a boogie.
Lijnbaansgracht 234/a,
1017 Binnenstad
Gashouder
A huge (3,500) capacity space with a raw, industrial feel. Gashouder is where techno music is really at home, and this is reflected in their programming with festival giants Awakenings taking charge of several mouthwatering events over the coming months. They include appearances from techno stars such as Richie Hawtin, Joseph Capriati, Dave Clarke, Adam Beyer, Seth Troxler and countless others. It is up there with the city's very best.
Haarlemmerweg 8-10
1014 Westerpark
NDSM Docklands
If you head up to the docks on jump on a ferry, then grab a taxi (or ride your bike if you've had the brainwave to rent one), you will eventually get to NDSM Docklands – yes, it is quite far away from the centre of Amsterdam but a little bit of venturing off the beaten path never hurt anyone. Also, it must be said that the journey to get there is more than worth it when you finally arrive and see what a jaw-droppingly massive venue it really is. It's expecially impressive when the DJs are in full flight, lasers cutting through the air, smoke plumes rising up to the ceiling and thousands of revellers all really going for it.
Kinetisch Noord, Tt. Neveritaweg 15
1033 Amsterdam-Noord
Sugar Factory
Located opposite Melkweg the Sugar Factory not only complements its neighbour with its name but also provides a respectable selection of local talents who play a range of house and techno every week. During ADE they had the likes of Black Coffee, Joe Claussell, DJ Jazzy Jeff, Soul Clap and DJ W!LD among others – being slightly smaller means the atmosphere is electric at times, the intimate surroundings giving way to a very social, friendly vibe. Be warned though, it gets pretty hot in there.
Lijnbaansgracht 238
1017 Binnenstad
Website
Studio 80
Studio 80 can be found right on Rembrandt Square in the centre of Amsterdam. It can be slightly difficult to find, with its inconspicuous doorway, but it's worth the effort. Line-ups at Studio 80 are always top notch, throughout the week from Wednesday until the weekend – the space itself is great too, a crisp soundsystem, fantastic light installations, raised platforms for the more flamboyant party people and two rooms. Again, on the smaller side, but with an atmosphere that is nothing but conducive to good times.
Rembrandtplein 17,
1017 Binnenstad
Amsterdam Dance Event celebrates its 20 anniversary in 2015, keep up to date on all their news via their website here
Click here to view tours and holidays in Amsterdam, with Independent Holidays.
Join our new commenting forum
Join thought-provoking conversations, follow other Independent readers and see their replies