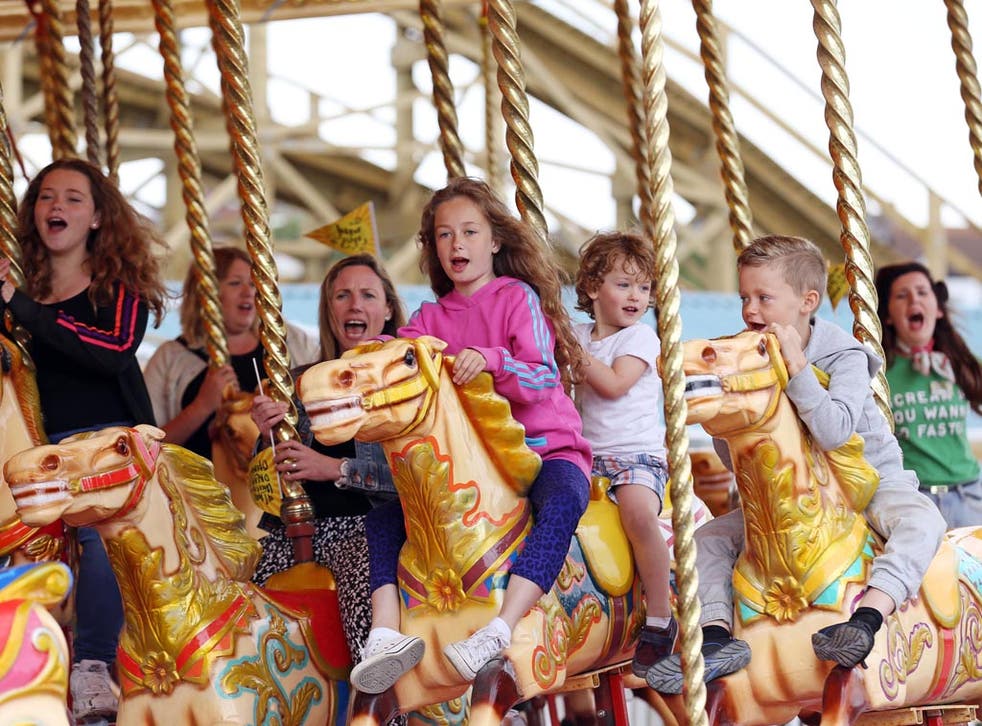 The UK's best new family attractions
From zoos and theme parks to castles and aqua parks, we've picked the top new ways to keep families entertained this summer
Tired of visiting the same old family attractions? Whether you're in Scotland or on the south coast, there's something new for the whole family that you may not even have even heard of.
With many of these options, it's significantly cheaper to book online in advance and you may even find tiny tots go free.
Dreamland, Margate
This Victorian pleasure park has undergone an £18m restoration and upgrade, steered by designer Wayne Hemingway, to recreate a thrilling amusement park from the past, including rides such as 1930s Caterpillars, 1940s Double Decker carousels, 1970s Chair-O-Planes and modern-day white-knuckle rides. I particularly love the classic twirling tea cups, each one paying homage to British Street Culture – Mods, Beatniks, Hippies. The park's famous heritage Scenic Railway will re-open later in the summer.
Adults from £14.95; children from £12.95. dreamland.co.uk
KidZania, Westfield London
This hotly anticipated attraction allows children to become pilots, firefighters, singers and more in this impressive make-believe world. With the ability to try out more than 60 real-life role-play activities, including fighting crime as a police officer, they learn skills such as as team work, independence, and even financial management.
Adults from £16.50; children from £28. kidzania.com
Shrek's Adventure, London Southbank
Hop onboard this 4D bus ride and let your favourite donkey take you on a journey. Shrek's Adventure takes you from the Swamp through 10 magical lands, where you meet Gingy, Puss-in-boots and the rest of the gang, along with many other familiar DreamWorks faces. Book early, as only timed slots are available.
Adults from £23.40; children from £18.72. shreksadventure.com
HMS M.33, Portsmouth Historic Dockyard
Adding to Portsmouth's already notable collection of maritime antiques, M.33 will join the ranks of HMS Victory and HMS Mary Rose on the Historic Dockyard in August. Launched in May 1915, she is the sole remaining British veteran of the Gallipoli Campaign, and the only British warship from the First World War that will be open to the public in Gallipoli's centenary year. Kids will particularly enjoy getting involved in the battle experience, which brings to life the ship's history, the stories of the men who served on board, and the history of Gallipoli.
Adults from £25.60; children from £18.40. historicdockyard.co.uk
Chester Zoo Islands, Cheshire
This July, Chester Zoo will open the most ambitious zoo development in the UK: an immersive re-creation of six South-east Asian islands and their biospheres. Islands opens up the natural climates of Panay, Papua, Bali, Sumatra, Sumba and Sulawesi, complete with carnivorous plants, prehistoric-looking birds and the impressive Sunda gharial crocodile.
Adults from £21.81; children from £18.18. chesterzoo.org/islands
Peak Wildlife Park, Staffordshire
This is Britain's newest wildlife park in Winkhill, near Leek, where visitors can get up close to wildlife ranging from penguins to wallabies and lemurs. There are four unique interconnected animal experiences that showcase endangered and exotic creatures from across three continents, and the park is involved in some impressive breeding programs for endangered species.
Adults from £7.95; children from £5.95. peakwildlifepark.co.uk
New Forest Aqua Park, Hampshire
The UK's first outdoor aqua park is situated in 50 acres of gorgeous New Forest countryside. Having launched in May, it's suitable for anyone six and over (you have to be 110cm in height too) and includes slides, see-saws, trampolines and even an ice-tower. Open throughout the summer, the attraction is part of a host of other activities including wake-boarding, water skiing and fishing.
One-hour sessions £15 each. newforestwaterpark.co.uk
Thomas Land, Drayton Manor, Staffordshire
Thomas Land has undergone a £2.5m expansion which has seen it grow in size by 40 per cent, with plenty of new rides and attractions. The new Sodor Airport complex has balconies offering spectacular views over the park, while the brand new Thomas VIP rooms have just opened. Watch out for events marking Drayton Park's 65th anniversary this summer too.
Adults from £20; children from £15. draytonmanor.co.uk/thomas-land
The Green Lady, The Edinburgh Dungeon, Scotland
The Green Lady is one of Edinburgh's more mysterious ghost stories, and the latest show to launch at Edinburgh Dungeon. Expect striking sets, dramatic special effects and theatrical costumes. The Dungeon also has a seasonal summer show, Where's Jack?, which follows the shadowy trail left by Jack the Ripper.
Adults from £11.25; children from £9.80. thedungeons.com/edinburgh
Dinosaur Uproar, Eden Project, Cornwall
The Eden Project is being taken over by a pack of beasts this summer, with the prehistoric programme featuring five times as many dinosaurs as last year's Dinosaurs Unleashed. Visitors to the project, which could not be more timely after the recent success of the Jurassic World film, can trek through caverns on an exciting adventure to meet rampaging reptiles. July 24-Sept 2.
Adults from £19.95; children from £11.20. edenproject.com
The Great Joust, Warwick Castle, Warwickshire
This action-packed, twice-daily show is bound to be crowd-pleaser this summer. Visitors watch knights cross lances and attempt to unhorse each other in a dramatic and colourful spectacle. Other new attractions at the castle include Horrible Histories: Wicked Warwick (a high-energy live show), Horrible Histories: Medieval Mayhem (historic characters telling gruesome tales) and Time Tower (an adventure quest through the castle).
Adults from £18.45; children from £16.20. warwick-castle.com
Surf Snowdonia, Wales
This revolutionary outdoor adventure produces the longest man-made surfable waves on the planet - up to two metres. It all happens in a lozenge-shaped lagoon roughly the size of six football pitches, in the lush green Conwy Valley in North Wales. There's a great surfside restaurant too.
Adults and children from £19 per hour; on site camping £100 per night B&B, sleeps four. surfsnowdonia.co.uk
Enchanted Village Forest Tree Top Quest, Alton Towers, Staffordshire
Alton Towers hasn't had great press lately, but there's plenty of reason to visit, particularly the new Enchanted Village Forest Tree Top Quest, a great set of high ropes and low ropes that families can enjoy together. Swing from the trees as you navigate through the forest, starting from the quirky turret tower. Includes nets, swing tyres, stepping stones and a zipwire through a tunnel.
Adults from £20; children from £16 (aimed at ages six and over). altontowers.com
Bee Garden, Butterfly World, St Albans, Herts
Butterfly World enables kids to see 800 different types of the creatures in the Tropical Butterfly House, check out colonies of leaf-cutter ants in Ant World, handle insects in the Insect Study Centre and have adventures in the 19 different gardens. New for 2015 is the Bee Garden, where visitors can learn about native bees, browse honey product stalls, make wax candles and experience bee-keeping demonstrations, along with lots of arts and crafts workshops.
Adults from £7.50; children from £5.50. butterflyworldproject.com
Hadleigh Park, Essex
Having officially opened in June, this was home of the London 2012 Olympic Mountain Biking Games. It boasts a wide network of bike trails and paths suitable for riders and walkers, and is now one of the largest country parks in Essex with a mix of woodland, pasture, hay meadow and marsh with hedgerows and ponds.
Free. hadleigh-park.co.uk
Critter Creek at Paultons Park, New Forest, Hampshire
This family theme park, also home to Peppa Pig World, has a new mini-land of weird and wonderful discoveries. Explore all manner of creepy-crawly delights in this peculiar exotic jungle and be transported through the twisted foliage upon the Cat-O-Pillar roller coaster. Younger explorers can hop on board the new Expedition Express train as well as discover the Beastie Burrow and coming face-to-face with a number of fascinating fish, bugs and reptiles.
Adults and children (over one metre) from £24.25. paultonspark.co.uk
World of Wedgwood, Stoke-on-Trent
This quintessentially English brand's new visitor experience opens this summer to offer a new factory tour, redesigned museum, the country's first Wedgwood Tea Room and a master craft studio for interactive activities such as learning how to throw a pot like a pro, embellishing to perfection, and painting pottery that really looks professional. One for older kids.
Adults from £7.50, children from £3.75. worldofwedgwood.com
RockReef Activity Centre and Zip Wire, Bournemouth Pier, Dorset
Bournemouth Pier how has the world's first pier-to-shore Zip Wire, on which thrillseekers can race out and "zip surf" on a 250-metre dual zip wire, 80ft over the top of the waves, to land on the beach. The former Pier theatre has also been converted and is home to RockReef, which is themed on adventure sports and includes 25 "Clip 'n Climb" walls, a vertical drop slide, a "Leap of Faith" challenge, and a high ropes obstacle course.
Zip Wire from £13; RockReef Activity Centre from £12. rockreef.co.uk
Click here to view the latest travel offers, with Independent Holidays.
Join our new commenting forum
Join thought-provoking conversations, follow other Independent readers and see their replies