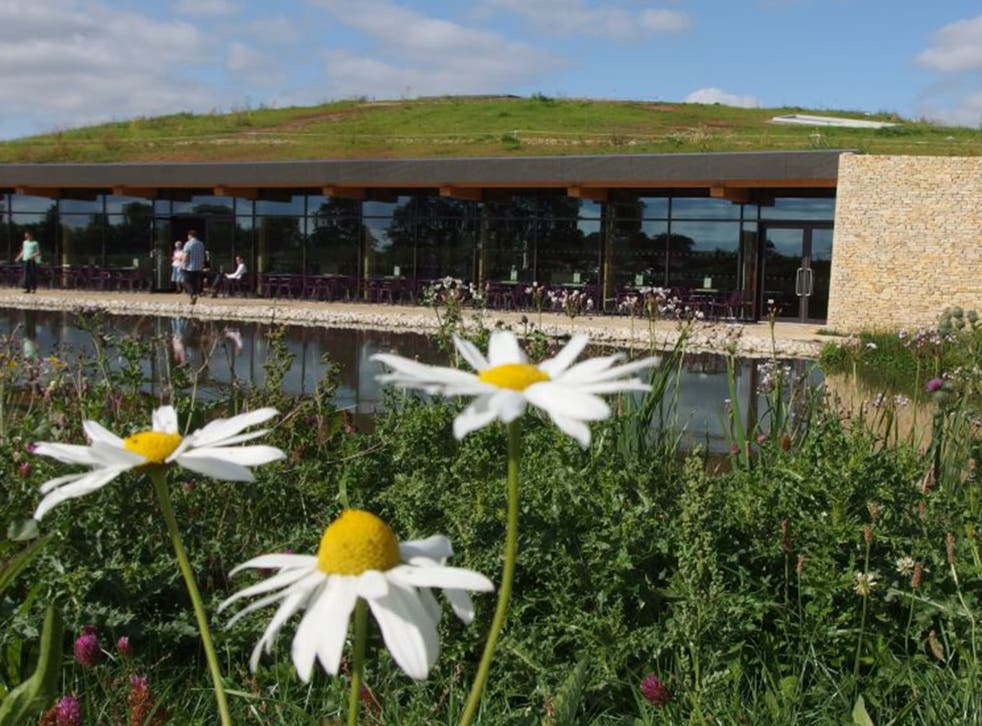 Gloucester Services: Are people really forgoing seaside breaks in favour of the M5 destination?
If a service station claims drivers visit for a nice day out, you want the doyen of travel experts to investigate. The Independent's Simon Calder obliged
Autumn whispers along Winnycroft Lane, the odd chill gust whisking away a leaf. A pale September sun has accompanied me from the market town of Stroud, over the last ridge of the Cotswolds before Gloucestershire flattens and slides towards the Severn.
I left the Cotswold Way a mile or two back, in search of a rather different kind of thoroughfare: the M5 motorway. But between me and six lanes of traffic stands a element of transportational infrastructure, the like of which I have never seen before.
If the Glastonbury Festival franchise extended to motorway service stations, it would probably look like Gloucester Services, which the Prince of Wales opened this summer.
You might not imagine that the heir with a care for the countryside would be well disposed to the anonymous, disconnected locations where motorists go to empty their bladders and refuel their tanks. But Gloucester Services, whose grass roof is patched with solar panels, provides a welcome break from Welcome Break, the nation's biggest provider of motorway services. It was even reported this week that people are forgoing seaside breaks in favour of this destination.
No Burger King, but a beehive; no Starbucks, but an outdoor pond beside which you can sip a latte (£2.80) or a hot chocolate (£2.90). "Made with real chocolate," enthuses Angela Zvesper, who has called in with her colleague, Adam Crizzle. "We plan our journey around stopping here," she says between bites of a home-made scone. "It's here or nowhere," adds Adam.
The new waypoint between junctions 11a and 12 comprises a kind of Waitrose for Hobbits: a vast cavern of honey-coloured stone beneath its own electricity-harvesting lawn. So well camouflaged is it that you can hardly see it from the motorway – and the reverse refreshingly applies. The architect has shaped and tilted the building to favour the local farmland.
The buyers for Westmorland Ltd, the company that owns and operates Gloucester Services, also favour the local farmland. The aim is to source as much as possible from within 30 miles of the services, for both the restaurant and the Farm Shop. There is a real on-site butcher, preparing meat that was raised locally. The porcine offering includes the usual bacon and sausage, but it also extends as far as wild boar sandwiches.
Flowers, too, are "grown not flown". And Gloucester Services even has its own pale ale, brewed over the hills and not very far away in Stroud. The only missing element is fish: landlocked Gloucestershire cannot deliver seafood, so the fishmonger has connections with Newlyn in Cornwall; everything on sale is fresh, not frozen.
Fifty-six years after the first Blue Boar services on the M1, the motorway stop has finally found its own place on the map. And for the move from Blue Boar to wild boar sandwiches, the motoring community needs to thank a former City headhunter named Sarah Dunning – and her redoubtable mother and father, John and Barbara Dunning.
"My parents are hill farmers in Cumbria," she says, "and in the late 1960s, the M6 was built through the corner of their land. They knew they would have to diversify, so they decided to pop in a bid to run those service areas. It felt like an opportunity on the doorstep."
The result was Tebay Services at junction 38. Opening in 1972, it presented for the first time the concept that motorway service stations could be connected with their surroundings – with local farmers supplying the produce for a small, 30-cover café. Sarah Dunning took over the family business a decade ago, and has extended the franchise 200 miles south to the artery between Birmingham and Bristol.
"The motorway service business is high footfall – and you don't serve a niche market. We are there to serve Mr and Mrs Great Britain," she says. Long-distance lorry-drivers, business-travellers and hitch-hikers, for whom service stations are a necessary evil, will be impressed by the loos (clean and plentiful), and the £2.25 pot of tea that stretches to three cups.
Two per cent of the turnover goes to local charitable projects, which means that Simon Russell, a businessman from Huddersfield spending freely in the Farm Shop en route to Bath, will have made a solid contribution. "I just stumbled upon it. It's so much better than Strensham," he says, referring to the neighbouring service area.
Still, as any hitch-hiker will confirm, the real test of a motorway services is in how well-disposed motorists are to people thumbing at the exit. The services is too new to feature in the Hitch-hikers' Manual: Britain (which rates the adjacent services – Michael Wood and Strensham – as three-star spots, with a likely wait of around half an hour). But I can report that, within two minutes, I was picked up by Richard Matthews and Yanthé Richardson, who had stopped on their way home to Taunton from his birthday break in North Wales. "If you're going to have a motorway on your doorstep, says Yanthé, "you might as well have lots of local things. I feel more connected now."
"Proper food with locality and a sense of belonging is at the very heart of everything we do," promises Sarah Dunning.
Simon Calder's four favourite road breaks
Ace Café, London
In the pre-M25 days, when the capital's North Circular Road provided a fast track from Harlow to Heathrow, the Ace Café was a classic transport cafe. Today, it's a destination in its own right, and a place where the bikers of Britain converge. It also dispenses freshly cooked comfort food and proper tea at 20th-century prices.
Wall Drug, South Dakota
When the presidential faces of Mount Rushmore opened in the 1930s, a pharmacy in the small town of Wall, South Dakota, boosted business by offering free iced water to help visitors on the last 60 miles to the monument. It then introduced coffee for 5 cents, a tradition that survives today. A tacky-but-fun extravaganza.
St Christopher's Autobahn Church, Germany
Germans like their motorway churches. The most elegant I have found is on the A5 between Baden-Baden and Basel, where a modern pyramid is decorated with stained glass, including a representation of the Last Supper – which looks nothing like a motorway meal.
Stalvedro, Switzerland
As far as I know, this scenic spot is the highest motorway services in Europe, at around one-third of a mile above sea level. Stalvedro is known as San Gottardo Sud, being at the southern, Italian end of the St Gotthard Pass. The location is spectacular, and the prices are not as high as you might fear; a good, strong coffee is less than £2.
Join our new commenting forum
Join thought-provoking conversations, follow other Independent readers and see their replies