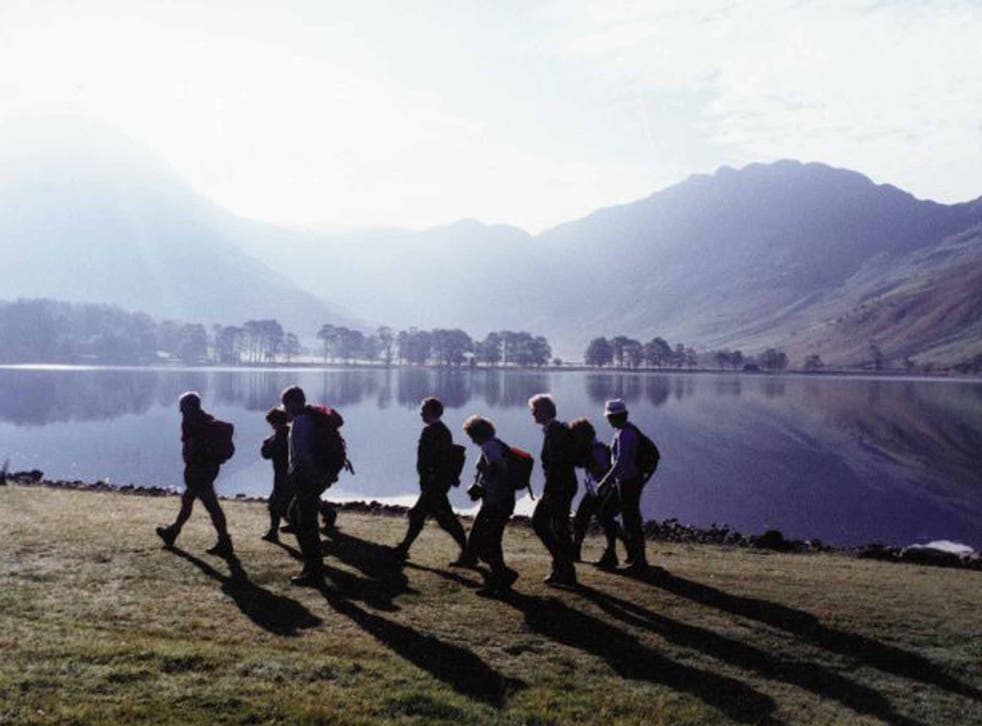 Lake District: Combine rambling with mental rejuvenation
It's the ideal way to start the new year and experience the meditative power of walking, says David Atkinson
It takes me eight miles of cross-country walking to realise that I've forgotten everything. I am standing on the banks of Loweswater, shards of low-slung winter sunshine illuminating the western fells like fizzing New Year fireworks, when I suddenly find that my mind has cleared. No worries, no stress, no doubts. I am simply present in the moment with the fresh air, the rolling landscape and the gentle lapping of the water.
The past year has left me feeling battered and bruised, both professionally and personally. Which is why I decided to come to the Lake District on the first day of January to try a new group trip with Ramblers Countrywide Holidays, combining walking with mindfulness in the mountains. Starting the year not with abstinence but with physical and mental exercise will, I hope, get 2015 off to a more positive start.
My base is Hassness Country House on the banks of Buttermere, ideal for exploring the western fells much loved by Cumbrian walking guide writer Alfred Wainwright, such as Red Pike and Haystacks. With no TV or mobile phone signal, a splendidly remote location just across the vertiginous Honister Pass, and plenty of Cumbrian hospitality, Hassness is a good place to reconnect with nature – or, better still, yourself. The lounge offers widescreen views of the mountains, there are home-cooked meals and, in the study, a well-thumbed copy of Alain de Botton's The Consolations of Philosophy sits knowingly among Wainwright's guide books.
After a good dinner and sleep, I set out with the group in the mist-shrouded morning for the first of the organised, leader-led walks. It is a moderate eight-mile circular trail around Crummock Water and Loweswater, with views across to the ridge of High Stile. From the trailhead at Lanthwaite Green we make steady progress via Gillerthwaite, climbing up past gurgling becks by High Nook Farm for a circuit of Loweswater. By the time we contour above Holme Wood to Burn Back Fell, the wind has whipped up a scrawly frenzy which buffets the purple-peeping heather and leaves the stoic flocks of grazing Herdwick sheep sheltering in rocky nooks.
But it doesn't matter to us. The group is a diverse mix of young and old, hardy mountain goats and Sunday strollers, and we coax each other along by sharing stories and trading nuggets of philosophical insight. The conversations move from access rights for grandparents in family divorce cases to prescribing walking therapy for mental health issues on the NHS. As one straight-talking, retired Yorkshirewoman tells me, while we hike along a balcony pass with views across the lakes: "It's more sociable walking side-by-side than talking face-to-face. People open up more."
By the time we arrive at the Kirkstile Inn for a late lunch, in a frenzy of Gore-Tex and muddy boots, we have put the world to rights, endorsed a Walking for Health report by Public Health England ("If everyone in England were sufficiently active, nearly 37,000 deaths a year could be prevented") and sketched out the manifestos for the political parties in this year's general election.
The pattern is set. Within a couple of days I have settled into a gently life-affirming routine: morning stretches and a hearty breakfast, a lung-busting yomp around the fells before heading back to Hassness for a snooze, shower and slap-up dinner of local goodies, before an evening debrief with our tour leaders. I soon start to feel fitter, more rested and flexible enough to tackle a few pre-breakfast yoga routines.
As for the mindfulness, it is left up to each individual to explore the concept at their own pace. One member of the group, a devotee of the Hoffman Process of psychotherapy, is a retreat regular and espouses the benefits of early-morning meditation and self-reflection while walking. Others simply note that, after a day up Haystacks with the wind in their face, any remaining cobwebs have been firmly blown away.
When black sheets of rain start to descend, I take a break from the walking to explore The Lakes Distillery, Cumbria's latest visitor attraction. One of just a handful outside Scotland, this sleek, recently-opened distillery currently produces a nutty, blended whisky called The One, with a single malt to follow in 2017 and the capacity to make 1 million bottles of whisky, gin and vodka per year.
After a tour, I grab a plate of comforting Cumberland sausage and mash in the restaurant, before buying a bottle of whisky to take home. Given that the purity of the water from nearby lake Bassenthwaite is key to The One's character, I'll have a taste of Cumbria gracing my hip flask on walks for the year to come.
Back on the banks of Loweswater, the afternoon sun is starting to fade like the gentle ebbing of a hangover. A pint of the local Sneck Lifter ale at The Fish Inn in Buttermere spurs me on for the final few miles, while a supper of beef-stew dumplings and a dessert of plums in vanilla custard slow cooks back at Hassness. Most of all, I find that a few days of walking and mindfulness offer me a fresh perspective.
I have come to know the closeness to Cumbrian nature that inspired the Romantic poets, such as Wordsworth and Coleridge; the meditative power of simply putting one foot in front of another over the fells; and the sheer carpe diem feeling of losing myself in the moment. It is a new year and I have a clean slate. It feels as if anything is possible.
Travel Essentials
Ramblers Countrywide Holidays (01707 386 800; ramblerscountrywide.co.uk) has a three-night, full-board Mindfulness in the Mountains trip, based at Hassness Country House (hassness.co.uk), from £229pp. Next departure 7 October. More information at golakes.co.uk
Join our new commenting forum
Join thought-provoking conversations, follow other Independent readers and see their replies