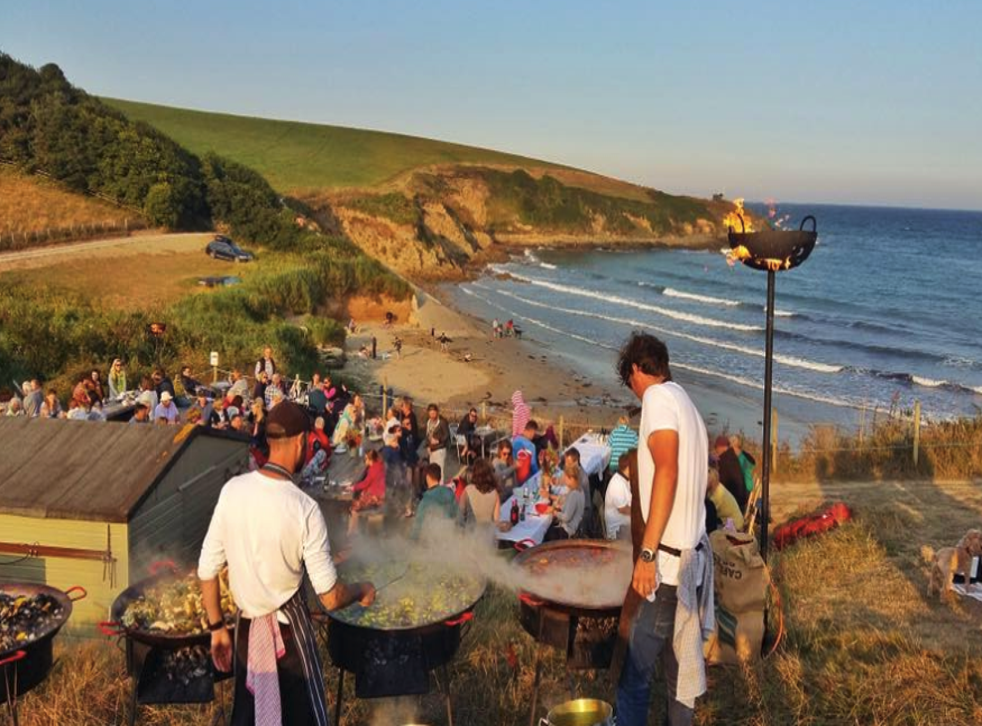 10 things to do in Cornwall
As summer gets into gear and a new series of 'Poldark' hits the screens, now's the time to visit Cornwall. Here's what to do down south
Beaches, stately homes, great restaurants, more beaches – there's a reason why Cornwall's the go-to holiday destination for many British families. But the county's evolving fast, with pop-up pizza alongside pasties, fantastic restaurants in coastal cafes and beautiful villages that have yet to be hit by second-homers. Looking for a slightly different stay than the normal circuit? Here's the local's guide to what to do in Cornwall.
Go for a walk
Cornwall has 296 miles of coastline, and the vast majority of it's protected – which is why there are no ugly bungalows or wind turbines on Poldark. Footpaths wind their way all around the headland – the walk around the county is said to be one of the most beautiful hikes in the UK, but for a day trip there are plenty of manageable chunks. The North Coast is probably the most startlingly beautiful for a quick walk, and Lundy Bay to Rock is a spectacular introduction to the coast. For a walk with a purpose, make for the south coast near St Mawes where the Hidden Hut has turned a rickety little cafe on Porthcurnick beach into a first-class foodie hub with peerless views.
What to see in Cornwall

Show all 26
Eat a pasty
Step one: pronounce it correctly. It's a paasty (like pahsty), not a paysty.
Step two: canvass local opinion about the best in your area. They will differ, and they will be vocal about it. Our (entirely biased) view is that best in the county are to be found at Aunt Avice's Pasty Shop at St Kew Highway, a few miles north of Wadebridge. It doesn't matter if that's out of your way – you need to go there.
Step three: tuck in. Did you know pasties were "invented" for miners, who held onto the crust but didn't eat it, because their hands were too dirty? And did you know they used to be half savoury, and half sweet?
Hit the beach
Everyone has their own favourite beach in Cornwall, and with so many to choose from, that's no surprise. Consult the tide timetable before you go anywhere – what's a secluded cove one morning can be flooded out by the afternoon, while that stretch of churning sea you saw yesterday might be a sandy beach today. Also keep an eye on the weather – huge, sandy beaches like Polzeath in North Cornwall are incredibly popular (it was David Cameron's favourite beach) but if it's blustery, you're better off going to a more sheltered cove, like Daymer Bay round the corner.
Try surfing
Cornwall's surf scene needs no introduction. Newquay, of course, is its hub, and nearby north-coast beaches like Watergate Bay are popular with professionals and amateurs alike. For a family-friendly introduction to the scene, Watergate Bay and Polzeath are both good bets.
Go all-out Poldark
It's OK, this can be our guilty secret. Download Visit Cornwall's new Poldark app (for Android or iPhone. Use it to plan where to go – whether that's the Unesco-listed mines around Pendeen and Botallack (aka Wheal Leisure) or Porthcothan, the beach which doubles as Nampara Cove.
For Poldark souvenirs, your best bet is Truro, where the tourist information centre has a lovely collection of things to buy, from classy to tacky. Buy your old second-hand paperbacks (featuring the first Poldark TV series) from Bonython Bookshop on Kenwyn Street.
Visit Penzance
The most westerly town in the UK and the end of the interminable railway line, boho Penzance is a fabulous mix of old architecture, weird pubs and extraordinary beauty. Follow the bay round to either Marazion and St Michael's Mount (walk over the causeway to the island at low tide and get the boat back), or to Newlyn, known for its school of art, but not chi-chi like St Ives.
Explore the western tip
From Penzance, wind your way around the coastline to St Ives – it's some of the wildest, most spectacular scenery in the country. Essential stops: Mousehole (chocolate box fishing village), Porthcurno (for the iconic clifftop Minack Theatre), Sennen Cove (long, sandy beach) and the St Just-Pendeen stretch of mine-speckled coastline. Ditch touristy (and expensive) Land's End in favour of bracken-carpeted Cape Cornwall, four miles north (near St Just) – jutting out into the ocean, it's every bit as beautiful but far wilder and less spoiled.
Pop-up in Wadebridge
Pop ups are all the rage in Cornwall as they are everywhere else but in Wadebridge, two of the town's most popular eateries are pop-ups. Wild Bake cooks wood-fired pizza with local toppings in a converted horse box every Monday night opposite Lidl, and the Tiny Thai is in a food truck serving Thai street food from Wednesday to Sunday. Check out menus in advance and call ahead for both, as waiting times can be long.
Get on Bodmin Moor
Dartmoor's overlooked little sister, Bodmin Moor is a softer, greener landscape, stuffed with beautiful little villages and great pubs, with the odd prehistoric stone circle livening up the interior. Don't miss St Breward (lovely village with an ancient church and fantastic pub lunches), the stone circle at Minions, and Roughtor, one of Cornwall's two "mountains" – the climb is further than you'd think.
Drink the tea
Not just any tea but Tregothnan, the first grown in England. You can visit the plantation near Truro, but you'll find the tea sold all over the county. For more local food brands – from salt and seaweed to raw chocolate and beer – try the Great Cornish Foodstore, which stocks nothing but local brands, in Truro.
Join our new commenting forum
Join thought-provoking conversations, follow other Independent readers and see their replies