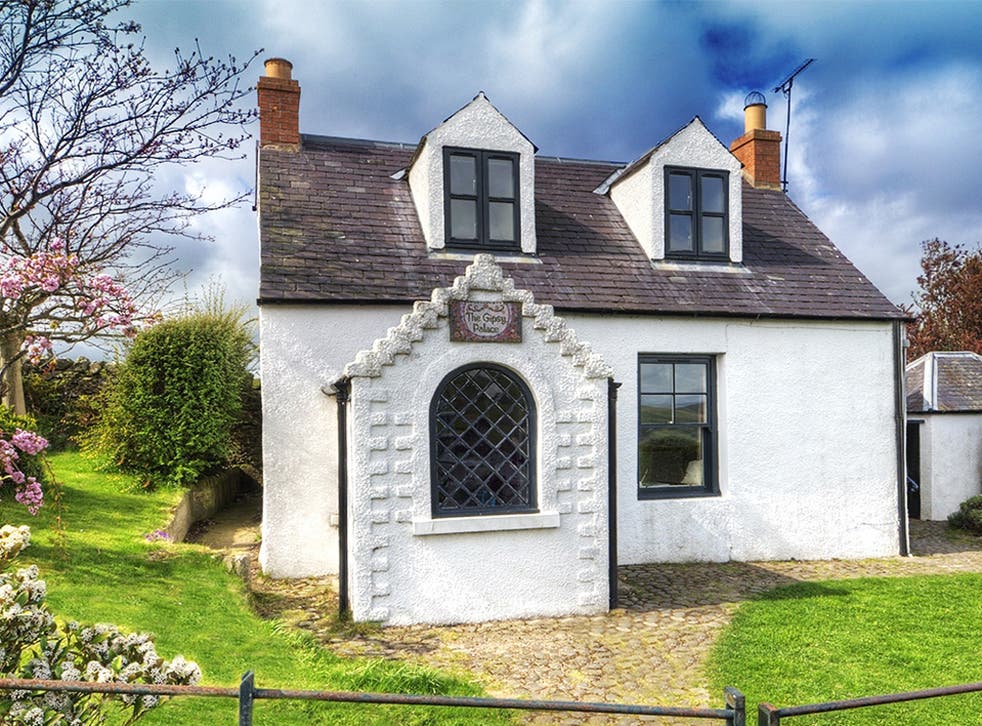 The UK's best holiday homes
From country farmhouses and seaside cottages to urban apartments, Kate Hilpern selects 20 top properties for a British escape
After somewhere a bit more private than a hotel for your holiday this year? Try a holiday home. We've considered everything from comfort and amenities to value for money, to compile a list of rentals that we feel has something for everyone. Can't spare a whole week? Fear not, many of our options include opportunities for short breaks.
1. Whitebreakers, Sennen, Cornwall
The local postman describes this three-bedroom whitewashed cottage as "a little piece of heaven". Located in a hidden corner of West Penwith, in far west Cornwall, Whitebreakers is only a 200 metre walk to the beach, and every room has views of Whitesands Bay. The cottage itself is tastefully decorated and as snug as they come. When it's cold, the wood-burner is wonderful and when it's warmer, make use of the decent sized garden with sea views. Oh and you can bring the dog.
From £599 per week. Sleeps 6. vellandreathcornishcottages.com
2. Pant Rhiw, Pwllheli, Gwynedd
Leave your car and walk down the footpath to this quaint cottage that stands high on a hillside with spectacular views across Hell's Mouth Bay. Don't expect luxury – this is proper rural living, but it's comfortably furnished and the feeling of sheer isolation and relaxation and sight of sheep rambling into the wild garden all makes for a memorable break.
From £256 for 3 nights. Sleeps 4. nationaltrustcottages.co.uk
3. The Gypsy Palace, Cheviot Valley, Scotland
This cosy, stylish cottage has an intriguing history and is nestled within a stunningly picturesque valley. The lounge has a fireplace and breathtaking views across the valley, and the dining room, kitchen and bedrooms are all charming. There are bicycles all ready for you to explore the area, which is also perfect walking country. Edinburgh is an hour's drive away.
From £43 a night. Sleeps 4. coolstays.com
4. The Georgian House, Hampton Court Palace, Surrey
Incredibly, this elegant Georgian house enables you to stay within Hampton Court Palace. And the icing on the cake is the fact that residents staying in King Henry VIII's former home are free to explore the grounds when they're closed to the public. Located on the alley leading to Henry VIII's tennis court, it's comfortably furnished, with a lovely semi-formal garden.
From £807 for 4 nights. Sleeps 8. landmarktrust.org.uk
5. The Cottage, Longnor, Peak District National Park
This romantic, refurbished one-bedroom cottage was once the Old Bakery for the village and dates back to the 1700s. The log burning stove, exposed beams and stone flagged floor are just a couple of the features that make it such a joy to stay in and the location is ideal for exploring all the Peak District has to offer.
From £39 per night. Sleeps 2. holidaylettings.co.uk
6. Dick Turpin Cottage, Cockford Hall, Shropshire
The interior of this quirky and imaginative cottage is a feast for the eyes, thanks to rich fabrics and one-off unusual pieces of furniture and artwork. Outside, there are incredible views of rolling Shropshire hills and wonderful walks on offer. There's only one bedroom, but this place is truly romantic and with the area having been designated as one of only three remaining havens of tranquillity in Britain, who needs kids to destroy the peace and quiet. There's a welcome hamper on arrival.
From £525 per week. Sleeps two. dickturpincottage.com
7. Harbour Watch, East Portlemouth, South Devon
Overlooking bustling Salcombe, Harbour Watch is a modern house with dramatic waterside views, private beach and mooring. The terrace alone is worth the stay, allowing guests to enjoy al fresco dining overlooking the sea. Salcombe, with its lovely shops, pubs and restaurants, is only a short ferry ride away.
From £2275 per week. Sleeps 12. toadhallcottages.co.uk
8. The Old Bakery, West Lulworth, Dorset
The Old Bakery is a Grade II-listed thatched cottage in the delightful coastal village of West Lulworth, just a few minutes' walk to the famous cove and coastal path. The decor is tasteful and luxurious, with four (almost) equal sized double bedrooms and nice touches like a freestanding copper bath. The raised deck provides fabulous views over the village.
From £818 per week. Sleeps eight. dream-cottages.co.uk
9. Rose Cottage, Kilchrenan by Taynuilt, Argyll
This charming two-bedroom cottage is the original gatehouse to Ardanaiseig Hotel, a magnificent property that has won countless awards for its cuisine and excellence as a romantic destination. You get the best of both worlds - total privacy and the most fabulous rural setting, but also all the benefits of this wonderful hotel. They'll even light the fire for you if you want. Bring your walking boots as this area of the highlands is breathtakingly beautiful.
From £265 per night. Sleeps four. ardanaiseig.com
10. Little Barsham, North Barsham, Norfolk
This is the smallest of five historic farm buildings that have been transformed by an architect and his wife into modern self-catering accommodation, close to both the coast and the Broads. This cottage sleeps four, while the largest sleeps 14, and they are all utterly stunning. Originally used for rearing lambs and sheltering sheep, they're built from traditional Norfolk brick and flint and this one is particularly sunny, with views onto the meadow and church.
From £445 for three nights. Sleeps four. barshambarns.co.uk
11. Elm How, Ullswater, Lake District
This newly refurbished farmhouse has it all – mountain scenery, grazing stock, woods, fields and dry stone walls. In fact, right outside the front door is a classic Lake District fell walk to Striding Edge and Helvellyn. It comfortably sleeps eight across four bedrooms, and the under-floor heating and wood burner are particularly welcome in colder weather. About a mile away from the nearest village and pub, it's the kind of place families will return to again and again.
From £825 per week. Sleeps eight. sallyscottages.co.uk
12. Meadow Keepers Cottage, Swallowtail Hill, Sussex
This place is truly a one-off. It's a cottage on wheels, hand-built by local craftsmen with timber sourced from nearby woods. There's only one room, but it sleeps four, with one double bed and two singles that double up as benches for a fold-away dining table. It sits between two wildflower meadows, and the surrounding area makes for some pretty special al fresco eating – there's even a wildlife pond with your own boat.
From £100 per night. Sleeps four. canopyandstars.co.uk
13. Snowdrop, Hidden Gem Cottages, Enniskillen, Northern Ireland
These quaint old stone cottages live up to their name. They are hidden away, but magical scenery and nearby walks and beautiful interiors are what make them such a find. Offering a gorgeous mix of vintage finds and modern pieces, one-bedroom Snowdrop is kept meticulously clean, and the bed is really comfy.
From £40 a night. Sleeps two. holidaylettings.co.uk
14. Cotswold Manor, Shipston-on-Stour, Cotswolds
This 17th-century Cotswold stone manor house is pricey, but if you want something quintessentially English (think flagstone floors, elm panelling, striking antiques and inglenook fireplaces), with just about every luxury you can think of (fresh flowers, Egyptian cotton sheets, L'Occataine bath goodies), this is a fabulous find. There are five bedrooms, and the landscaped grounds include a tennis court. If you like cooking, don't miss the fantastic sushi masterclass that the owner can arrange.
From £1275 for two nights. Sleeps 10. uniquehomestays.com
15. Candy Cottage, Brighton, Sussex
The name of this two-bedroomed cottage could not be more apt, given its vibrant colouring. Even the exterior is pink. Located in the heart of bohemian Hanover in Brighton, it is packed with unique details including mirrored furniture, fifties fabrics and original chandeliers – a real treasure chest for lovers of retro. Accommodating up to six guests (the last two use the double sofa bed in the living room), it's 10 minutes' walk from the Lanes and 15 from the seafront.
From £138 per night. Sleeps six. holidaylettings.co.uk
16. Windermere No8, Cumbria
This spacious one bedroom apartment is in the centre of Windermere, which means you get the benefit of the town's amenities but easy access to the stunning countryside. The decor is interesting and luxurious – just what you need after a day's walking. Be warned there's no washing machine, but there is access to a tumble dryer in case you get wet.
From £50 a night. Sleeps two. airbnb.co.uk
17. Heather View, Studland, Dorset
Heather View is a fantastic family option. It's even baby friendly – the owners have twins so everything comes in twos. But the biggest thing about this 1920s three-bedroom home are the gorgeous views across the National Trust heathland down to Studland Bay, Poole Harbour – all magical areas to explore.
From £400 for three nights. Sleeps 6. ilovestudland.co.uk
18. Two Porth Farm Cottages, Mawgan Porth, Cornwall
Mawgan Porth is a peaceful haven between Watergate Bay and Padstow, complete with deli, pub, surf school, takeaway and a couple of boutique shops on the edge of the beach. And although there is plenty of holiday accommodation in the area, this classic, funky cottage stands out. It's been innovatively renovated to make the most use out of the space.
From £420 a week. , without it feeling cramped or dark. Sleeps 4. beachretreats.co.uk
19. Blencowe Hall, Near Greystoke, Cumbria
Before you gasp at the price tag, bear in mind that this Grade I-listed manor house sleeps a whopping 24 people, which should help dilute the cost. Uninhabited for 300 years prior to restoration, it is now an award winning, five-star luxury private house with universally excellent reviews from guests and where nothing is too much trouble from housekeeper Jilly. It sits on a bluff above the smaller river Petteril and has views to die for.
From £2839.50 for three nights. Sleeps 24. ruralretreats.com
20. Bridge Cottage, Washbourne, Devon
If you like a decent sized garden on your holidays, you'll love this picturesque, detached period house in the heart of the Devon countryside. The house itself is full of old-world charm, but with all the mod cons, while the terrace overlooks the huge garden that includes a beautiful lawn with trees, plus a wendy house for the kids. The river and open fields beyond can be accessed from a couple of gates. It is located close to some of south Devon's best beaches, and great local pubs.
From £585 per week. Sleeps eight. toadhallcottages.co.uk
Join our new commenting forum
Join thought-provoking conversations, follow other Independent readers and see their replies