Why are people paying to be terrified by blood-soaked maniacs and chainsaw-wielding murderers at "scare parks"?
Oscar Quine heads to Scare Kingdom Scream Park in Lancashire for an evening of immersive terror - including being bound in cling film and locked in a coffin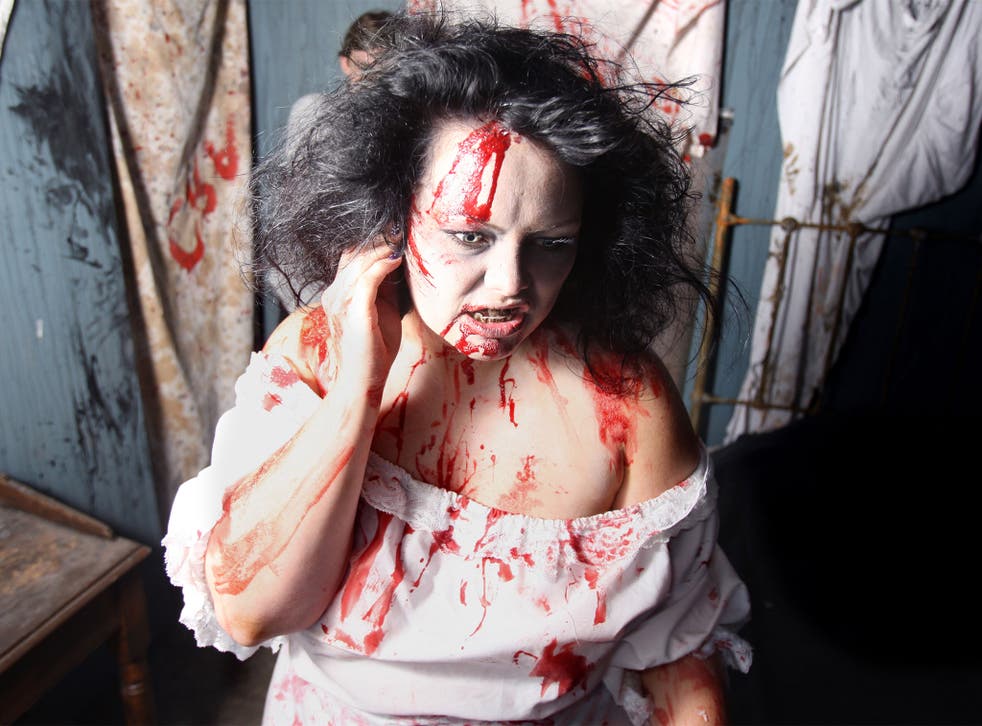 I'm on a farm, somewhere between Preston and Blackburn, and I'm locked inside a coffin being attacked by a crazed man wielding a chainsaw.
Already this evening, I've been bound in cling film and had a hood pulled tight over my mouth, then been doused in water until I choke. Wet and unable to see, I was bundled into the back of a tractor-trailer by a mute nurse and a cackling chambermaid and driven to an unknown destination. Here, I was forced to eat stone-cold mashed potato mixed with insects, drink "blood" and was told that my mother was being held captive in a box.
Not a great night out, you might think, and certainly not the kind of evening you'd go out of your way to have. Yet a growing number of people are paying for experiences such as this at "scare parks" across the UK. My introduction to this world of immersive terror took place at Scare Kingdom Scream Park in Lancashire.
A 21st-century house of horrors, it consists of six walk-through attractions lasting around 10 minutes each, housed in pre-existing or specially built structures. It is in the unlikely setting of Mrs Dowson's Farm ("Home of Real Dairy Ice Cream"), just off the A59.
With a budget of £250,000 and a production team from television and theatre, directing actors via earpieces from a central hub, this is far from your traditional ghost train.
"What we're trying to do is get the person to accept, momentarily, that this is real," says Scare Kingdom co-founder Jason Karl. After a career as an actor, during which he appeared in Living TV's Most Haunted as a parapsychologist, he and his business partner put on their first event six years ago. He was inspired by visits to similar attractions in the US, where the industry has been going strong for 25 years.
As the run-up to Halloween begins, we're entering the peak season for scare attractions. Figures suggest that there are around 85 similar experiences currently on offer – if you're willing to part with the cash, you can spend a night camping in "haunted" woods, get chased through cornfields by zombies, or try to escape from a post-apocalyptic city.
For Karl, achieving his aim of having people forget that they are on a set with actors takes more than fancy stage dressing and clever direction. "We have psychologists as part of our design team," he says. "We go back to the fundamentals of what scares you."
My experience lasts around two, admittedly scary, hours. It is a composite of the park's attractions that has been put together as a prize for a pair of "lucky" competition winners – but I get to test it out first. I meet the Scare Kingdom staff in a car park off the dual carriageway just after 7pm, where I sign a disclaimer, agreeing to "full contact" from the actors, and am given a safe word (it's "zebra"). Then, my wrists are tied and I am hooded and led off in total darkness.
"Our lives are more and more regulated," explains Karl of the evening's proceedings. "To have an experience where control is totally taken away and you are put in what is perceived to be a vulnerable position, where you don't know what's going to happen next, is exciting."
When my hood is taken off, I am, for all intents and purposes, in the ballroom of a hotel. The set is gothic camp: dimly lit and hung with cobwebs. Chamber music plays and I am staring into the eyes of a ghoulish bellboy. Over the course of two hours, I am led through different rooms – a library, a dining room, a scullery – and passed between characters. There is a loose narrative: I am the only guest in the hotel and its owner, The Master, is really very angry that I am there.
While these attractions' capitalisation on fear may be novel, the immersive, story-driven way they present an event is now a proven crowd-pleaser. British theatre company Punchdrunk, formed in 2000, is credited as the pioneer of the "immersive" theatre movement. It has reworked classics including Chekhov's The Cherry Orchard and Shakespeare's A Midsummer Night's Dream. Often hosted in gargantuan disused spaces, the productions see theatregoers free to roam and interact with characters. For an adaptation of Goethe's Faust in 2006, the company transformed a derelict five-storey archive building in Wapping into a small town in the 1950s Midwest.
Five years after Punchdrunk began transforming what to expect from a night at the theatre, Secret Cinema applied the immersive approach to classic films. Lawrence of Arabia was watched by 5,000 in the main hall of London's Alexandra Palace, which was decked out with a souk and 15 camels. For Shawshank Redemption, spectators were ordered into prison uniforms, marched through communal showers and locked in cells as a prelude to curtain up.
Back in Lancashire, there are distinct moments at which, while I don't quite accept that what's going on is real, I am so overwhelmed by adrenalin that I certainly forget that it's all staged. I'm certain that someone is going to attack me in a cold store of hacked-up corpses lit by a flickering light. And being lunged at through darkness by the aforementioned chainsaw-wielding maniac is another moment when it's hard to think rationally. The actor uses a real chainsaw (with all moving parts removed) and the sound and smell of motor oil definitely trigger my flight instinct.
"It is the perennial puzzle, really," says Robert J Edelman, a professor of clinical and forensic psychology who I quiz about the appeal of a night of terror. Why do we go out of the way to get a buzz? He agrees with Karl, that at the core, this is about control. "Most of our life, what do we do? We get up, we go to work, we come home, we sit in front of the TV, we go jogging. Nothing takes us out of our comfort zone and we don't want to spend all of our time doing the mundane. This is exciting, it's thrilling."
A day later, the jury is out on how thrilling the evening was. It would, I imagine, be best experienced with other people. Unsurprisingly, the majority of Scare Kingdom's bookings come from groups. This way you would go away with shared memories and presumably strengthened friendships as well as jangled nerves.
Despite the promise of a nuanced psychological experience, what I went through was more of an all-sensory assault. Coming away, I mainly felt rough-handled – in much the same way as when you step off a rollercoaster, albeit one that lasted for two hours. There were two points at which I almost said "zebra". First, when The Master screamed at me to take a mouthful of the truly disgusting food, while forcing my head towards the plate. And another when I was pushed into a chair, while something jabbed in my back.
However, I came away tingling with adrenalin. How long it will last, I can't tell. But for the time being, I will be happy getting my kicks smaller and closer to home.
Register for free to continue reading
Registration is a free and easy way to support our truly independent journalism
By registering, you will also enjoy limited access to Premium articles, exclusive newsletters, commenting, and virtual events with our leading journalists
Already have an account? sign in
Register for free to continue reading
Registration is a free and easy way to support our truly independent journalism
By registering, you will also enjoy limited access to Premium articles, exclusive newsletters, commenting, and virtual events with our leading journalists
Already have an account? sign in
Join our new commenting forum
Join thought-provoking conversations, follow other Independent readers and see their replies