The wood life: After 25 years, has Center Parcs changed UK holidays for ever?

Show all 7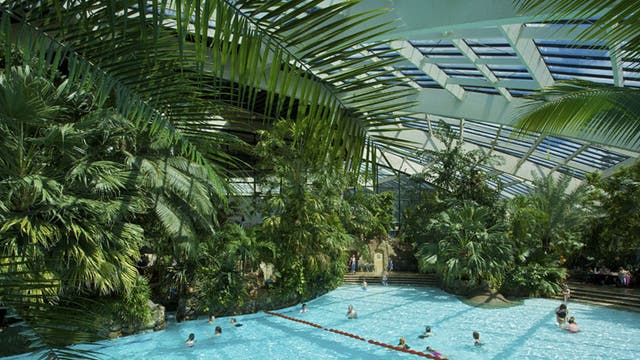 The wood life: After 25 years, has Center Parcs changed UK holidays for ever?
For 25 years, Center Parcs has been making big business out of UK short breaks. So what's the secret? Lisa Markwell takes to her tree house.
The silence that greets my statement is profound. "We're staying in one of the tree houses," I say, and everyone within earshot on the Center Parcs landtrain turns round to look. Then the questions start. "What's it like inside?" "Is it true there's a live-in maid?" And, inevitably, "How much does it cost?"
The tree houses at Longleat Forest are jaw-dropping. Even when not compared to what one might describe as plain and efficient "comfort" accommodation, they are opulent, expansive spaces of rustic luxury set in deep woodland – something you might expect to find at one of those "stealth wealth" resorts. But when you're en route from your compact apartment to the pool and you pass them, lit up and twinkling like the kind of place Galadriel from The Lord of the Rings might live in, the contrast is stark.
It's Friday night. Four generations of the Markwell clan intend to extract all the goodness out of this luxury mini-break – by Monday we'll be able to give our fellow passengers a run-down of life in the tree house. But initial exploration has revealed a wine fridge to stock, a hot tub to uncover and a discussion to have about who gets the master bedroom – up a trunk-like spiral staircase. Let's get cracking.
Center Parcs has crept into the fabric of our lives in the same way that Ikea has. Once, older readers will remember, there wasn't a one-stop shop for reasonably priced furniture. Now we can't imagine life without it.
In a time before Center Parcs, 25 years ago, holiday parks were generally places crammed with unlovely static caravans and municipal-style swimming pools. But quietly, steadily, over the past quarter of a century, the UK version of Center Parcs (a concept which began in the Netherlands in the Sixties) has become the byword for painless family get-togethers. We've taken its structure of cabins scattered through woodland with a central subtropical water paradise to our hearts. The arrival of the villages in 1987 signalled the beginning of year-round holidays in the UK to a market fed up with sitting, shivering, in a car, hoping to find a leisure centre open.
By now, at least one generation has been raised on short breaks spent pedalling between pool and spa, stopping off for some archery or quad-biking, before a barbecue outside the cabin or a burger in one of the restaurants. They don't remember life before CP.
There are four British sites – Sherwood in Nottinghamshire, Longleat in Wiltshire, Elveden in Suffolk and Whinfell in Cumbria – and they run at 96 per cent capacity all year round. There were 1.6 million visitors last year. That's a lot of people.
But things are changing down in the forest. It started five years ago: a revamp of accommodation from what was best described as "basic" to take in the design flair that many of us have become accustomed to seeing on TV makeover shows.
Then, last year, tree houses arrived at Sherwood and Longleat. These vast wooden villas sprawl in the premium bit of forest, sleeping eight in four en-suite bedrooms, with designer kitchens and saunas, and a games den across a wooden walkway, complete with pool tables and games consoles. Center Parcs looks to be angling for a different kind of customer in the next 25 years, although a spokesperson is coy. "Each time we introduce a new level of accommodation, it proves very popular with our guests, and the tree houses have been no exception," is the response to a "whatever next?" question. "As we have done for the past 25 years, we will continue to invest in all our facilities as this has been the key to our success."
Hmmm. Along with the tree houses, there are now private cabanas for hire around the swimming paradise pools, and in the shopping plaza, a ritzy new shop, called The Store Room, has just opened, selling Cath Kidston and Emma Bridgewater merchandise. This is where the squeezed middle is increasingly spending its staycation, I'd hazard. I certainly saw plenty of Boden bikinis in the pool.
Meanwhile, we're playing boutique hotel bingo on the Markwell mini-break. Swanky caffeine-pod coffee machine? Check. Sophie Conran china? Check. Inch-thick towelling robe, and slippers? Check. iPod dock and Blu-ray player? Check. There are so many "extras" to play with, at this rate we'll never get out of the house.
But then, I've always felt that with Center Parcs there's a pressure to get your money's worth, that you must cram each day with activities. From the moment you book a break, helpful leaflets and online reminders bob up to entice you to try the myriad sporty activities, to book a lengthy session in the spa and to take a break from cooking with a night out at one of the 10 or so dining experiences on site. Starbucks has arrived, too, to fuel the seemingly unstoppable British addiction to coffee.
But it doesn't necessarily make for the most relaxing weekend – and because the sites are almost always busy, you can find yourself splitting your group up to get the last couple of beauty treatments available, while someone else bikes furiously to get junior to the woodland high ropes adventure on time.
Three things on my weekend made the difference: at the tree house a dedicated concierge is on hand to make, change, or advise about activity bookings. Our two maids, Katrina and Danielle, spruce the place up each day to save some of our number having to plump the beds and wash the pots. And I resist the urge to fill each day. So, although possibly scandalous to the CP purist, I visit the pool only once, and my bike gathers dust outside the front door. Then, I oversleep and miss a Zumba class.
Of course, that's easy in a house with a hot tub and games room. Low-slung sofas and armchairs face the humungous flat-screen telly and a log fire. The beds are sumptuous, with posh duvets; in the living room there's a raised giant daybed, from which you can just gaze out at the 100-year-old giant redwood trees. Because it's on the edge of the site, there's nothing to spoil the view of nature. Bliss.
I take delight in masterminding the activities of my family, though. My niece, a new mother, doesn't need to be told twice that a massage is booked for her at the spa. She returns later with shoulders two inches lower and a beatific smile. Her fiancé, meanwhile, has engaged my son in an epic multi-discipline fight to the death that involves games of pool, gun battles on X-Box, tussles on the deck outside (where mercifully they're protected from the 10m drop by sturdy wooden fences) and wrestling control of the Sky remote from each other. Boys and their toys indeed.
It may sound like we homebodies don't make the most of Center Parcs, but I sneak a little time in the Aqua Sana spa, where the wide array of experiences is delightful (although a waterproof MP3 player to drown out the squeaking hen parties would be worth taking along). I nod off completely in one steam room, sprawled out on a recliner. And, as a family, we do manage a gang outing to the "swimming paradise" – where my teenage son tries aqua-jetting, which seems to involve zipping through the water holding on to a propeller. That's followed by a disproportionately competitive bowling tournament and an almost obscene amount of food at Hucks.
While there isn't yet a high-end restaurant to match the high-end customer, Hucks delivers the diner standards that are so in vogue at the moment (onion rings, ribs, out-there American cocktails), while Ortega offers tapas beyond the basics (although there's a "hamburguesa" that's not on the menu at its London restaurant). It's a distinct improvement on the dining-out possibilities I remember from a visit some years ago.
But the luxury we crave most is time together, away from the world outside – at each other's houses there's enough room to all sit together over a relaxed meal. Here, a huge round dining table ensures we have the perfect location for family banter over a big bowl of pasta and the wine we've stocked the chiller with. (We brought our own, but the ParcMarket, which has definitely improved its offering, now includes organic and local produce, gluten-free food and a pretty decent DVD selection.)
On Monday morning, as we reluctantly put the cover back on the hot tub one last time, the Markwells feel that we've certainly put the tree house through its paces and not found any flaws. When someone wanted a DVD, or a chef's knife, a Wi-Fi connection or a wooden toy, it was there.
Of course, all this comes at a pretty price. I admit we fudged our answer when the landtrain gang asked how much it cost. The three tree houses at Longleat (and three at Sherwood) cost from £2,199 for a weekend. Although that works out at £300 per person for the three-night break, it's still a very pricey undertaking. (If you're simply using accommodation as a place to eat and sleep, a long weekend for eight in a comfort villa costs £559).
By the time you've added bike hire and a few activities for a party of eight – and if your visit coincides with school holidays – it's going to be some way north of £3,000. Some might consider that an unfavourable price compared to a budget holiday in the European sun.
But over its 25 years, Center Parcs has built its phenomenal success on acknowledging what we really want – and that's why ground is being broken on a fifth site, this time in Bedfordshire, and why you'll sit in a huge traffic jam to enter the village on Friday afternoons.
What we want is a treat that's familiar, an adventure we can control and a place where everyone (truculent teenager, high-spirited toddler or stressed-out breadwinner) can find their own distractions – whether it's quad-biking, birdwatching, or acting like an Elvish princess in your own woodland kingdom with a high-thread-count king-size and a designer toaster.
Oh, and many of the tree houses are already sold out for this summer, which speaks for itself.
Travel essentials: Center Parcs
Staying there
* Easter breaks at Center Parcs (08448 266 266; centerparcs .co.uk) start at £799 for a midweek break in a two-bedroom Woodland Lodge (suitable for up to four people). Short breaks in the tree houses start at £2,199 (suitable for up to eight).
25 years of Center Parcs
1987
The first village, near Rufford in Nottinghamshire, opens, christened Sherwood Forest. Although Center Parcs exists in Europe, the UK operation is separately run.
1989
The second site, Elveden Forest near Brandon in Suffolk, opens, using the successful template employed at Sherwood. Elveden has a hotel, the only accommodation at Center Parcs UK without kitchens.
1994
Longleat Forest launches with a different feel and layout. This is a result of the hilly location which brings the introduction of a "landtrain", to carry visitors who are not strong enough, or keen enough, to cycle between attractions.
1997
A rival holiday park, Oasis, is launched near Penrith, Cumbria. Four years later, Center Parcs takes it over. It is now known as Whinfell Forest. Its lodges are more Scandinavian in feel and it has a covered plaza area. It is one of the few places left in the UK with a red squirrel population.
2002
A fire damages the plaza and central area at Elveden; there are no deaths and the closure for repairs also sees the village get a sprucing up and the creation of larger-scale accommodation.
2006
After several changes of ownership, Center Parcs is taken over by the Blackstone Group, a private equity company which states an intention to invest in existing villages rather than to expand into new sites.
2007
The interior designer Tara Bernerd is tasked with modernising the accommodation. Her crisp modern aesthetic – which features wall-sized prints of tree trunks, chalk boards and boutique hotel-style linens – is rolled out across the "executive" lodges, although the "comfort" lodges keep their basic look.
2011
The first tree houses are unveiled at Sherwood, with Longleat following later in the year.
2012
Building starts on a new village in Bedfordshire, to be called Woburn Forest. Construction will create 1,200 jobs and the village will employ 1,500 when it opens in spring 2014. David Cameron gave it this glowing endorsement: "Center Parcs is much loved by many and this new site is not just great news for holidaymakers but great news for the economy too."
Click here to view UK Tours and Holidays, with Independent Holidays.
Join our new commenting forum
Join thought-provoking conversations, follow other Independent readers and see their replies