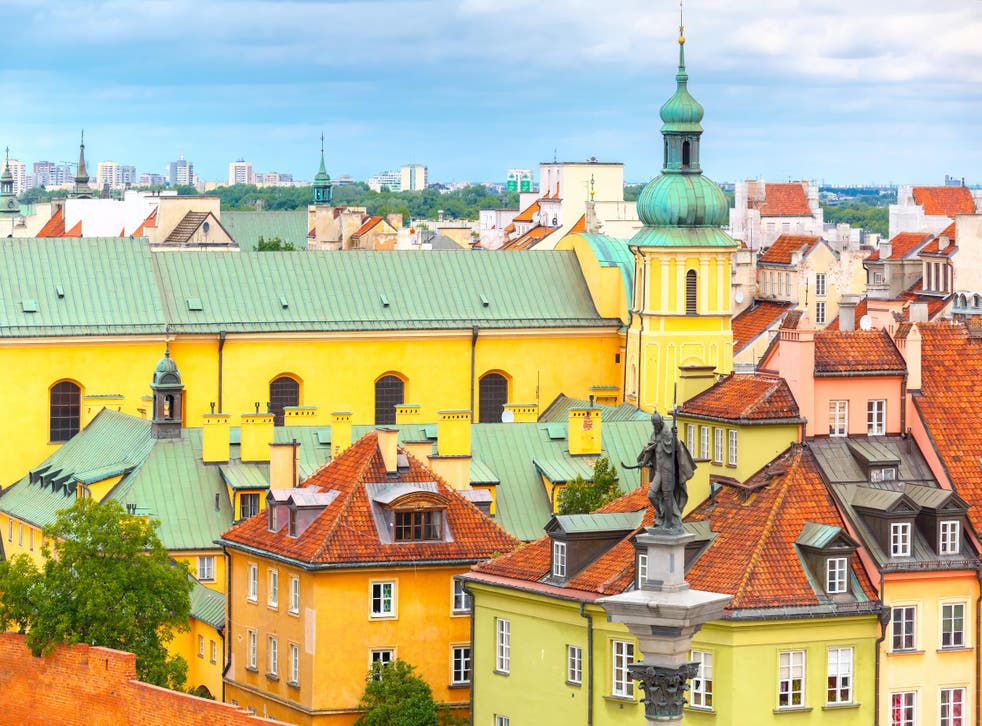 Warsaw: Make a pact to visit Poland's beautiful capital
As disused buildings and scruffy areas are transformed, the city is buzzing with creativity
Grey. That's how I always thought of Warsaw when, as a child, I visited family here each summer. The Polish capital seemed to be dominated by graffiti-covered communist-era concrete that begged to be cleaned.
Yet, even then there were pockets of beauty in this city which was almost entirely destroyed during the Second World War. Stare Miasto (the Old Town) is like Krakow in miniature. Bombed to pieces, its colourful buildings were rebuilt using many of the original bricks, and it's now a Unesco World Heritage Site. From here, Trakt Krolewski (the Royal Route) takes you past the Presidential Palace, down well-to-do Nowy Swiat, to Lazienki Krolewskie (see "Don't Miss", below), Warsaw's 188-acre royal park.
This isn't a city stuck in the past, however. Recent years have seen run-down areas being revived, old buildings repurposed, and the arrival of Poland's first Michelin- starred restaurant (Atelier Amaro; 00 48 22 628 57 47; atelieramaro.pl). There's still plenty of concrete, but even that is being spruced up.
This year the city's second Metro line opened – a mere two decades after the launch of the first – connecting central Warsaw with the neighbourhoods on the east side of the Vistula river, such as Praga. Once a seriously sketchy place to be after dark, Praga has become a haven for young creatives, its disused industrial spaces being reborn as galleries, bars and cafes.
An old tram power station in the west of the city now houses the Warsaw Uprising Museum (1944.pl; closed Tuesdays), where you can explore the story of the city's rebellion against Nazi occupation, through film footage, personal histories and historic artefacts. In 2014, a striking new angular building on the site of the former Warsaw Ghetto opened its doors as the Museum of the History of Polish Jews (00 48 22 47 10 301; polin.pl; closed Tuesdays). Its eight galleries now document 1,000 years of that community's history.
If you prefer your entertainment a little lighter, this summer heralded the opening of Hangar 646 (00 48 22 299 54 59; hangar646.pl; reservations recommended), a former airline hangar that has become the the city's first "trampoline park".
Unpack
H15 (00 48 22 55 38 700; h15boutiqueapartments.com) is one of Warsaw's trickle (not quite yet a wave) of new design-focused, boutique accommodation. The 19th-century building has previously served as the Soviet Embassy and as an office for the occupying Nazi officials. It underwent a huge refurbishment before its rebirth as a hotel in 2012. Now the spacious rooms are decked out with bold prints, clashing colours, and Seventies-style furniture. Each comes with a basic kitchenette. Doubles from £55, room only.
Think local
Soho Factory (sohofactory.pl) is perhaps the clearest example of Praga's rebirth, a collection of old industrial buildings converted into flats, galleries, studios, shops and dining. The highlight is the Neon Muzeum (neonmuzeum.org; open Wednesday to Sunday). It houses more than 100 vintage signs, from railway stations to restaurants.
Eat
Stick around Soho Factory and dine at Warszawa Wschodnia (00 48 22 870 29 18; gessler.sohofactory.pl). Headed up by Mateusz Gessler, a well-known name in Poland, the 24-hour restaurant centres on an open kitchen, so perch at the bar to watch the masters at work. The menu is a mix of French and Polish with a modern twist; try goat's cheese-stuffed cream puff with watermelon (28 zlotys/£5) followed by roast duck with apples (64 zlotys/£11).
Drink
Smart Saska Kepa is home to some beautiful pre-war architecture, and a clutch of lovely bars and restaurants. Among these, Francuska Trzydziesci (00 48 530 630 850; ulica Francuska 30) is easy to spot, thanks to the canopy of multi-coloured umbrellas over its patio tables. If it's too chilly to sit outside, hunker down inside with a bottle of regional beer.
Over in central Warsaw, Polonez (ulica Poznanska 24) describes itself as a klubokawiarnia, a "club-café" which after dark becomes a hipster hangout with a long list of spirits.
Spend
Bazar na Kole (ulica Obozowa 99), in Kolo, is Poland's largest flea market. Operating all year round, even in the depths of winter (these traders are a hardy bunch), the market sells everything from books and records to military paraphernalia. Open weekends, 6am to 3pm.
National chain Boleslawiec (00 48 22 624 84 08; ceramicboleslawiec.com.pl) has a branch in central Warsaw, where you can pick up traditional blue-and-white Polish ceramics. A tea set might set you back 500 zlotys (£88), but you can find single plates for around 16 zlotys (£3).
Don't miss
Take a stroll amid the manicured gardens, classical statues and wandering peacocks of Lazienki Krolewskie (lazienki-krolewskie.pl; free), the royal park. A lengthy renovation of the Palace on the Isle, a baroque former bathhouse sitting on the lake, was completed this year, and its wonderfully over-the-top interiors are open to the public.
The Palace of Culture and Science (00 48 22 656 6234; pkin.pl), Poland's tallest building, was a controversial gift from Stalin, and stands as a striking example of socialist realist design. Among its more than 3,000 rooms are a cinema, theatres and museums, but head up to the 30th floor terrace for a view over the city.
Join our new commenting forum
Join thought-provoking conversations, follow other Independent readers and see their replies