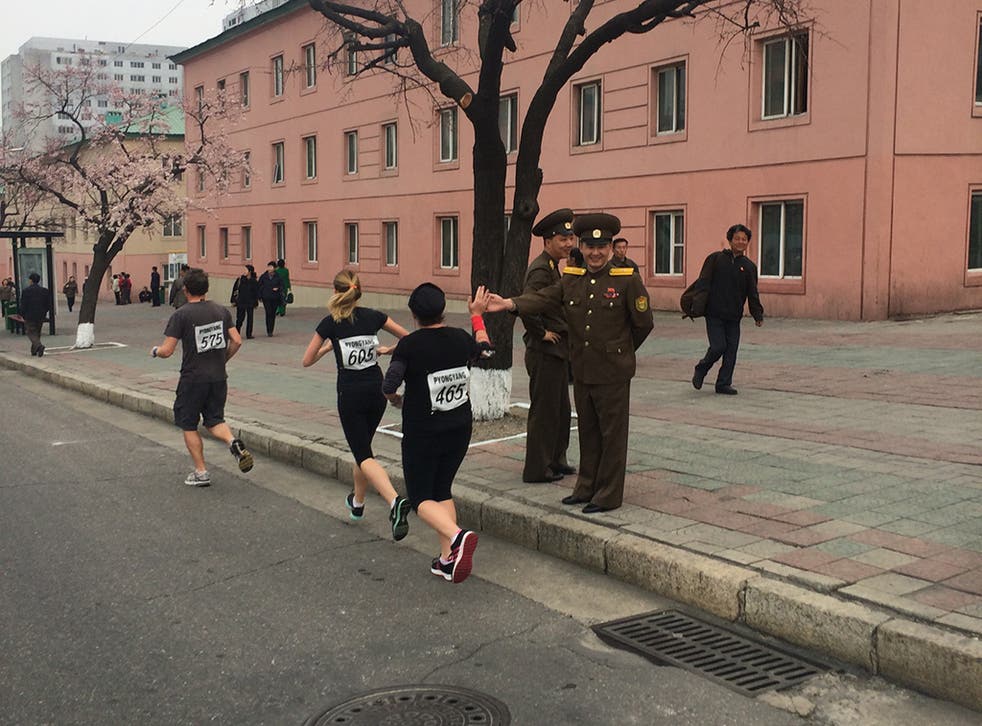 What is Pyongyang really like? What tourists see and hear on a trip to the North Korean capital
You haven't heard clapping until you've heard synchronised clapping
As I boarded Air Koryo's dated Antonov An-148 plane, there was a tangible mixture of excitement and apprehension in the air. I was on my way to compete in the Pyongyang Marathon; due to the demand from Shanghai expatriates, my tour operator, Uri Tours, had chartered return flights from our booming metropolis to the Hermit Kingdom.
Before this trip, the most recent contact I had with North Koreans was on a visit to the Demilitarised Zone (DMZ), from South Korea, where visitors are spoon fed propaganda, with a touch of Hollywood drama. North Koreans became ruthless killing machines and I was even told not to wear my sandals because the South Koreans wanted me to be able to run, just in case. I was so brainwashed by the time I got to the border that I was scared to look North Korean soldiers in the eye, in case they decided to shoot.
But, as the pleasant, well-dressed, English-speaking stewardesses served the in-flight meal, the North Korean humanisation process began. We were handed copies of Korea, the state's large, glossy magazine, full of propaganda messages and images of Kim Jong Un inspecting things. The television screens then folded down before blasting us with two and a half hours of the latest patriotic tunes, which were to be a recurring theme throughout the trip.
We checked into Yanggakdo Hotel, one of a handful of hotels available to foreign tourists. The large hotel did its best to cope with the sizeable group of amateur runners descending upon the country for the marathon, but at certain times, we had a twenty-minute queue to get into the lift, and everybody experienced at least one cold shower. The rooms were clean, and offered all of the amenities you would expect, including a hairdryer and, surprisingly, BBC World News.
The highlight of the trip was the Pyongyang Marathon; the second time this annual event had been opened up to international amateur runners, allowing competitors to run laps of the city, almost completely unhindered. The race began in Kim Il Sung Stadium. The route took us over two bridges and offered sightings of the Arch of Triumph, 11 metres higher than its French counterpart, and, we were told at the time, the highest in the world (although, a quick Google search dispels this claim) among other monuments.
Pyongyang: in pictures

Show all 13
You haven't heard clapping until you have heard North Korean synchronised clapping. The different worker and student groups, who made up the audience in the stadium, sure knew how to use their uniform hand clappers and horns. It was absolutely mesmerising to watch a sea of bodies clap and cheer in unison, and they seemed to be genuinely enjoying their Sunday morning activity. Residents, who weren't lucky enough to be in the stadium, lined the streets to cheer and clap along the route, taking this patriotic action very seriously. It was a unique chance to see the city up close and personal, rather than through the protective shield of our bus window, and interact, to some extent, with locals. Barriers between spectators and runners were broken down; soldiers even high-fived Westerners as they sped past.
We finished our day with a visit to Paradise Micro-Brewery and Bar – apparently there is a burgeoning micro-brewery scene in Pyongyang. We were able to taste a 70% barley to 30% rice beer, which went down very well after an exhausting day of running.
When we entered the heavily fortified DMZ, we had a crash course in North Korean history, involving those "shameful American dogs". As we entered the UN hut in the joint security area and passed over to the South Korean side of the demarcation line, I realised that I was now completely comfortable around these ordinary North Korean soldiers. Meanwhile, the South Korean soldiers retreated to the second storey of their building, and watched us through binoculars with hawk-like intensity.
The people we came in contact with on the trip all spoke English, and were keen to tell us about the virtues of their socialist state: free education, healthcare and a tax-free system, along with zero unemployment, housing for all and the importance placed on women's rights. These points are of course debatable, and we only really had contact with our guides, or members of the tour company, who had obviously profited from the system.
Our guide explained how she learned to speak English by listening to recordings and movies in her university's library. Her eyes lit up when she talked about her current favourites: Beauty and the Beast, The Lion King and Shark Tale. She had also studied customs and cultures from around the world, and made sure to drop in a few comments about the weather for my English sensibilities.
One of my fellow visitors, who was born and brought up in East Germany before the fall of the Berlin Wall, confessed that the atmosphere was reminiscent of his childhood.
I travelled to North Korea to learn more about an insular country where very little real information is disseminated. There are people living and dying there – life goes on, no matter the political state. North Koreans have their own personal ambitions and desires; they are not just the embodiment of the Western-world's stereotype of the country.
Uri Tours package tours include DPRK visa processing and flights to Pyongyang from China
Join our new commenting forum
Join thought-provoking conversations, follow other Independent readers and see their replies