2016 presents huge hurdles for David Cameron, Jeremy Corbyn and the candidates in the US race for power
Britain's place in Europe, and the unity of the United Kingdom itself, may well be decided in 2016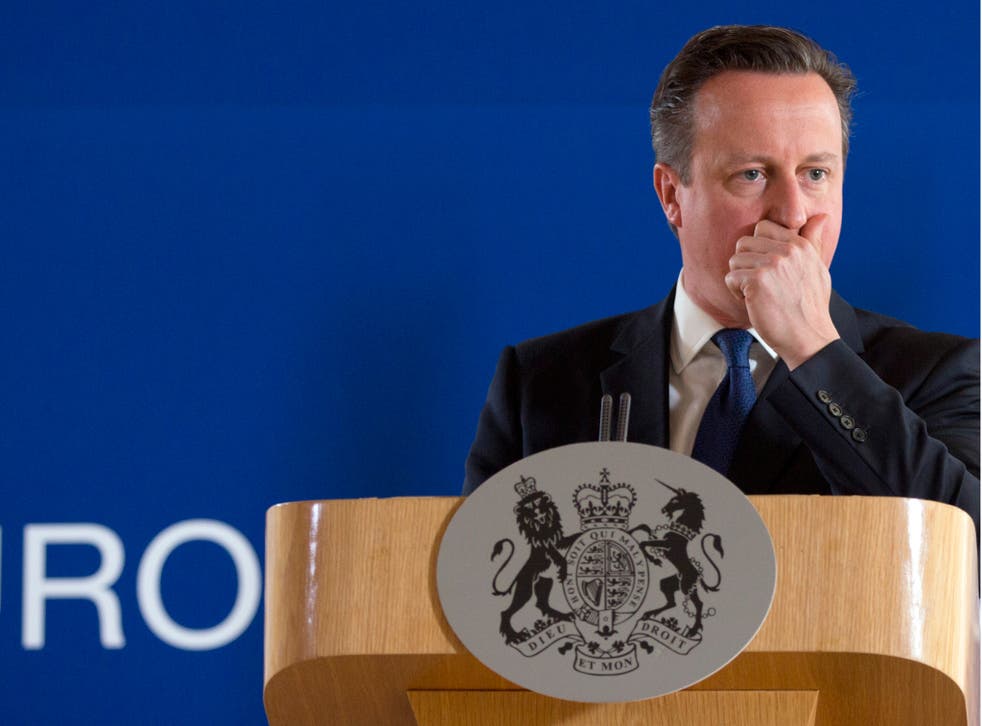 Ever since the Daily Express published the judgement that "there will be no European war this year or next year either" on 30 September 1938, prudent newspapers have been wary of undue confidence in discussing the future. Some events, however, are easier to be definite about, and the importance of them – Britain's place in Europe, and the unity of the United Kingdom itself, may well be decided in 2016.
These issues are, now, firmly linked, as a UK-wide vote for "Brexit" would be unacceptable to the Government and people of Scotland. So it may be that David Cameron, so soon after his unexpected personal triumph in last May's general election, will preside over two catastrophic earthquakes for his country. His flippant remark that he cared "1,000 times more" about the union of England and Scotland than the EU will be seen for what it is: a reflection of a careless, shallow politician willing to put the future prosperity of this country at risk to satisfy the emotional spasms of his backbenchers. Never has so much been gambled for so little. Even if he wins the referendum, it will have caused lasting damage to Britian's trading and influence with our most important markets and political partners. If the economy takes a hit as a result, the country will pay a heavy price indeed.
Should such a turn of events transpire, it would make Jeremy Corbyn look positively moderate and statesmanlike. As things stand, the Labour leader's position looks unexpectedly secure. Mr Corbyn seems set on continuing to use his still-strong backing among members to impose his will, vote by vote, issue by issue, on the Parliamentary party and his Shadow Cabinet. There will probably be sufficient careerists and realists in the Commons for him to do that, building his own more reliable Commons base via the powerful partonage bequeathed him by the Blair-Brown era. Labour might do well in the local and London mayoral elections; for the so-called "moderates", with nowhere left to turn given the still moribund state of the Liberal Democrats, it is not a happy outlook.
Not much more heartening is the race for the White House in the US. The appalling Donald Trump is still in the running for the Republican nomination – though his offensive, childish remarks about Mexicans seem guaranteed to deny him the presidency. The lesson of the past few contests in a polarised electorate is that the swing votes of Hispanic Americans will most likely determine the outcome in November. If the Republicans had sense they would put Marco Rubio on the ticket, the best hope they'd have of defeating the obviously able Hillary Clinton. Sense, though, appears to be a scarce commodity in that party's long lurch to the fundamentalist right.
Whoever wins that contest will face some familiar challenges: trying to turn back Isis terror; making peace in Syria; repairing relations with Russia while protecting Ukraine; rebalancing the global economy; and – all too easily neglected – helping lead efforts to slow global climate change. None of those will be easy, even with the solid support of Congress, unlikely to be forthcoming in an increasingly dysfunctional political system.
More encouraging may be developments in other states that have endured much suffering. In Burma, the chances of democratic renewal and re-engagement with the rest of the world seem brighter than ever. In North Korea it has always been difficult to read the signals, but there have been some quietly dramatic developments in the ruling elite that suggest change is at least a possibility (with or without Kim Jong III). And Robert Mugabe's ruinous hold on Zimbabwe must be weakening as he reaches his 92nd birthday; we can but hope.
Perhaps it is just as well that 2016 will be rich in harmless, enjoyable distractions. The Rio Olympics and Paralympics, hopefully without drugs scandals; the Euro 2016 football tournament, a shaken-up Premier League; important anniversaries for William Shakespeare and Beatrix Potter, plus the Queen's 90th birthday. All will create colourful entertainment.
To all our readers, a happy new year.
Join our new commenting forum
Join thought-provoking conversations, follow other Independent readers and see their replies