Forgive me if I don't find much to celebrate in the new Oscar Pistorius murder verdict
Steenkamp is still dead; her family are still traumatised; the much-loved Pistorius story of a determined athlete who triumphed over adversity to reach the top of his game lies in shameful tatters; and women's murders continue to be trivialised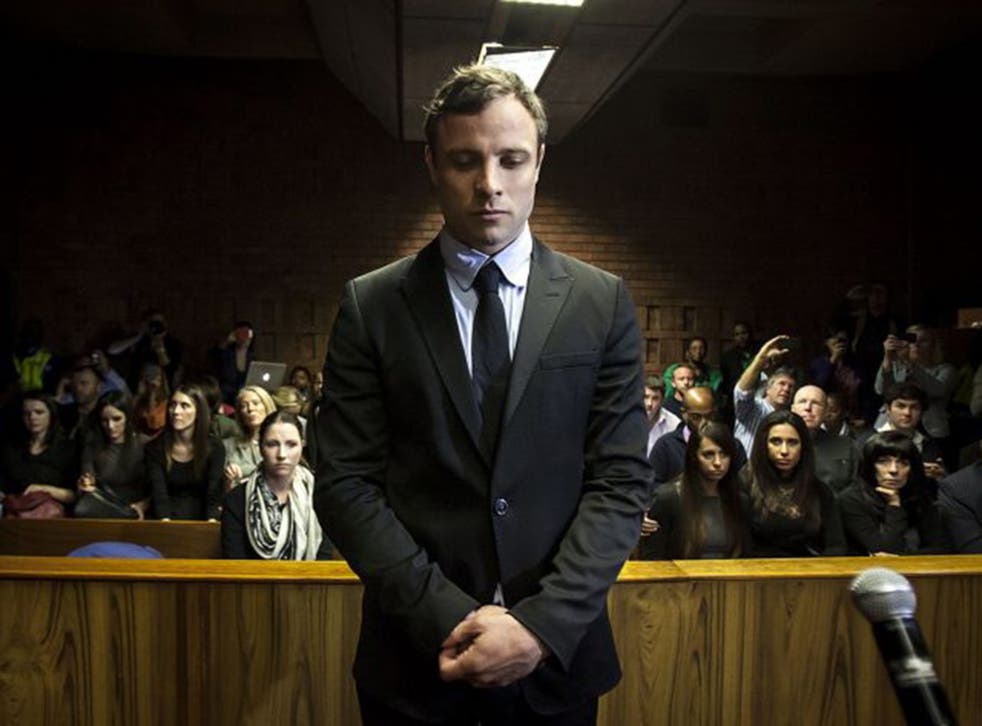 There can be few celebrations following the news that Oscar Pistorius has been found guilty of murder by South Africa's supreme court of appeal.
No gloating, flag waving or righteous air punches for the fact that the athlete now faces a minimum 15 year prison sentence, following his early release in October.
A woman, Reeva Steenkamp, is dead. Murdered, according to the new conviction, in a wholly terrifying fashion after the man she loved emptied his gun into the bathroom door which stood between them, apparently believing she was an intruder.
By the grim face of Steenkamp's mother, June, who has been a steadfast presence in the courtroom from the very first day, and was reportedly seen sobbing on the steps of the appeal court in Bloemfontein after the judgement was ruled, there is no joy at the new conviction.
But there is light in the ruling. Hopefully it can bring Steenkamp's family, who have carried their profound loss with huge dignity - and who, after all, have suffered more than anyone - some peace and reconciliation. Steenkamp's father, Barry, has already stated that the family can now 'get on with their lives'.
It means relief that Reeva Steenkamp can be remembered, not as the victim of a miscarriage of justice, but as a woman whose life was held in the balance and eventually found valuable.
The focus can now be on the person she was – and by all accounts there is much to remember. The tributes and tales that have emerged paint a picture of a compassionate individual. The day before she died, she was putting final touches to a speech she planned to give to schoolchildren in support of the Black Friday campaign for rape awareness. She intended to commemorate Anene Booyson, a 17-year-old girl who was found brutally raped, mutilated and murdered less than a fortnight before Steenkamp herself was killed.
When Pistorius was released from prison just 12 months into his original five year sentence, a depressing message was sent out. Many were horrified that the price for taking a life so violently was to be so little. Add to that the fact that South Africa has shockingly high statistics for rape and violence against women, and it's clear why there was a sustained public outcry.
It's reported that in South Africa, a woman or girl is raped every four minutes, and every eight hours sees a woman killed by her partner. The verdict sent a sad message to these women – that their lives didn't carry enough value to be worthy of meaningful punishment. That their assaults and their deaths mean little, and are easily forgiven and forgotten.
Justice Eric Leach, speaking on behalf of the court, said that he had no doubt Pistorius must have foreseen that whoever was behind the door might die as he fired the fatal shots. As he put it, Pistorius 'gambled' with that person's life. Whether or not he knew that his girlfriend was behind that bathroom door – and he is the only person who knows that for sure – it was reasonable to assume that shooting multiple times into a small room would have led to a person's death. The fact that this was not held to be the case in the original ruling seems surprising.
The new verdict, however, sends a message that no matter the celebrity or wealth of an individual, when such reckless gambles are taken, the justice system may catch up with them.
So while there can be no celebrations today – Steenkamp is still dead; her family are still traumatised; the much-loved Pistorius story of a determined athlete who triumphed over adversity to reach the top of his game lies in shameful tatters – there is now renewed hope for South Africa. While the world watched, they decided that one woman's life was worth more than a few months behind bars. It doesn't sound like that much of a victory, does it? But sadly, in the world that we live in, it is.
Join our new commenting forum
Join thought-provoking conversations, follow other Independent readers and see their replies