Airline hijackings like the EgyptAir case are far more common than you think
It was right to highlight EgyptAir's record on mid-flight attacks, but a little more historical context would have been interesting to readers, too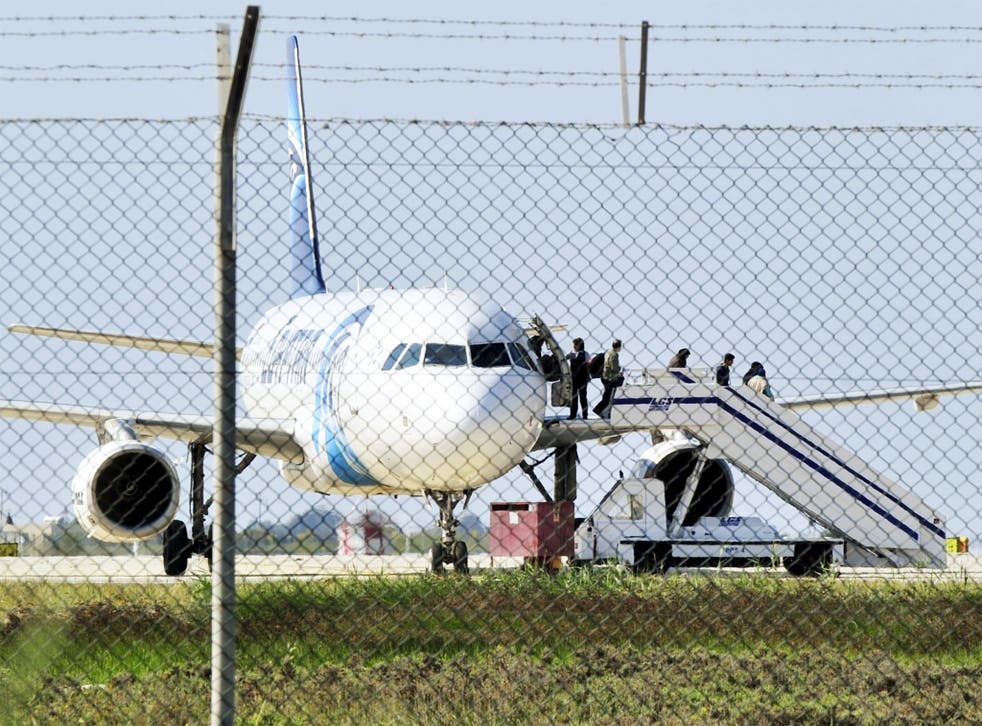 Foreign embassies and governments are among my most regular customers. And they never send me Ferrero Rocher.
There is something quite unique about complaints from state representatives, which mark them out from the rest of the inbox – a grandeur perhaps. Often grumbles are frustrated responses to what we are sure are legitimate criticisms; they may come full of positive messages about the country in question but barely mention the article which they seek to address, aside from asserting its supposed lack of accuracy.
The Independent's coverage of the hijacking last week of an EgyptAir flight elicited an unhappy note from the representative of Egypt's ministry of foreign affairs. One piece among the several we published had caused particular unease: it set out the history of hijacks involving the airline and suggested that last Tuesday's forced diversion to Cyprus, combined with the relative high frequency of such incidents on EgyptAir aircraft might "put the country's aviation security under increased scrutiny". The item also gave a nod to last year's terrorist attack on a Russian, Metrojet flight from Sharm-el-Sheikh.
My complainant argued that the piece was misleading. For one thing, the incident involving the Metrojet flight was unconnected to any hijackings or Egyptian carrier. Second, he said, it was illogical to suggest that individuals making fanciful demands on the basis of ultimately empty threats could be stopped by greater security. In last week's case, the hijacker was said to be mentally disturbed and had worn a fake bomb. With no realistic way to avoid such a situation, how could the scenario be said to put Egypt's air safety record at risk?
Egypt's economy, of course, is hugely reliant on tourism and so references to dangerous travelling conditions will inevitably touch a nerve. Yet there was nothing inaccurate in our article. EgyptAir flights have, as we noted, been hijacked on eight occasions since 1976, which seems quite a lot. And any hijacking might reasonably be said to provoke a deal of scrutiny above the norm.
The piece was a classic of its type – an explainer to accompany our main reports, adding a bit more context by looking at EgyptAir's historical record. The belief of the Egyptian government that we had set out intentionally to defame the country was fundamentally misconceived.
That said, the complaint got me wondering, about something it didn't mention, and which our piece omitted too. If EgyptAir had suffered eight hijackings in 40 years, what about other airlines? A cursory examination suggests the firm has probably had more than its fair share of incidents, but not by as much as one might have thought. Lufthansa has had four since 1972; Indian Airlines planes have been hijacked seven times since 1971.
Indeed, the hijack has a fascinating history, which has only in recent times come to be closely associated with international, organised terrorism. Incidents like last week's once happened quite frequently. Hijackers were often after refuge, cash ransoms or had some other personal or political cause. Remarkably, in the US more than 130 aeroplanes were 'skyjacked' in just four years between 1968 and '72. It required the introduction of metal detectors among other measures in the 1970s to improve the situation.
It was not, ultimately, unreasonable to highlight EgyptAir's record in the wake of the drama in Cyprus. To ignore the possibility that the airline – and Egypt's aviation security more generally – might face added scrutiny seems unreal. Yet there is clearly a lesson here, which is that historical background is both helpful and interesting – but when given to add context to a story, it should take in as wide a sweep as possible. That's the best way to avoid having the argument hijacked by critics, after all.
Will Gore is Deputy Managing Editor of The Independent and the Evening Standard
Join our new commenting forum
Join thought-provoking conversations, follow other Independent readers and see their replies