Local banks are closing down and towns are starved of investment – but there's a way to stop the decay
Labour's plans would address the real crises of our time: an economy skewed towards unaccountable elites that is failing to provide good lives for most of its citizens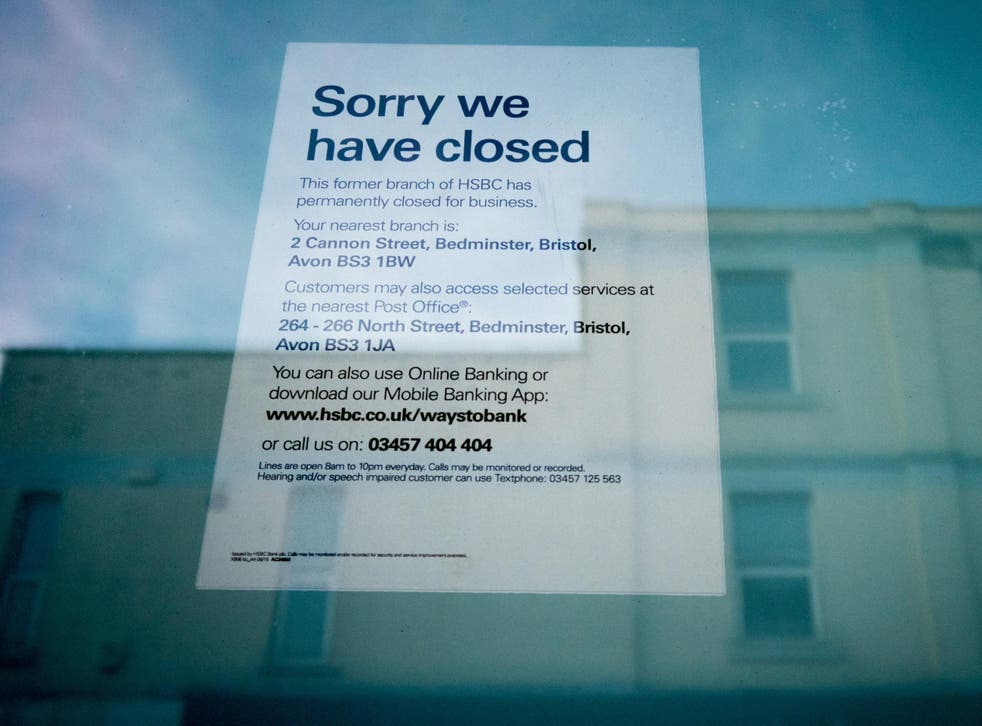 Another week, another set of votes, and Brexit chaos continues to suck all the oxygen out of UK politics. The dangers of the crisis engulfing Britain go far beyond the risks of no deal or constitutional paralysis. It is also crowding out space to discuss the deeper crises that contributed to the Brexit vote in the first place.
The sense of disenfranchisement that made the message of "taking back control" so powerful – the sense that large swathes of the country had been neglected and abandoned by a London-centric elite – has as much to do with our economy as our politics.
For decades, the UK economy has been remoulded around a deregulated financial sector. Politicians from both left and right subscribed to the delusion that other industries and regions could be left to rot as long as the City of London thrived, producing tax revenues that could be redistributed as state handouts. The result was spiralling regional inequality, a collapse in productive investment – as big banks focused increasingly on inflating their own balance sheets through speculative activity rather than on serving the rest of the economy – and the worst financial crisis in a century.
Ten years on from the crash, little has really changed. The UK is still heavily dependent on a few big banks, who have largely escaped reform and done little to improve their business models. We still suffer from chronic underinvestment in small businesses and regional infrastructure.
And the communities that have suffered most from this skewed economic model are being given a further slap in the face as more and more local branches are shuttered, leaving whole areas without access to banking services. Shockingly, state-owned RBS is the worst offender, with just 54 of its own branches left in England and Wales after no conditions were imposed on its £45bn taxpayer bailout.
Should I vote Labour? Corbyn's biggest policies explained

Show all 9
This is the context for a report published this week by myself and economist Laurie Macfarlane, fleshing out Labour's proposals for a new public banking ecosystem.
The first pillar of this ecosystem is the proposed National Investment Bank, supported by a network of 12 Regional Development Banks. Modelled on successful state investment banks in other countries, this would provide patient capital for vital infrastructure such as energy, transport and housing; support innovation; and lend to firms through its enterprise arm, with a particular focus on growing the cooperative sector.
We recommend that the bank's activities should initially be focused around three "missions": greening the economy, regional rebalancing and economic democracy. Together, these missions address the real crises of our time that Brexit is diverting so much energy and attention away from: an economy skewed towards unaccountable elites that is failing to provide good lives for most of its citizens, and the real and present dangers posed by climate change.
Support free-thinking journalism and attend Independent events
The second pillar of the proposals is a Post Bank, owned in trust for the public benefit and providing a full range of retail banking services. This would build on the Post Office's existing banking services and replace its unsatisfactory partnership with the Bank of Ireland, providing the kind of relationship-based lending to small businesses and individuals that big banks have retreated from.
While big banks continue to fleece their customers and exclude the most vulnerable, the Post Bank would have a mandate to provide universal access to affordable banking services. While big banks abandon the high street, the Post Bank would be present in every community through the Post Office branch network. And while big banks focus on high value business in London and the international markets, the Post Bank would be structured into regional subdivisions with their own governance and a remit to support the regional economy.
Thirdly, this leaves the question of what to do with RBS. The bank's culture and brand are so toxic that it would be a tall order to turn it into the bedrock of a new public interest banking system – its scandalous mistreatment of small businesses via the Global Restructuring Group being the latest example. This is why we have recommended that a new entity, the Post Bank, is needed.
But neither is it acceptable for RBS to be simply sent back to the private sector to remain a poster child for bad practice. The bank is also finally returning to profitability after a decade of taxpayer-funded losses – and these returns should continue to accrue to the public purse. We therefore recommend that a Labour government should retain a majority stake in RBS and adopt a much more interventionist stance, replacing senior management and turning the bank into a leader in sustainable finance and social responsibility.
Taken together, these proposals would transform the UK banking landscape and end our dependence on a private oligopoly that has proved itself criminally irresponsible time and time again. Working alongside exciting new initiatives to rejuvenate the UK's cooperative banking sector, they would give people a real alternative to rip-off banking and put finance back in its place as a servant of the real economy. If we really want to take control of our economy and our politics, it's high time we took control of our banking system.
Christine Berry is a freelance researcher and writer
Register for free to continue reading
Registration is a free and easy way to support our truly independent journalism
By registering, you will also enjoy limited access to Premium articles, exclusive newsletters, commenting, and virtual events with our leading journalists
Already have an account? sign in
Register for free to continue reading
Registration is a free and easy way to support our truly independent journalism
By registering, you will also enjoy limited access to Premium articles, exclusive newsletters, commenting, and virtual events with our leading journalists
Already have an account? sign in
Join our new commenting forum
Join thought-provoking conversations, follow other Independent readers and see their replies