Hey Beyonce, as a mum of four let me tell you this isn't what pregnancy looks like
I seriously doubt that we will be witnessing a rash of copycat pictures on social media of pregnant women the world over who have dashed down to the florists, hauled out an old net curtain, and got into their undies in an attempt to achieve a similar effect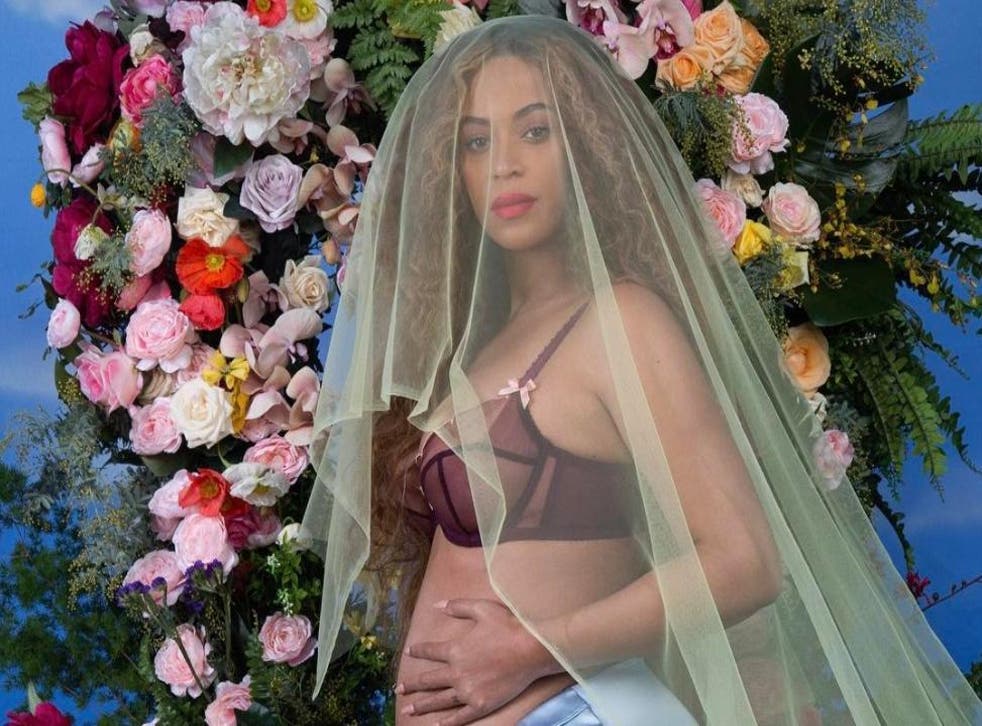 Hey, pregnant ladies out there! Stop reading What to Expect When You are Expecting, and looking at that gestation chart for the thousandth time this week. What you want to be looking at is Beyonce's Instagram feed.
There you will see a glorious picture of Beyonce the beatifically expectant mother, (for indeed she has now confirmed that she is pregnant again), kneeling in her undies before a sort of giant floral wreath. In a veil. Revealing her perfectly curved bump. As a multi-layered image of perfect motherhood this image knocks Demi Moore's Vanity Fair cover into a pair of maternity knickers. The Beyonce Bump is simply far superior. One, it contains two babies, not just one. Two, it is rendered in such hi-vis, hi-def style that it seems as if Queen Bey has morphed into an art work by Jeff Koons. It is an acknowledgment of marriage, beauty, fertility and sexiness all rolled into one, its high-end artiness only giving it a strange objectivity which doesn't make you feel weird (much) about looking at it. It only needs one of those haloes with stars around it floating above the veil to make it resemble some sort of Spanish votary painting from the 17th century, if you turn a blind eye to all the exposed flesh, of which there is a lot.
Beyonce reveals she is pregnant with twins
Back in the 20th century, Moore's iconic pregnancy picture spawned thousands, if not millions of copycat versions. It was such an easy picture to mimic, for a start. I know because I did it. All you had to do was to get your clothes off and pose in profile, coyly holding your belly and looking over one shoulder while camouflaging any adventures with stray nipples with a spare arm. Admittedly that bit was not very easy, thanks to the annoying habit of breasts and nipples becoming GIGANTIC during pregnancy. But the rest of it? Piece of cake.
Will women want to do copycat versions of Beyonce's picture? After all, the picture has already achieved something like 7.2 million likes on Instagram. It's clearly gone down well. Perhaps it has only gone down well with people who have no idea what it's like to actually BE preggers. Because I seriously doubt that we will be witnessing a rash of pictures on social media of pregnant women the world over who have dashed down to the florists, hauled out an old net curtain, and got into their undies in an attempt to achieve a similar effect with a bit of colour enhancement on their phone. Whereas the Moore image managed to maintain a smidgen of reality, Beyonce's saintly wackiness can be achieved by no normal woman. Particularly those who already have an energetic five-year-old to entertain, as Beyonce and her partner Jay Z do, in the form of little Blue Ivy.
Where is the exhausted, haggard face? Where is the acne, where are the stretchmarks, where is the hopeless hair with grey roots showing (hair dye is frowned upon during pregnancy)? Where is the undefined bump which actually looks a bit like, well very like, a fat stomach? Where is the fat, moreover, which seems to appear everywhere (face, back, arms)? It's a brave woman who has the optimism to kneel down in front of a million flowers, get their wedding veil back on again, and know that bar the bump, the rest of their body is in perfect condition. People, this is not what pregnancy looks like. It looks great, but just not like this. Should you ever need confirmation (unlikely, I know) that celebs are not like the rest of us, but inhabit a totally weird world designed by Jeff Koons, Caravaggio and Bartle Bogle Hegarty, feast your eyes on this image.
Join our new commenting forum
Join thought-provoking conversations, follow other Independent readers and see their replies