Border Patrol agents are 'working to sabotage the Biden administration', according to insiders
The Trump-supporting Border Patrol labor union is reportedly teaming up with Republicans to launch a PR offensive on Biden's government. At the same time, officers have chosen to continue to treat migrants at the border like Trump is still president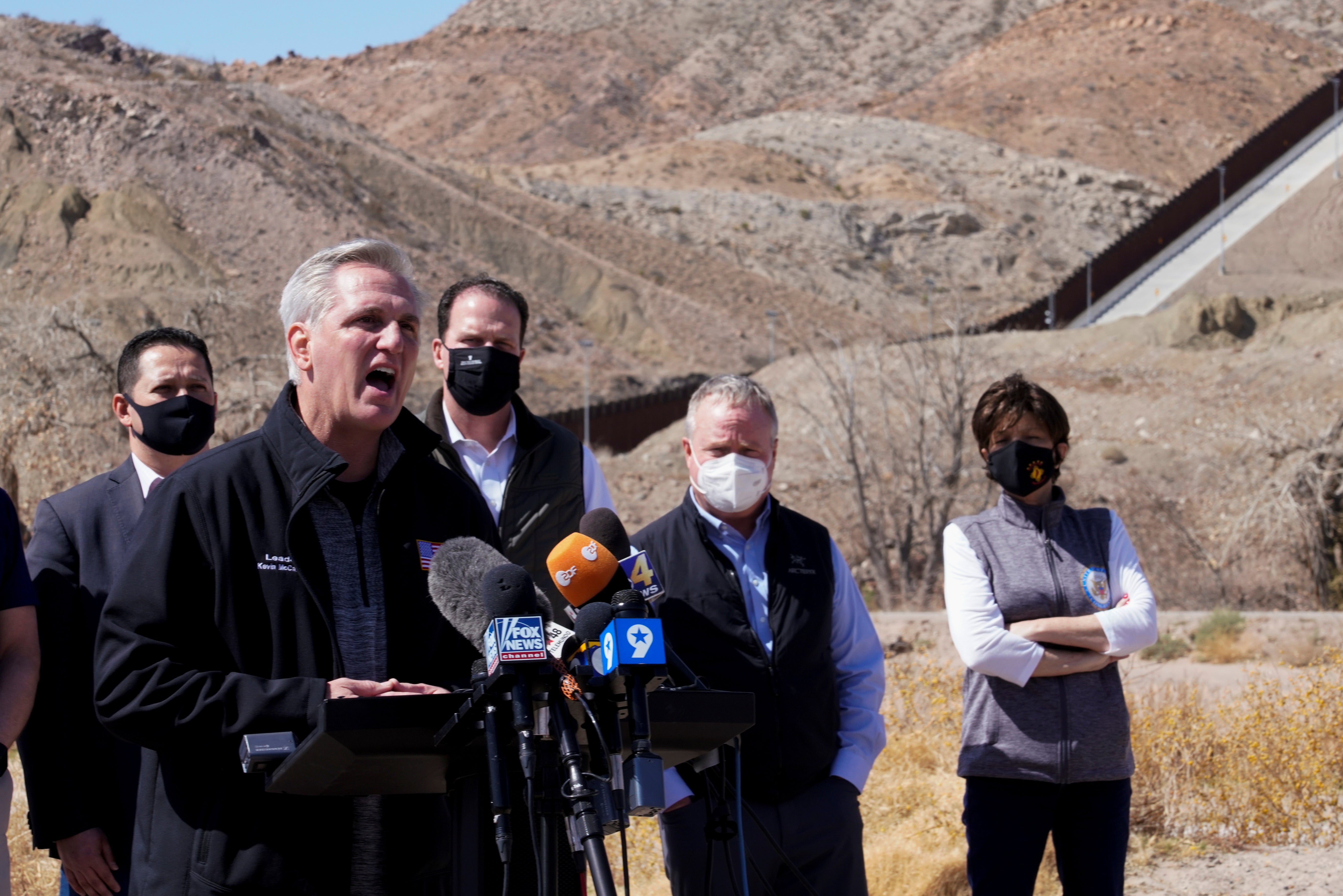 Leer en Español
On Monday, House Minority Leader Kevin McCarthy accused President Joe Biden and his administration of fomenting a "crisis" along the US-Mexico border. Biden's abandonment of harsh Trump-era policies had created chaos, McCarthy said to news camera while joined by a number of his Republican colleagues. Biden had recently gotten rid of policies such as the one which required immigration officials to prevent unaccompanied children from seeking asylum and the one which allowed immigration officials to arrest and deport undocumented people who attempted to claim underage relatives in the custody of the Department of Health and Human Services' Office of Refugee Resettlement. 
In McCarthy's telling of events, US Border Patrol agents are catching people from such far-flung nations as Iran, Yemen, and Sri Lanka who are attempting to illegally enter the country. Another House Republican — Homeland Security Committee Ranking Member John Katko — went even further, claiming that a number of those caught by Customs and Border Protection officers are on the Department of Homeland Security's terror watch list. 
But while Republicans and right-wing media outlets are making noise about a "Biden border crisis" in hopes of inflaming the anti-immigrant base that helped Trump win the White House in 2016, insiders who've worked at DHS, Border Patrol, and other executive branch agencies have a different view. These insiders say that many of the allegations being made by House Republicans and some of the problems arising at the border — such as the large number of minors remaining in CBP custody longer than court-ordered and statutory limits — have all the hallmarks of a coordinated push by Border Patrol officers, including the leadership of the Border Patrol's pro-Trump labor union, to undermine the current administration. 
"This is a planned, coordinated attempt to sabotage the Biden administration," said Jenn Budd, a former Border Patrol agent-turned-immigrant rights activist who works with the Southern Border Communities Coalition. 
Budd added that the fact that unaccompanied minors are being kept at Border Patrol stations for extended periods of time appears to be "an internal crisis" of the agency's own creation: "It does not take that long to process children." 
Budd recounted a time when she approached a border station in 2019 and spoke to agents who were aware that she had been part of the agency but were not aware of her current immigration activism: "I asked them why it was taking them so long to process — it didn't take that long [even] when I had to hand-write everything back in the day — and they would say, 'We're trying to teach them a lesson'. So they were intentionally keeping people in there for over two weeks at a time in these conditions to punish them. That is the only reason why they were doing that." 
Budd continued on to say that the same people who responsible for harsh treatment of migrants during the Trump era are still in charge: "They do this on purpose. And none of that has changed in the management has not changed at all. But the same people who separated families and created the last crisis are doing it again."
But it's not just Border Patrol management who are undermining the Biden administration's attempts to roll back Trump-era immigration policies. It's also those in charge of the labor union that represents rank-and-file agents, the National Border Patrol Council. 
While most federal employee unions are traditionally strongly aligned with the Democratic Party, the NBPC did not endorse presidential candidates until 2016, when it threw its weight behind Trump. In return for the endorsement, Trump gave Border Patrol agents a free hand to implement his policies in the harshest way possible. The union's support for the former president subsequently continued through the 2018 and 2020 election cycles, and since he has since left office, union officials are now allying themselves against his Democratic successor.
Earlier this month, NBPC president Brandon Judd appeared at a joint press conference with Texas Governor Greg Abbott, at which the governor denounced Biden's reversal of Trump-era policies and announced that he'd be sending Texas Department of Public Safety officers to the border.
"The Biden administration has created a crisis at our southern border through open border policies that give the green light to dangerous cartels and other criminal activity," Abbott said. "Border security is the federal government's responsibility, but the state of Texas will not allow the administration's failures to endanger the lives of innocent Texans. Instead, Texas is stepping up to fill the gaps left open by the federal government to secure the border, apprehend dangerous criminals, and keep Texans safe."
Budd suggested that Judd's appearance alongside Abbott was a deliberate attempt to undermine the chain of command that runs from rank-and-file agents to the president. She expressed surprise that he had not yet been fired. But another former DHS official familiar with the NPBC's machinations said such wink-and-nod arrangements which flout established lines of authority are just part and parcel of dealing with a union that has long stood in the way of any meaningful attempt to reform the American immigration system. 
The official, who served in senior roles under the George W Bush, Obama, and Trump administrations, said they were "shocked" at how the NPBC's influence grew to outsized levels under the 45th president because union leaders felt emboldened to take any complaints they had directly to the Oval Office. 
"My impression was that Chris [Crane, Immigration and Customs Enforcement union president] and Brandon [Judd] were texting buddies with the president, and we frequently had to scramble… to try to tamp down whatever was ramping them up," said the official. Trump's various homeland security secretaries often had to drop what they were doing to address demands made by both union presidents, who frequently went directly to Trump rather than go through proper channels, they added. 
"Having a cabinet member have to so frequently engage with these GS-14s was just weird and odd and a waste of a cabinet member's time, but you had to do that to keep those two satiated," they said. 
Ultimately, Judd's direct line to Trump and influence over rank-and-file agents meant that any attempt by DHS leaders to effect a change policy that wasn't to union leaders' liking was effectively vetoed, the official continued, adding that the dynamic most likely persists even though Trump has left the White House: "You have way too many scenarios where the secretary or the head of CBP issues a directive, and there's just an absolute recalcitrance in the organization. There is a lack of command and control in a way that is dangerous."
Julian Castro, a former San Antonio mayor who served as Secretary of Housing and Urban Development from 2014 to 2017, said the House Republicans' appearance at the US-Mexico border on Monday is "the same fear-mongering that Republicans gin up when they feel like they're losing their grip on their base and losing the argument to Democrats," and an attempt to distract from any positive effects Americans might feel from passage of the Biden-backed American Rescue Plan Act. 
Castro said he would not be surprised if the Border Patrol union was colluding with Republicans to undermine Biden because Trump "allowed that agency to go rogue" and allowed the union to dictate policy. "He encouraged their worst instincts, made 1000 different administrative changes, fostered a culture of anti-immigrant sentiment, and I believe at the end, administratively, essentially gave them more power over how the operation is conducted," he said.
Castro, like Budd, believes that there needs to be consequences for agents who actively work to undermine the Biden administration. "It does seem to me that you have a certain group of agents who feel emboldened and empowered to do whatever they want, and that culture absolutely has to be stamped out," he said. "Folks on the ground should not have the ability to throw a wrench into the gears by slow-walking policy or choosing what policies they're actually going to abide by… They have a job to do, and they should be respected in that job, but they need to do the job professionally, and in line with the administration's policy."
But Budd, the former Border Patrol agent, said even the best attempts at house-cleaning at Customs and Border Protection by newly minted Homeland Security Secretary Alejandro Mayorkas will be insufficient as long as the Border Patrol's union continues to exercise an effective veto over policy by "spreading propaganda" with the help of Republican officials. 
When asked what Biden and his administration can do to prevent the agency from continuing to operate as if the president doesn't make policy, her answer was simple. "He has to decertify the union," she said. 
Join our commenting forum
Join thought-provoking conversations, follow other Independent readers and see their replies