Nikki Haley: the rising star of American politics who puts Boris to shame
The US ambassador to the UN has won praise for her handling of the Syria crisis – and Donald Trump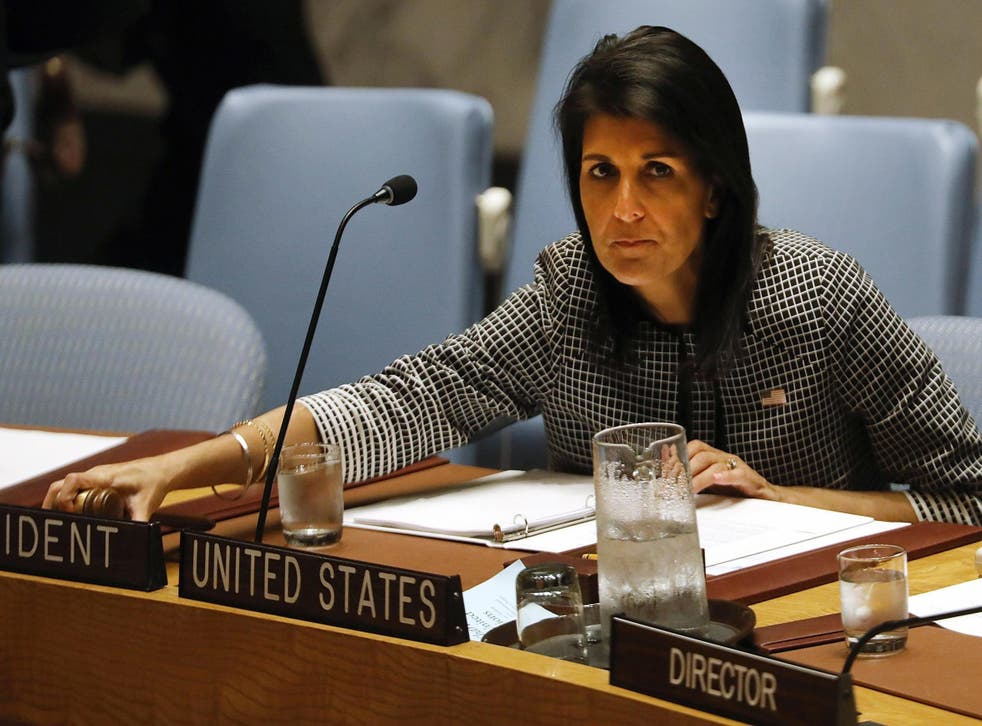 As one person's diplomatic star falls, another one's rises. Boris Johnson has returned to London with criticism swirling around him after his much-trumpeted initiative to impose tough new sanctions on Russia was summarily rejected at the G7 summit in Italy. Meanwhile, across the Atlantic, the stock of Nikki Haley, the American ambassador to the United Nations, is rising amid predictions of a future of power and influence.
Both have just had their first big foreign relations forays in new jobs, with Syria and the unfolding crisis there the common denominator.
Ms Haley's performance at the emergency Security Council meeting, holding up victims' photographs from the Idlib chemical attacks as she declared "we cannot close our minds to these pictures" was viewed across the world and helped shape the international reaction to the missile strikes which followed to be better than could be expected, while also being praised in America.
Mr Johnson, on the other hand, got nowhere in persuading ministers of allied states to take punitive action against Russia with his attempt described as counter-productive. As he retreated from Lucca he found that the knives were already out for him from cabinet colleagues back home.
A member of Theresa May's Government complained to one newspaper that the Foreign Secretary had presided over a "total letdown" for Britain. A second held in another newspaper that "we now have no credibility with the Russians and no additional credibility on the world stage following the G7. This had been a very negative experience … It's a very difficult moment for him. It was a play to increase his influence but it has backfired."
The G7 ministers had, it appears, not so much forcefully argued with Mr Johnson, but ignored him. The comment of Jean-Marc Ayrault, the French Foreign Minister, was dismissive: "The question wasn't mentioned by anyone except Boris Johnson but we didn't talk about it any further." Even the Americans, with whom the British Foreign Secretary is supposed to have coordinated his offensive, did not fight for tougher sanctions. Italy's Angelino Alfano stressed that "we must have a dialogue with Russia and we must not push Russia into a corner. There is no consensus on additional new sanctions as an efficient instrument to deliver the goal we are aiming for." For Germany's Sigmar Gabriel, not just Russia but Iran must be welcomed to take part in Syria's peace process – and certainly not threatened.
What happened at the meeting may be a source of embarrassment for London but for European and American allies it has become a source of irritation and even anger. They have been forced to expose the West's trump card, or rather that they lack one, even before talks have begun with Russia on the crisis and this has been caused by UK action they privately described as "clumsy", "deluded" and "irresponsible".
Vladimir Putin's stance, the language he is using, has hardened after the news of what occurred at the G7 summit emerged. The US Secretary of State has arrived in Moscow for tough negotiations, but now armed with just carrots and no stick. The exasperation among Western diplomats and ministers has grown with the belief, backed by some evidence, that all this came about because Theresa May banned the British Foreign Secretary from a planned visit to Moscow at the last minute and Mr Johnson had then sought to save face by creating his role as the sanctions enforcer.
Ms Haley is in a very different position, sitting in New York receiving praise. Unlike Mr Johnson's venture, her performance at the Security Council debate was meticulously prepared. Other national delegates were impressed, and even the Russians, at the receiving end of her tongue-lashing, were privately acknowledging that they will be facing someone at the UN from now on who they cannot take lightly.
Ms Haley is relatively unknown outside the US. She held office before her current job as the Republican governor of South Carolina, the state where she was born, after her family arrived there from India, via Canada. She won three elections and was reported to have been considered as the vice-presidential running mate by Mitt Romney in the 2012 US presidential election, an offer she turned down.
The Governor was a critic of Donald Trump during the election campaign, inevitably leading to angry tweets from him. One declared "the people of South Carolina are embarrassed by Nikki Haley" after she asked him to disclose his tax returns.
Nevertheless he offered her the UN post. At her confirmation hearing in January Ms Haley spoke of her support for Nato when the new President was publicly questioning the need for the Alliance. The following month, when news broke that the Trump election team had sought to weaken the Republican platform over opposition to Moscow's annexation of Crimea, she stressed that sanctions against Russia over Crimea would continue. She subsequently expressed opposition to a "Muslim ban" on entry to the US because "we should never ban anyone based on their religion". She spoke up in favour of a two-state solution for Israel and Palestine when Mr Trump appeared to be abandoning US support for it.
Taking contrary positions has not, so far, harmed Ms Haley in the Trump administration; quite the contrary in fact. She is the first UN ambassador since the Reagan administration to hold full cabinet rank and, with little fanfare, she became a member of the principals committee of the National Security Committee as Mr Trump's chief strategist, and supposed Svengali, the hard-right Steve Bannon, was being removed from it.
Ms Haley insists that the White House has not tried to control what she does or says. "The President has not once called me and said 'don't beat up on Russia'. He has not once called me and told me what to say," she wanted to stress in a TV interview. These words would no doubt elicit a rueful smile from Boris Johnson, who can do little without the permission of the Prime Minister (as the cancellation of the Moscow trip showed) and still gets frequently slapped down by No 10.
But it is also the case that the UN ambassador is able to continue this way thanks to the confusion and infighting which has marked the chaotic first months of the Trump administration. There may come a time when order is established and the White House will be able rein in officials more. Ms Haley will then have to show just how independent she really is.
Boris Johnson: Syrian chemical attack evidence points to Assad
In any event, Ms Haley may not want to get too close to this White House. There remains the feeling that skeletons continue to rattle around in the cupboards of the administration and Russia, in the form of the Trump election team's links to Moscow, may yet unravel this presidency. The former Senator is relatively young in political terms at 45, and the plaudits she is gathering and the alliances she is forming are likely to serve her well in the future. Staying at a distance in New York may be a safer option than Washington.
As for Mr Johnson, the feeling in Whitehall is that he will carry on in his job or perhaps another government department if Ms May gives the Foreign Office to one of her allies. Keeping a recent rival for the leadership of party and country damaged but inside the tent remains the best of all options for the Prime Minister.
Register for free to continue reading
Registration is a free and easy way to support our truly independent journalism
By registering, you will also enjoy limited access to Premium articles, exclusive newsletters, commenting, and virtual events with our leading journalists
Already have an account? sign in
Join our new commenting forum
Join thought-provoking conversations, follow other Independent readers and see their replies