Boris wants to push Theresa out, but it is too late now – the Tories need someone who can win the youth vote
The Foreign Secretary's promotion of Brexit has alienated too many young people. The liberal Tory joker who won their votes as Mayor of London has been forgotten. Now he is a right-wing Etonian who is a joke abroad and a national embarrassment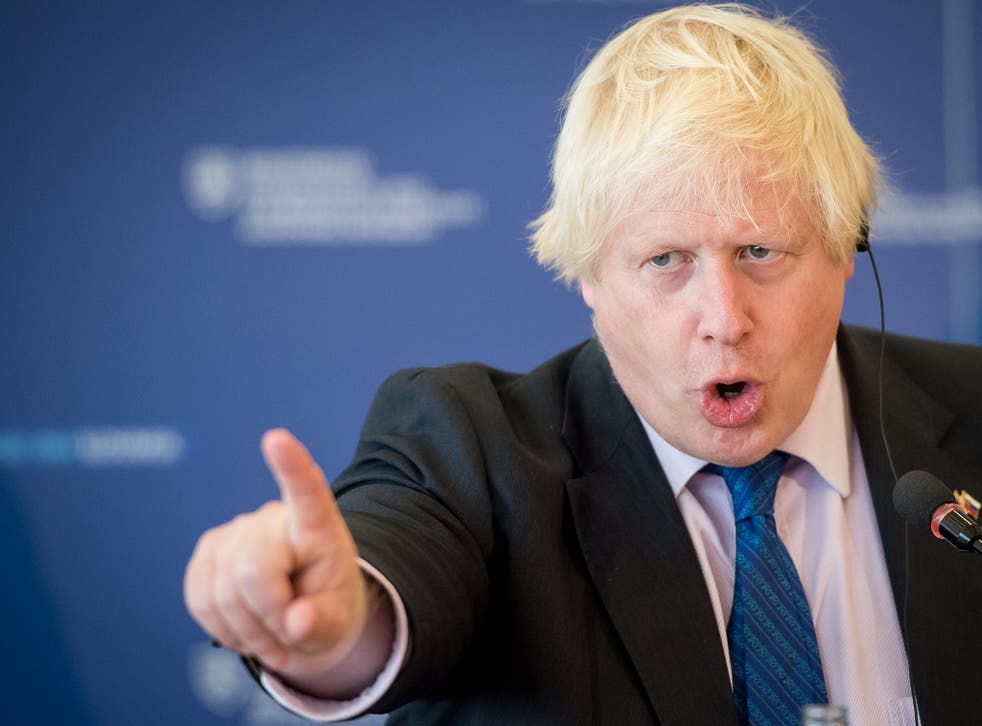 Boris Johnson has worked out that his last chance of becoming prime minister is if Theresa May falls in the next year or so. I don't know if that explains his decision to give an interview to The Sun setting out his Brexit "red lines", because I don't have a window into his heart, but, as ever with him, there is a remarkable coincidence between his setting out what he believes and the furtherance of his ambition.
He knows there are two ways May could go. The first would be if the Cabinet splits over the terms of Brexit. The second, after Brexit, would be if the party decides that it has a better chance at the next election under someone else. In the first scenario, Johnson is a candidate. In the second, he is not.
The reason he could be prime minister now and not in 2022 is that he was the leader of the Leave campaign. That makes him the candidate best qualified to deliver Brexit if May won't, but it also makes him the wrong candidate to lead the Conservatives into the next election. By then the party will be looking for someone who can win back the youth vote.
UK news in pictures

Show all 50
Johnson's promotion of Brexit has alienated too many young people. The liberal Tory joker who won their votes as Mayor of London has been forgotten. Now he is a right-wing Etonian who continues to peddle the untrue £350m-a-week figure for our EU contributions. He is a joke abroad and a national embarrassment.
This may explain the desperation of Johnson's attempt to divide the Government. I doubt that there will be a groundswell of support at the Tory annual conference in Manchester tomorrow for his position. Most Brexiters are prepared to pay any price to leave: after 46 years of EU membership, they don't care if the transition period is two years or three. They will even tolerate European Court of Justice rulings during that period – these will be laws we have helped shape, after all – as there is no prospect of the EU27 agreeing anything else.
Johnson's other demands are the stuff of the Brexit talks. He does not want us "remaining in rotational orbit around" the EU after we've left, or paying for it. David Davis and his British officials must be absolutely delighted by Johnson jogging their elbow while they negotiate in Brussels – and they had a good week this week.
Boris Johnson 'recited colonial poem in Burma's most sacred Buddhist temple'
Why give an interview to The Sun? I doubt that many Tory party members read it, and Rupert Murdoch is not the power he was – he hasn't tweeted for 18 months – but Johnson would rather have his support than not in a Tory leadership contest.
It is desperate, though, because Johnson is not likely to succeed. The Cabinet may split over the Brexit negotiations, but if it does Johnson is likely to be in a minority against the Prime Minister. I cannot see how his opposition to an orbital long-term relationship with the EU could bring Theresa May down. Her middle position, set out in Florence last week, commands a majority in the Cabinet, and in the House of Commons. She is bulletproof, until the Tory party starts to think about the next election.
Which will be the second theme, after Brexit, that will dominate this party conference. Most Conservatives know that Jeremy Corbyn is a threat to them, and there will be important debates in fringe meetings in Manchester about what solutions they can offer to the problems of the housing market and student debt.
Emily Thornberry rips into Boris Johnson with Brexit joke
Johnson said in his interview: "The question is, how do you help young people to manage their debts? We have to address that, and we will." But students aren't going to listen to him. They probably won't listen to his brother Jo, the Universities Minister, who was a Remainer.
It may even be that student debt is not the heart of the problem. It may be a proxy for young people feeling they will never have a home of their own.
In which case, Theresa May's big announcement expected in Manchester of an expansion of the Help to Buy scheme won't cut it. Pouring more public money into demand for houses without increasing the supply can have only one effect on prices. The Tories are going to have to come up with new houses, and new measures to discourage buy-to-let and to encourage old people to downsize, and they need to start making a difference by 2022.
Boris Johnson 'old fashioned and talking nonsense' - Guy Verhofstadt
And if they succeed in this huge task, they will need a leader better able to sell it to young people (defined as those under the age of 47, who were more likely to vote Labour than Tory in June) than either May or Johnson.
Hence the third theme that will dominate in Manchester: the beauty parade of leaders for the next generation. James Cleverly, who has been MP for Braintree for two years, could take on Corbyn. "I'd love to be prime minister," he said this week, which was refreshing, but he really needs to prove himself in a ministerial job.
The other possible leader who could beat Corbyn is Ruth Davidson, leader of the Scottish Tories, who I suspect will be mobbed more than Boris in Manchester. If the party is serious about power – and you have to wonder about the truth of that old saw – it would get her into the House of Commons the moment the 2021 Scottish Parliament elections are over.
But she's a Remainer, someone might be heckling from the back. That is not going to matter – Britain will have left the EU by then. On the contrary, it is an advantage with young people. For the more thoughtful Tories in Manchester next week, Brexit is already yesterday's business: the next election will be about the housing market. Johnson won't be the one to fight it.
Join our new commenting forum
Join thought-provoking conversations, follow other Independent readers and see their replies