Stop blaming Brexit for Jo Cox's death. Political violence is as old as time itself
Why are commentators implying that there's something especially corrosive, especially conducive to violent acts, about the EU referendum?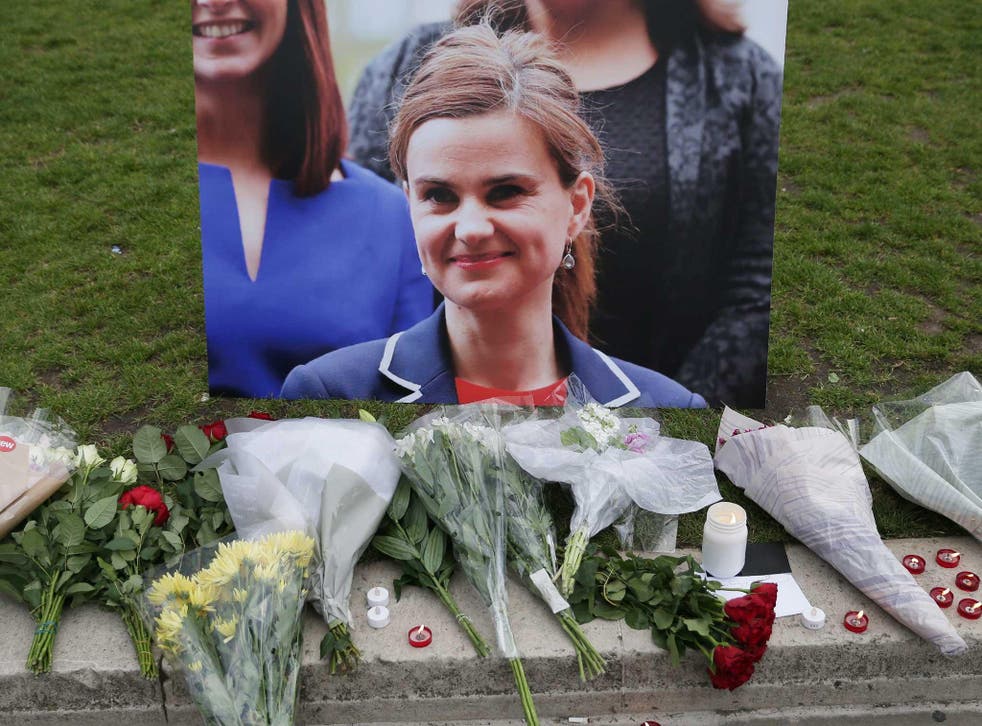 When, on 14 May 2010 the Labour MP Stephen Timms was attacked by Roshonara Choudhry during a constituency surgery and almost murdered, was that because the climate of political discourse had grown especially coarse and violent, around the time of that year's general election? And when, on 28 January 2000, Robert Ashman visited Liberal Democrat MP Nigel Jones' surgery in Cheltenham, and seriously injured Jones and murdered councillor Andrew Pennington with a samurai sword, was that because people had started to get unduly strident about their politics? Or the many times when "lone wolf" crazies have taken a pot shot at the Queen or Prince of Wales? Was that because of some outbreak of extremism?
Jo Cox shooting - pictures of the crime scene

Show all 7
No. These were murders and murder attempts, more or less politically motivated, and carried out by individuals who predominantly weren't of sound mind. Sadly, history is full of other assassinations, whatever the tenor of public debate was at any particular time. Politics has always been an unpleasant business, and people have always harboured the deepest suspicions about their elected representatives' probity, resented their power, and nursed conspiracy theories. "They're all in it for themselves" is not a novel remark directed aganst elected and unelected officials.
So why then do some commentators, such as Polly Toynbee, persist in suggesting that the "corrosive" atmosphere in debate engendered by the Brexit campaign has uniquely and viciously led to the murder of Jo Cox, such that "one can register shock at what has happened but not complete surprise"?
Canadian MP tears up in tribute to Jo Cox
Actually, it was a complete surprise, and, as the other examples demonstrate, MPs have been subject to attempts on their lives throughout history, which are always unexpected. We should not dismiss from this discussion the murders of Ian Gow or Airey Neave by Irish republicans, and a string of Northern Irish politicians too, as special cases. Or the 1984 Brighton bombing, when the aim was to take out the entire cabinet, including Margaret Thatcher. It very nearly succeeded, even before the era of social media, trolls and stalkers. Moreover, just because it was a very long time ago and illustrated by engravings, we should nether forget the assignation of a British Prime Minster – Spencer Perceval, shot dead in the lobby of the Commons by a man named Bellingham, who held a grudge against the authorities.
Politicians always have been the targets of terrorists and malcontents and they always will be. Nigel Farage, Michael Gove and Chris Grayling are not in any way to blame for this, any more than Thatcher's hard line on Ulster was the reason why Gow and Neave were blown up. Political violence is, we have to face it, as old as politics itself. Brexit really has little to do with it. To suggest otherwise is itself rather a debasing of the debate.
Register for free to continue reading
Registration is a free and easy way to support our truly independent journalism
By registering, you will also enjoy limited access to Premium articles, exclusive newsletters, commenting, and virtual events with our leading journalists
Already have an account? sign in
Join our new commenting forum
Join thought-provoking conversations, follow other Independent readers and see their replies