Brighton's i360 is an expensive and hideous eyesore
A measly 20-minute trip on i360 will set you back £15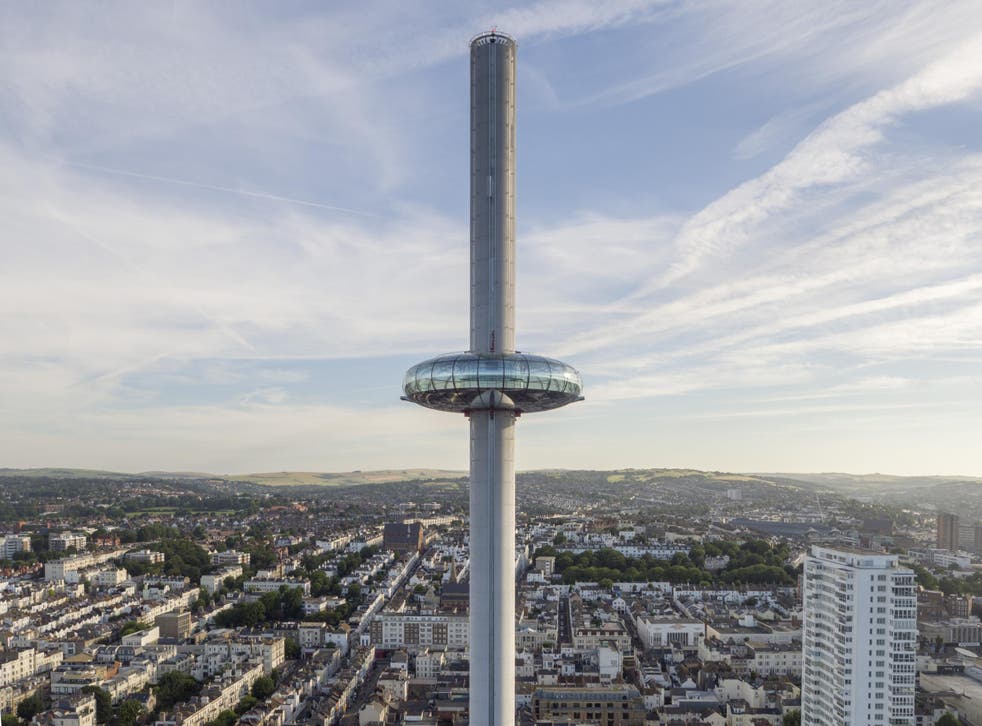 This week, Brighton opened a "vertical pier" – a slender tower with a glass pod that ascends 450 feet to give stunning views of the Sussex coastline and the English Channel. Is the i360 a hideous eyesore (according to some residents), or a modern monument reflecting the best of contemporary architecture and engineering? The creators describe it as "the world's first vertical cable car and the tallest moving observation tower", but great art and design are not necessarily the result of record-breaking.
Aesthetics must play a part and, for me, the i360 is a piss-poor replacement for Brighton's West Pier, which burnt down in 2003. For a start, these modern fake "monuments" always have a commercial sponsor and cost a packet to enjoy.
A measly 20-minute trip on i360 will set you back £15, and £7.50 for kids (slightly cheaper if you book online). Brighton is the seaside town that turned down the chance to build a development by the world famous architect Frank Gehry in 2008 – perhaps a tower seemed less challenging to the city's planners.
Traditional Victorian piers generally included cafés and entertainment, a promenade area and seats, slot machines and places to fish, all for a modest entrance fee. A lift just offers a costly trip to a view and then you return to earth and the souvenir shop.
The same team designed the London Eye, built in 1999 and a huge success with visitors (tickets from £21 if you book in advance), but hardly a national monument compared to Big Ben on the opposite bank of the Thames or the sheer gorgeousness of Tower Bridge a short distance downstream.
These are true monuments, follies of excess, the products of genius which are world class heritage sites. The hideous ArcelorMittal Orbit in London's Olympic Park, has just opened a waterslide. Designed by sculptor Anish Kapoor and engineer Cecil Balmond, it claims to be the world's tallest sculpture – and costs £15 to enjoy. Monument? Hardly.
I'm in Scotland, overlooking a landscape so beautiful it hardly needs a monument. But at the side of Loch Shiel stands an elegant column topped by a statue of a soldier that exists in totally harmony with the surroundings. The Glenfinnan Monument was built in 1814 in memory of those who died in the Jacobite rising of 1745, which ended in the bloody battle of Culloden in 1746. A textbook example of a man-made intervention that enhances, rather than detracts, from the landscape.
The only modern monuments worth mentioning are Antony Gormley's Angel of the North outside Gateshead and Charles Jencks's massive earthwork Northumberlandia, a female form recumbent on the site of a former surface coal mine north of Newcastle. The Angel and Northumberlandia are both free for anyone to enjoy at their own speed, in the tradition of the Cerne Abbas Giant with his giant phallus and huge fighting club. Modern monuments seem threadbare in comparison with this raw exuberance. These days, we rarely build monuments to commemorate battles, preferring to erect ugly statues celebrating famous people who have passed on to the great theatre in the sky. There's a campaign to mark the great Victoria Wood with one, and I hope her family turn it down.
Piers were egalitarian – but the Brighton i360 is just naff.
Join our new commenting forum
Join thought-provoking conversations, follow other Independent readers and see their replies