Britain – including its opposition party – should be on the side of human rights in Iran
Emily Thornberry's warning that Westerners should not 'simply impose our views' on other countries is the most appalling moral cowardice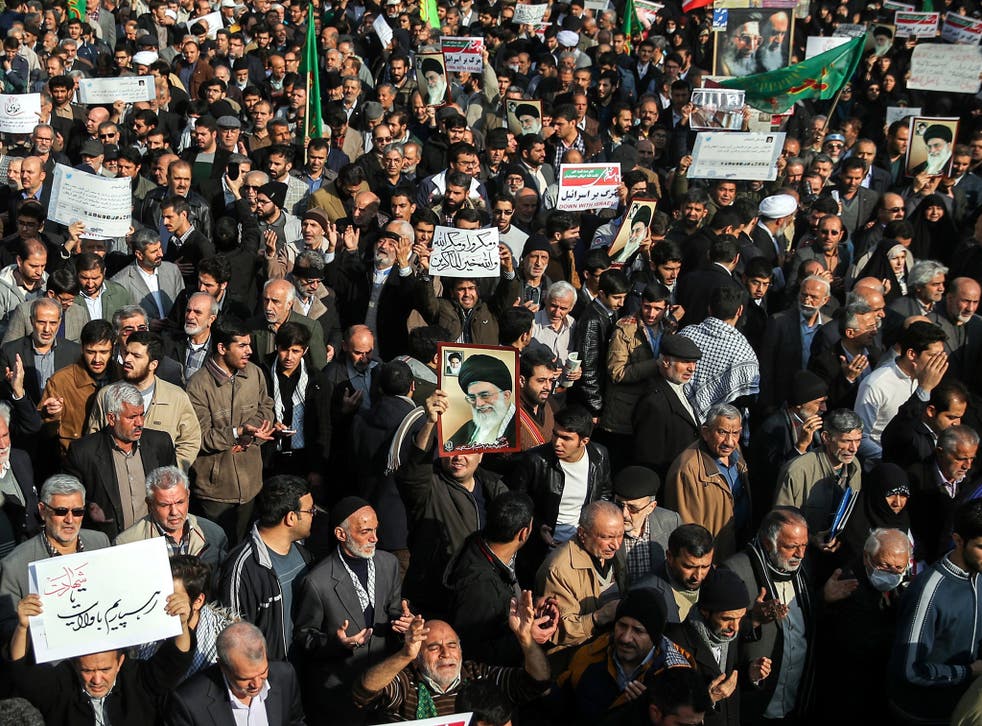 Protests against the government in Iran began in Mashhad, the country's second city, on 28 December. They were widely reported around the world, including by The Independent, on 30 December. The next day Boris Johnson, the Foreign Secretary, issued a statement expressing concern, regretting the loss of life, insisting on respect for human rights and saying "people should be able to have freedom of expression and to demonstrate peacefully within the law".
Mr Johnson has not had a good record at the Foreign Office, and in the case of relations with Iran his blunder over Nazanin Zaghari-Ratcliffe was regrettable, but he has at least travelled to Tehran to try to keep the dialogue open.
The view of the Opposition is plainly of second- or third-order importance. But the equivocation of the Labour Party leadership over the protests has been telling. Emily Thornberry, the Shadow Foreign Secretary, did not issue a statement until 2 January. It began by saying: "The picture surrounding the protests in Iran remains highly uncertain, and Western politicians should be cautious in claiming to understand their origins, organisation or objectives."
Fortunately it went on to call on the Iranian authorities to show "restraint in their policing", and to "allow peaceful, democratic protests to proceed".
But even this grudging demand was undermined by Ms Thornberry's interview with the BBC on Saturday. She said: "We take a cautious approach to Iran and we don't want to leap to judgment and say: 'Well, we don't like the regime in Iran, these people are against it, they must be the guys with white hats.'"
World news in pictures

Show all 50
This is a transparent attempt to avoid embarrassing the Labour leader over his past support for the Iranian government. Jeremy Corbyn has, shamefully, taken £20,000 from the regime's propaganda outlet, Press TV, continuing to act as a presenter even after it had its licence revoked by Ofcom.
As recently as 2014, Mr Corbyn adopted a position of abject apology for the Iranian government, praising its role in bringing about a chemical weapons agreement in Syria – one which was soon broken by the Assad regime in Damascus.
No wonder Ms Thornberry claimed to the BBC that it was hard to tell what "these current riots" are about. "Sometimes they are calling to reinstate the monarchy, sometimes they're calling out against Khamenei, sometimes they're calling for Khamenei, sometimes they're calling for the price of eggs," she said.
Let us try to enlighten her. Our award-winning reporter, Patrick Cockburn, who knows a thing or two about CIA propaganda, writes that he thinks the protests are a genuine expression of anti-government sentiment. That does not mean that they are coherent or particularly democratic, but they are not fomented by outside interests.
Anyone with a conscience, meanwhile, knows that the Iranian government hangs gay people, tramples on women's rights, has a poor human rights record and sponsors terrorism. It is not difficult, in a contest between such a regime and the right to free expression, to know which side is wearing the whiter hat.
Ms Thornberry's warning that Westerners should not "simply impose our views" on other countries is the most appalling moral cowardice. There is nothing "Western" about universal human rights, and all representatives of the British people should stand up for them.
Join our new commenting forum
Join thought-provoking conversations, follow other Independent readers and see their replies