Giants Club: Meet the woman saving Kenya's elephants
Poachers used to be let off with a slapped wrist - when Judi Wakhungu entered government, that changed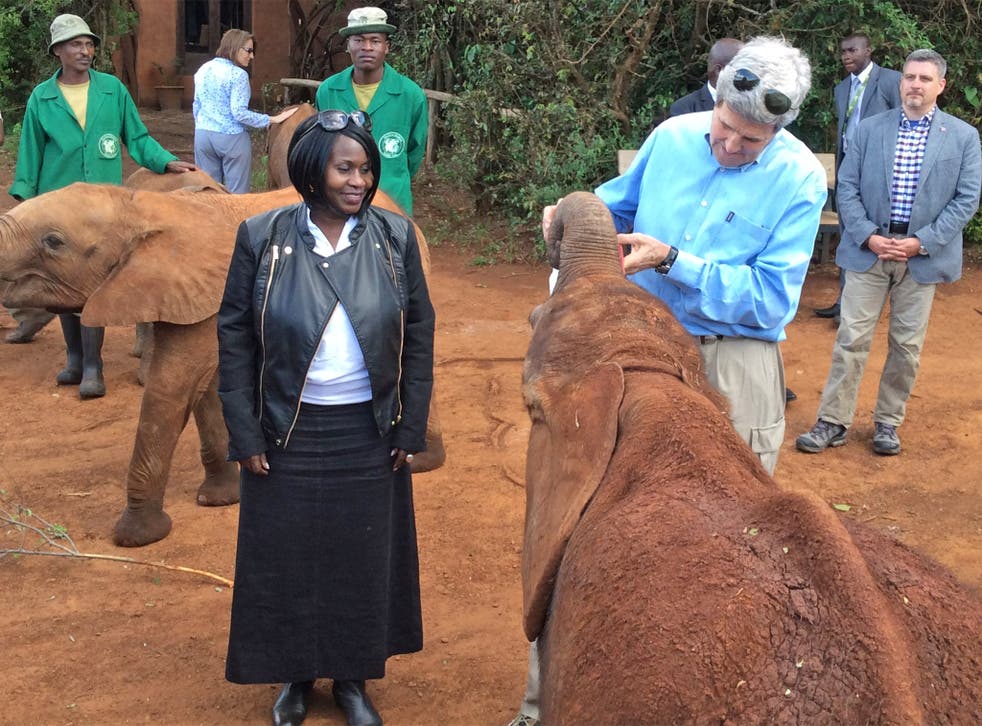 At the start of 2013, a family of 12 elephants including several mothers with suckling infants were machine-gunned to death in a Kenyan wildlife reserve and their tusks were sawn out by poachers.
News of the massacre, the country's worst single poaching incident since the 1980s, crushed the conservation community, and added to a devastating spike in African elephant killings driven by Asian demand for ivory.
But Kenya's government, caught in a disruptive election cycle, seemed barely to notice. A handful of wildlife rangers were demoted or suspended. To date, no one has been prosecuted.
Contrast that to last week, when five elephants were killed in the same national park, Tsavo. Hot pursuit teams with sniffer dogs launched a manhunt. Within hours, two Kenyans suspected of colluding with the poachers were in custody.
Soon after, Professor Judi Wakhungu, Kenya's new minister in charge of wildlife, flew down to join the search for the rest of the gang, and to sign off on whatever was needed to apprehend the killers.
"It was shocking, deeply shocking," Professor Wakhungu told The Independent, with genuine emotion, in her first major interview with a British newspaper since she took office in May 2013.
"We're still reeling from losing these five elephants; it's the worst incident for a long time. It's my job to stop this menace, and I want to be there to show the government is committed to this, to boost the morale of the rangers, to help however we can."
An academic with a background in petroleum geology and a PhD in energy resources management, Professor Wakhungu, Kenya's cabinet secretary for the environment and natural resources, admits that although conservation is her "number one remit", she is "no expert".
Oddly, that has been a benefit, she said: "I do not advocate any one philosophy or another, I'm no threat to any side, so everyone trusts me, as I trust them."
Conservationists are celebrating her hands-on attention, which was sorely needed. The number of elephants killed for their ivory in Kenya leapt from an average of 70 each year in the mid-2000s, to close to 400 in 2012. That toll has since more than halved, to 164 in 2014.
Poachers working elsewhere across Africa are increasingly using Kenya as a transit state to move their bounty to Indian Ocean sea ports to ship it to the Far East. Rhinoceros populations, aggressively poached in Southern Africa, are now under threat here.
Meanwhile, huge numbers of less spectacular species such as warthogs and antelopes are killed to supply illegal "bushmeat" markets in Nairobi.
For too long, poachers acted with impunity. The few who were caught were slapped with what Professor Wakhungu termed "ridiculous" fines so low as to be no deterrent. That changed, to everyone's surprise, within a few months of her taking office.
She pushed through a forceful wildlife law that had been "a work in progress for 20 years", she said, bogged down in wrangles between the government and conservationists with differing approaches.
"We were very clear about our sincerity… we wanted very high penalties, we wanted a real disincentive for the poachers," she said.
Within weeks, a Chinese ivory smuggler who might previously have faced a £200 wrist-slap was instead sentenced to a £150,000 fine or seven years in a Kenyan prison. He could not pay, and remains behind bars today.
Feisal Ali Mohammed, allegedly one of East Africa's poaching kingpins, was arrested in December. Attempts by his lawyers to have him bailed have met with the stony face of Kenya's judiciary. "I say, keep them locked up," Professor Wakhungu said. Sentences under Kenya's new Wildlife Conservation and Management Act are the stiffest in Africa.
In May, Professor Wakhungu opened a wildlife forensics laboratory, the first in eastern Africa, to analyse samples from kill sites to provide more evidence with which to prosecute poachers.
"We still have to work better in law enforcement," she said. "We need to educate the judiciary that this is a serious, economic crime, that affects all of Kenya.
"I'm doing my best to give [rangers] the latest tech, the night-vision goggles, better vehicles, better communications. The poachers have this stuff, it's a tough war, our side needs to come armed appropriately, too."
The conservation community is split as to whether this strong-arm response is the most effective. Many advocate instead focusing on changing the "hearts and minds" of the communities living among the animals, where the poachers recruit foot soldiers with promises of easy earnings.
"It is true, we are seeing more rewards with the carrot than the stick," Professor Wakhungu said. She encourages programmes that deliver tangible benefits from wildlife left alive rather than poached, with tourism helping to pay to lease land for conservation, or to fund schools and clinics.
"It's becoming easier and easier to illustrate the value of a live elephant compared to a dead one," she said.
Nonetheless, she concedes that corruption is a "big problem". "It is an issue that the President has taken on squarely himself, and I know I have his support 500 per cent," Professor Wakhungu stressed.
Uhuru Kenyatta recently became the third African leader to sign up to the Giants Club, an initiative supported by The Independent that gathers heads of state, business leaders and elephant experts to pledge to secure a future for Africa's large mammals. Tackling entrenched obstacles including corruption is part of that initiative.
"We are dealing with corruption in a culturally sensitive way," Professor Wakhungu said. "We know we have to go slowly but effectively. There can be penalties if you try to rush people."
Conservationists say that much of the credit for the new momentum lies with Professor Wakhungu.
She brushes that off. "It's the conservationists who have allowed us to make these strides," she said.
"There is so much better co-operation than before. At the beginning, I would be told, 'this guy or that guy is a poacher', and I would say, 'chase him, get him', and nothing would happen and we would reach a dead end.
"Today, that's different. That guy, we're going after him all the way now."
- For more about the Giants Club: independent.co.uk/voices/campaigns/giantsclub
- To donate to Space for Giants: spaceforgiants.org
- Corporate donors looking to partner the Giants Club should contact: giantsclub@spaceforgiants.org
Join our new commenting forum
Join thought-provoking conversations, follow other Independent readers and see their replies