Cameron, Miliband and Clegg join forces for Homeless Veterans campaign
It's in all our interests to look after servicemen and women who fall on hard times, say party leaders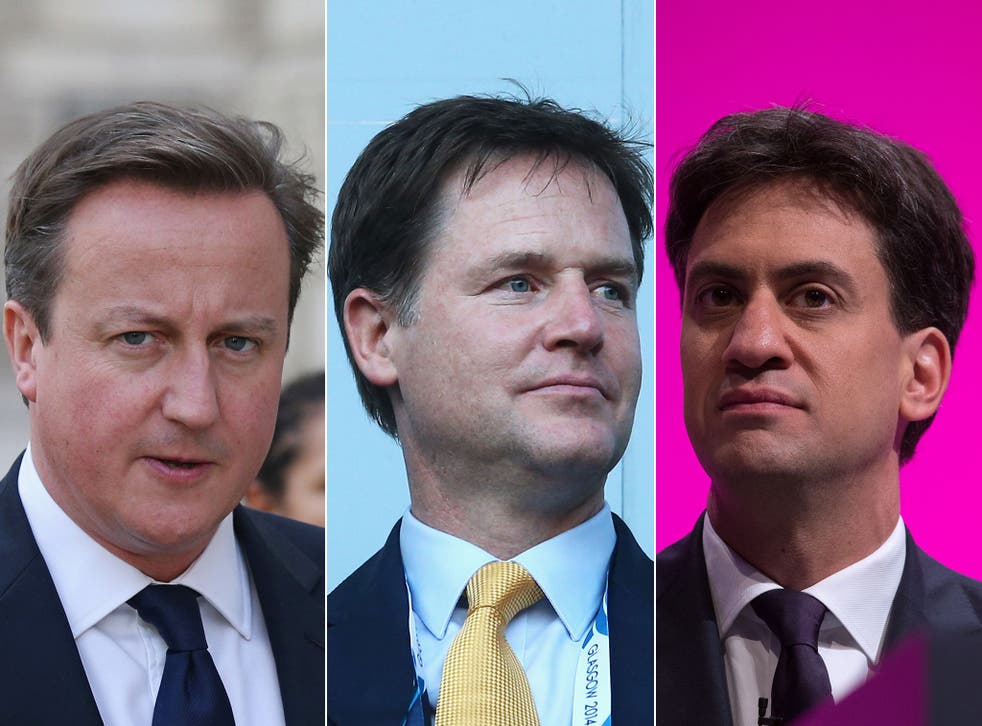 The leaders of Britain's three main political parties have united behind The Independent's Homeless Veterans Christmas Appeal, stating that coming to the aid of struggling servicemen and women is in the interests of the whole country.
David Cameron, Ed Miliband and Nick Clegg put aside their political differences to pledge their support for the campaign, which aims to improve life for veterans who have fallen on hard times and prevent others from slipping into homelessness.
Proceeds from the appeal, which is being run in partnership with the London Evening Standard, will be split evenly between ABF The Soldiers' Charity, an umbrella organisation which gives grants to thousands of individuals and smaller projects every year, and Veterans Aid, which directly combats homelessness among ex-servicemen and women through its London drop-in centre and hostel.
Mr Cameron said: "Our servicemen and women represent the best of Britain and they deserve the best support when they fall on hard times. Helping our brave veterans get back on their feet doesn't just benefit them and their families – communities are richer for their contribution.
"By enshrining the Armed Forces Covenant in law this government has put strengthening respect and increasing support for our Armed Forces at the heart of its agenda. I am pleased that The Independent and the Evening Standard are giving something back to our Armed Forces through this campaign."
The Prime Minister continued: "The Soldiers' Charity and Veterans Aid do vital work in highlighting the challenges some veterans face – we must never forget the sacrifices they make, and continue to make to keep our country safe."
He added that the Government had this year made £40 million available to support projects providing specialist accommodation for veterans, including people who had been made homeless. The money was raised through fines paid out by banks involved in the Libor scandal involving the fixing of inter-bank lending rates.
In pictures: Homeless Veterans appeal

Show all 31
Mr Miliband, the Labour leader, said: "Our Armed Forces serve our country with bravery and distinction. Servicemen and women, and veterans, are rightly held up as role models of duty, service and integrity. But like everyone, they sometimes need help.
"The Soldiers' Charity and Veterans Aid are two organisations that look after those who bravely fought for our country, but who have fallen on hard times after leaving service. That's why I'm delighted to support their work and this campaign."
Mr Clegg, the leader of the Liberal Democrats, said: "Whenever we need their help, Britain's servicemen and women are always there to protect us. That's why it's so important that, as a country, we are there for them too when they need us most.
"After operating in some of the most challenging circumstances possible, it can be hard to return to a civilian life and, sadly, we know some former servicemen and women have found themselves losing everything. So this Christmas, I am proud to support The Independent and Evening Standard's Homeless Veterans campaign."
Angelina Jolie has also given her backing to the appeal. The actress and humanitarian activist has made an undisclosed donation on behalf of herself, her husband Brad Pitt and their six children.
"As we spend the holidays with our families in our homes, and are able to give presents to our children, we should remember we owe this experience to the freedoms we enjoy, and to the men and women who served to protect us and secure our way of life," she said.
The heads of the two charities being supported by the appeal hailed the series of endorsements. Dr Hugh Milroy, the CEO of Veterans Aid, said: "Homelessness is a humanitarian issue and should not be used as a political football, so we're delighted to see all three party leaders getting behind this fantastic campaign. Every Member of Parliament who has visited our drop-in centre or hostel has expressed concern and compassion for those we help and that's something that heartens me.
"When I told some of the veterans in our care that Angelina was backing us there were some predictable gasps of awe – but in all seriousness, support from ambassadors like her is beyond price and our gratitude is immense. This campaign really will help Veterans Aid change lives."
Major General (Ret'd) Martin Rutledge, chief executive of The Soldiers' Charity, added: "Having the backing of the key political leaders today shows how wide the support is for our servicemen and women. Helping veterans in immediate crisis, such as those relative few rough sleeping on the streets, is vital but we must equally work on pre-empting the issue in the first place.
"A key element of this is multi-agency help. With the political parties supporting this, so must local authorities, who hold the statutory responsibility. The Soldiers' Charity and excellent delivery charities such as Veterans Aid must also all work together to provide robust long term solutions."
Join our new commenting forum
Join thought-provoking conversations, follow other Independent readers and see their replies