Homeless Veterans Christmas Appeal: Drifting and forgotten – turning lives around for ex-soldiers
Our partner charities help veterans on the brink – and get them back on their feet, reports Chris Green
The vast majority of the 4.6 million veterans living in Britain today have quietly rejoined the lives they left, putting the skills and experience they acquired while serving with the Armed Forces to good use. But others are badly in need of help.
Over the coming days and weeks, some of these men and women will tell their stories in these pages as part of The Independent's Homeless Veterans Christmas Appeal. Some joined up while still in their teens, serving with pride and excellence before being caught off guard by the relentless worries of a life on "civvy street" for which they were ill prepared.
Some were brought so low that they ended up on the streets. But the vast majority simply joined the ranks of the hidden homeless, drifting aimlessly between the sofas of friends or stuck in dangerous hostels, forgotten by those they served and not counted by the Government.
Others, having lost limbs in the line of duty, will have faced an existence as virtual prisoners in their suddenly alien and unsuitable homes – until something as simple as the construction of a ramp and the widening of a few doors gave them the freedom to resume their lives.
This appeal is not just to help the veterans who have found themselves on the streets – a situation which, while still a problem, has grown increasingly rare over the past 20 years. It is to help those whose lives are on the brink of falling to pieces as their marriages break up and their debts mount; for those who need access to addiction services and training to help them get their lives back on track.
The backgrounds, service histories and problems faced by the veterans you will hear from are diverse, but they all have one thing in common. All have benefited in some way from the remarkable work of the two charities that The Independent is supporting.
Veterans Aid is the front line in the fight against homelessness among veterans, running a drop-in centre near Victoria Station in central London as well as a hostel in Stepney in east London.
In pictures: Homeless Veterans appeal

Show all 31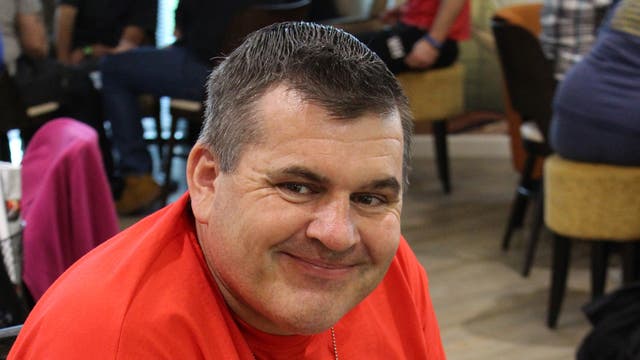 ABF The Soldiers' Charity, the national charity of the British Army, is an umbrella organisation which gives grants to more than 5,000 people every year as well as essential funds to other, smaller charities with specific expertise in helping both serving and former soldiers.
Last year, Veterans Aid dealt with 3,400 calls for help or advice and provided 21,300 nights of accommodation. It estimates that some of the veterans it helped would have been dead within five years without its intervention.
Dr Hugh Milroy, the charity's CEO, says he is "absolutely certain deaths would occur" were it not for Veterans Aid. He adds: "We don't want to meet you – it's as simple as that. Because if we meet you, you're in real trouble. I don't want these people on the streets, but if we don't act, then that's where they'll end up."
Thanks to the preventative work of Veterans Aid, which aims to intervene in the days before an ex-services member takes to the streets, the tide is turning. According to a recent study by the University of York's Centre for Housing Policy, the number of rough sleepers with a services background has fallen from around 25 per cent in 1994 to just 3 per cent today. The focus, the charity believes, should be on early intervention. If an ex-serviceman approaches Veterans Aid for help, within minutes they may have been offered a hotel for the night or money to cover the next month's rent. Next, they are helped to move on, whether they need a job or to be funded through a training course.
All this, of course, costs money. The annual cost of keeping someone in Veterans Aid's hostel, New Belvedere House, is £5,000. The average stay is just over eight months, but the success rate is remarkable: 98 per cent of those who arrive go on to lead independent lives. A victim of its own success, the hostel's 55 rooms are almost always full.
"There is a strong service tradition that we look after our own, and we are part of that tradition," explains Dr Milroy, a former RAF wing commander. "That's why we do it – these people did serve their country, they volunteered to take up arms. What catches them is life."
One of the projects funded by The Soldiers' Charity is AF&V Launchpad, which runs Avondale House in Newcastle. This bright building of self-contained flats on the Byker estate opened last year and offers a home to veterans with nowhere else to go, as well as active help in finding a job and retraining.
Some of those who arrive at Avondale only own the clothes they are wearing, but they open the door of their flat to find a collection of brand new furniture, bought for them by The Soldiers' Charity – an immense boost to their morale. Such is Avondale's success that a similar project is due to open next year in Liverpool. It is already heavily oversubscribed.
Col (Retd) Barney Haugh, director of grants and welfare at The Soldiers' Charity, said the issue of homelessness among veterans was "nuanced", but vitally important. "A minority of veterans face multi-layered problems which are in part as a direct result of their service – it is those we need to support," he said.
"Frequent moves, high numbers of operational tours or a life-changing injury can mean difficulty in making that transition from the Armed Services to civilian life. We must look at a whole package of support: training and education, multi-agency working, programmes to help veterans build a new community network, as well as a safety net for those facing a night on the streets."
Case study: 'I knew nothing but the army'
Peter Foggin, 46, from Newcastle, was in the Army for 16 years, serving in Bosnia, Northern Ireland and Iraq with the Royal Engineers. Last week he moved into Avondale House in Newcastle's Byker Estate. The project is run by local charity AF&V Launchpad and is helped by funding from ABF The Soldiers' Charity.
"I was brought up as an Army brat – my dad was in the Army and since the first day I can remember I was orientated that way. When I was 15 he was stationed in Topcliffe in Yorkshire. I didn't want to be a farmer and there was nothing else to do around there, so I went to the recruiting office and joined up.
"There are good times and bad in the Army, but I enjoyed it mostly. A year before I left in 2000, I split up with my first wife. I decided it was time to try something else, but I didn't know education, schooling, jobs or anything – all I knew was the military.
I managed to get a decent job working in IT for British Airways, but my second wife got seriously ill and I ended up having to be a full-time carer. That relationship has just come to an end, and the council wouldn't home me because I'm a single man with grown-up kids, so without this place I'd have probably been on the streets."
Case study: 'I was just passed from pillar to post'
John "Jocky" Stewart (left), 59, from Penicuik in Scotland, joined the Army in 1972 and served with the Royal Scots and the Army Catering Corps. His 22-year career included deployments in Bosnia and Rwanda. After becoming homeless he was taken in by Scottish Veterans Residences, the sister organisation of Veterans Aid. He now has his own flat and helps in the hostel's kitchens.
"When I left the Army in 1994, my head was mucked up. I ended up just drifting from job to job and couldn't settle on anything. I'd spend a lot of time looking at the floor, because every time I looked at somebody it seemed like there was a bit of their face missing.
"I went for counselling, but I was just passed from pillar to post. They'd just hand you a phone number and tell you to call somebody else – nobody was there to help you, you just had to get on with it. There were times when I'd scream at my wife to turn the TV off when it wasn't even on. I ended up getting divorced.
"At one stage, I put a rope around my neck, tied it to the top of a caravan and walked off the roof, but the rope broke. I reckoned it wasn't my time to go.
"After that I was homeless for about a year-and-a-half, sleeping on friends' sofas, before I found out about this place. It was brilliant. They gave me a room, then a job in the kitchens, and now I've got my own flat. If you need to talk to someone, it's best to talk to another veteran."
Join our new commenting forum
Join thought-provoking conversations, follow other Independent readers and see their replies