Catcalling shouldn't be labelled a hate crime – we should be equipped to deal with that ourselves
Domestic abuse and controlling behaviour are already covered by other legislation, and lumping catcalling and the taking of photos in the same category as serious life-changing abuse will not help anyone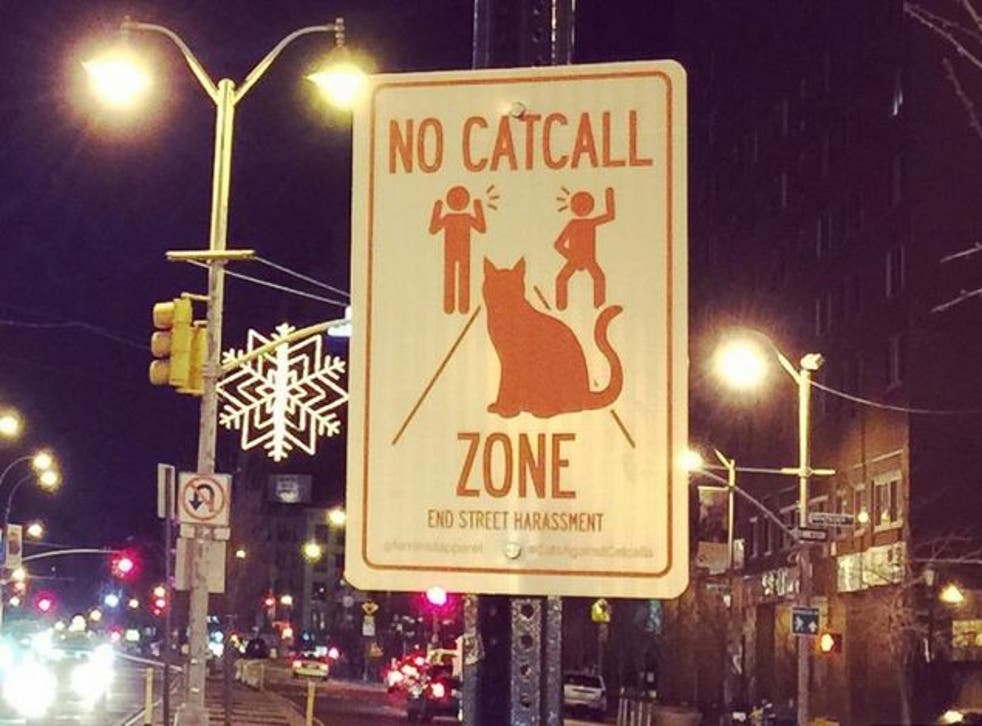 At my age, I'm not exactly pestered with wolf whistles or catcalls, more the regular shouts of, "Oi, is it you, that woman off the telly?"
But I do receive abusive tweets and almost every day members of the public take my picture without asking – usually when I look like a crumpled bag lady in Sainsbury's or when I'm scoffing a sandwich on the train from work. Annoying, but hardly life-threatening. If I lived in the utopian state of Nottinghamshire, though, I would be able to report any of the above to PC Plod.
Blazing a trail for women's rights, a spokesperson for Nottinghamshire police said that misogynistic behaviour (verbal harassment on the street and taking a woman's photo without her consent) would be now treated in the same category as a hate crime. If reported, these actions will be investigated but prosecutions will not necessarily result: more likely, a form of restorative justice will be imposed. And what might that be? Compulsory attendance at the same kind of centres as speeding offenders – uncouth builders and leering van drivers ordered to sit in a classroom watching videos showing how to behave in public, how to treat women with respect? Or enforced removal of mobile phones and access to the internet?
Angela Eagle 'not contemplating losing contest'
At present, the police categorise five distinct types of hate crime – race and ethnicity, religion, sexual orientation, disability, gender identity. People can also be stigmatised because of their taste in music – in Manchester, a female goth was murdered because of the way she was dressed, so now police include attacks on social groupings such as "emos" as hate crimes.
Nottingham decided to widen the existing categories after a local women's centre told them about incidents of harassment and intimidation. It's true that many women, both Muslim and non-Muslim, have been subjected to verbal abuse on the streets of all our cities because of their clothing or the lack of it. Young women routinely receive texts and images that are explicit and highly distressing. Sadly, it's symptomatic of the intolerant times we're living in and our dependence on modern technology to conduct our social lives.
I deplore that kind of behaviour, but what can the police realistically do? Domestic abuse and controlling behaviour are already covered by other legislation, and lumping catcalling and the taking of photos in the same category as serious life-changing abuse will not help anyone. It won't change attitudes – respect has to be learnt at home and school from the moment a child is out of nappies.
Currently, the reporting of hate crimes is soaring – this week the CPS announced that there has been a 41 per cent increase in the reporting of disability hate crime prosecutions. Nottinghamshire's chief constable, Sue Fish, says she recognises "the breadth of violence and intimidation that women experience on a daily basis", stating that her aim is to make the streets "a safer place for all women".
This is highly contentious. The streets of the UK are not filled with fear for all women and neither are all men guilty of sexist and intimidating behaviour. Our streets are not more dangerous than they were 10 years ago. We must build bridges between communities, not just between different ethnic groups and religions, not just between gay, straight and trans groups, but between men and women. Women need to be equipped to deal with low-level unwanted attention, but they need to be able to handle it themselves. If this behaviour involves a threat of violence or intimidation or sexual harassment or physical contact, that is a different matter, and it is already covered by existing guidelines.
This week, a brick was chucked through Labour leadership candidate Angela Eagle's constituency office, and Luciana Berger, who is Jewish, has contacted the police after receiving death threats by email. Ms Berger is campaigning to become Labour's candidate for Liverpool's first metro mayor – like all women who raise their heads above the parapet, they have become the target of vile abuse.
Both women are more than capable of standing up to bullies. New research shows that women under 35 are far more likely than men to experience anxiety and worry excessively – one of the reasons must be over-involvement with social media. The best way to deal with online abuse is to take a break from Twitter, and Facebook, to return to the prehistoric era when you communicated by phone or letter.
I fought for equal rights and have never been afraid of expressing an opinion. I find it depressing that a new generation of women want to enlist the police to handle something they should be able to squash themselves. Let's be realistic – what do we want the police to do? Since Theresa May imposed massive cuts on the force, trimming away bureaucracy and top heavy management, the police are constantly whingeing they can't walk our streets and provide more than a basic service.
Somehow I don't think filling out the paperwork for an allegation of cat calling will be top of their list.
Join our new commenting forum
Join thought-provoking conversations, follow other Independent readers and see their replies