'I didn't know where to go': How Centrepoint provides a safe haven for homeless young people
Homelessness is not just about sleeping rough – it has many faces. Evgeny Lebedev, proprietor of The Independent, meets a teenager who was given accommodation by Centrepoint after a family crisis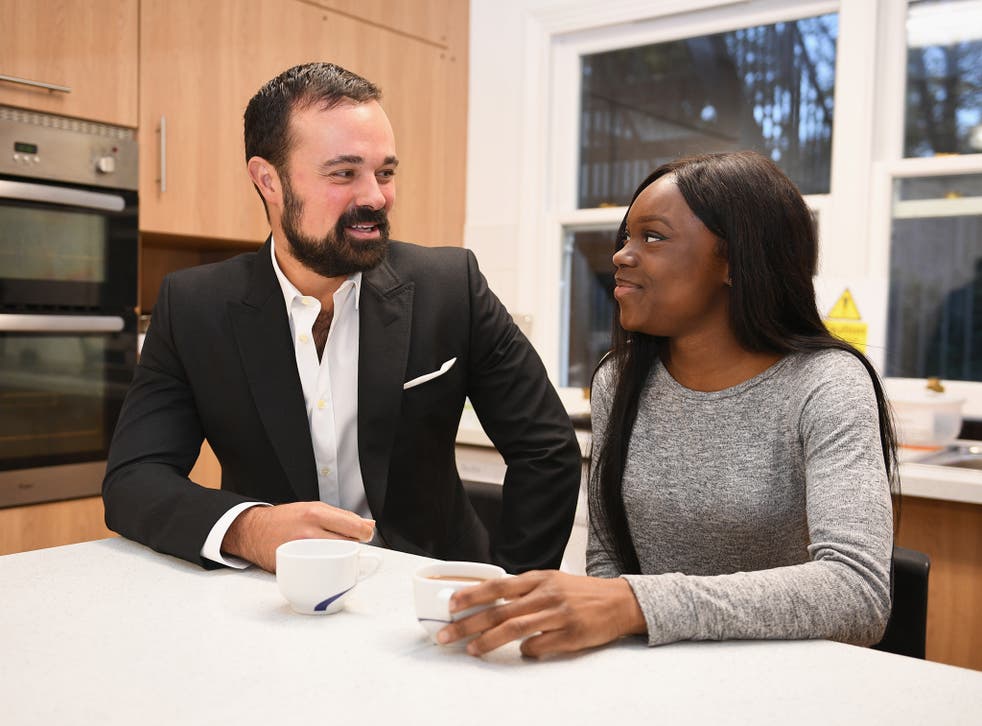 "I was 15 when my mum passed away," 17-year-old Kumba Kpakima says, as she shows me around the Centrepoint hostel in south London where she has been living for the past six months. "It was unexpected: she had a problem with her heart. Before that, my life was pretty normal."
Her father, who had been living in Sierra Leone, came over to look after the children. But, for a family in shock who had never known him, the situation was "impossible". "I was the youngest of my brothers and sisters, and my dad and I never saw eye to eye," she says. "We were all grieving."
What little relationship they had quickly disintegrated. Living under one roof with this man she had never known became untenable. Kumba had no choice but to set out, aged 15, to find her own way. "But it was difficult, because you don't really hear about youth homelessness or the companies that can help you," she says. "When it first happened I was confused, I didn't know where to go. I searched online but there wasn't much information."
In the end she went to the local town hall, but there was a delay of months before she was settled. She spent some time in temporary rooms in houses, which was "very difficult", and at other times she was forced back into the nightmare her home had become.
At last she was found a room in the hostel. "Once I got help there was lots of it available," she says. "It was just difficult finding out about it."
For many Londoners, the word homelessness conjures familiar images: sleeping bags in shop doorways, Big Issue sellers approaching smokers outside the pub, a handwritten sign by a cash machine.
The causes of homelessness

Show all 7
But homelessness has a thousand faces. It is not just about rough sleeping. It could be the friend who falls into debt, the husband kicked out of the family home or the colleague sleeping on a different sofa each week – victims of any one of 100 different forms of bad luck.
It is at its most destructive in young people. On the cusp of adulthood, starting to find their own way in the world, adolescents need all the support they can get. They need hot meals, clean sheets and a quiet room to study in. Those who come into difficulties can fall between the cracks, too old to be taken into full-time care and too young to be treated as adults.
Even if help is out there, if young people have never been in the situation before they often don't know where to find it. With homelessness comes a host of other risks: violence, drugs, emotional abuse, sickness. Young lives can spiral out of control when they have barely started. Articulate, confident Kumba is proof: one unexpected tragedy can turn a happy home into a nightmare.
That's why, for this year's Christmas Campaign, The Independent is partnering with Centrepoint. At the heart of the campaign will be fundraising to create a national helpline ensuring at-risk young people can get all the information they need in one place, free of charge. It will also raise money for the countless services Centrepoint provides to help young people out of crisis and teach them to stand on their own two feet, from fire safety to household budgeting.
At the hostel, Kumba's room is clean, spacious and comfortable, with a desk bearing a dog-eared copy of Oranges Are Not The Only Fruit. There is a recently refurbished communal kitchen, wi-fi, and computers for those who do not have their own. Imagine a first-year university hall, with fewer kebab wrappers and empty beer cans.
For Kumba this is hopefully good practice. With the help of a bursary, she is studying for A-levels in English literature and English language, media and sociology. Next year she'll be applying for university. "When I arrived I was nervous about how I'd be treated but everyone was really friendly," she says. "We're all in the same boat, so it's best just to get on with each other."
Seven young people live in the hostel currently, a mix of men and women, and staff are on hand to help. This is a low-support hostel, but Centrepoint also runs high-support hostels for those with more acute needs.
The difference between Centrepoint and other similar charities is that it spends about twice as much, on average, on each young person. It recognises that when you are a teenager you do not have six months to sit around waiting for NHS help. If a young person needs psychotherapy, for example, Centrepoint will endeavour to ensure they get it within a fortnight. Research has shown that every pound Centrepoint spends brings far more in savings to the taxpayer. More than that, though, it saves lives.
"My dad and I are on good terms now," says Kumba. "I think there were just too many emotions around after my mum died. But he's proud of me and the progress I'm making. I think I'm doing all right."
After university she wants to become a journalist. Centrepoint provided this brilliant young woman with the support she needed, at just the right time. I am only too happy to help her realise her ambitions.
But Kumba could have struggled had she not been so tenacious. The energy and initiative that will surely make her a brilliant reporter one day were also essential to her finding out what support was available. What of the thousands of homeless young people we don't hear about? The ones who aren't on our streets, but whose lives are just as perilous?
Those are the young people The Independent is asking you to help this Christmas, as its raises money to support the essential services Centrepoint provides, as well as a new helpline. Information is power; in this case, the information can help the capital's most vulnerable young people when they need it most.
How to donate to the Independent's Christmas Appeal
The Independent's Homeless Helpline appeal is raising money for the Centrepoint Helpline, a brand new support service that will save young people from ending up on the streets.
To donate you can:
Call
0300 330 2731
Text
HOME66 £5 to 70070
Post
Freepost RTKC-JRGU-ZYGT
Centrepoint
40-42 Phoenix Court
Hawkins Road
Colchester
CO2 8JY
Go online: http://ind.pn/donate​
Join our new commenting forum
Join thought-provoking conversations, follow other Independent readers and see their replies