When it comes to protecting children in war zones, the UK should set an example by ending arms sales to Saudi Arabia
What we are dealing with is not a failure of the law, but a culture of impunity surrounding the perpetrators of heinous crimes against children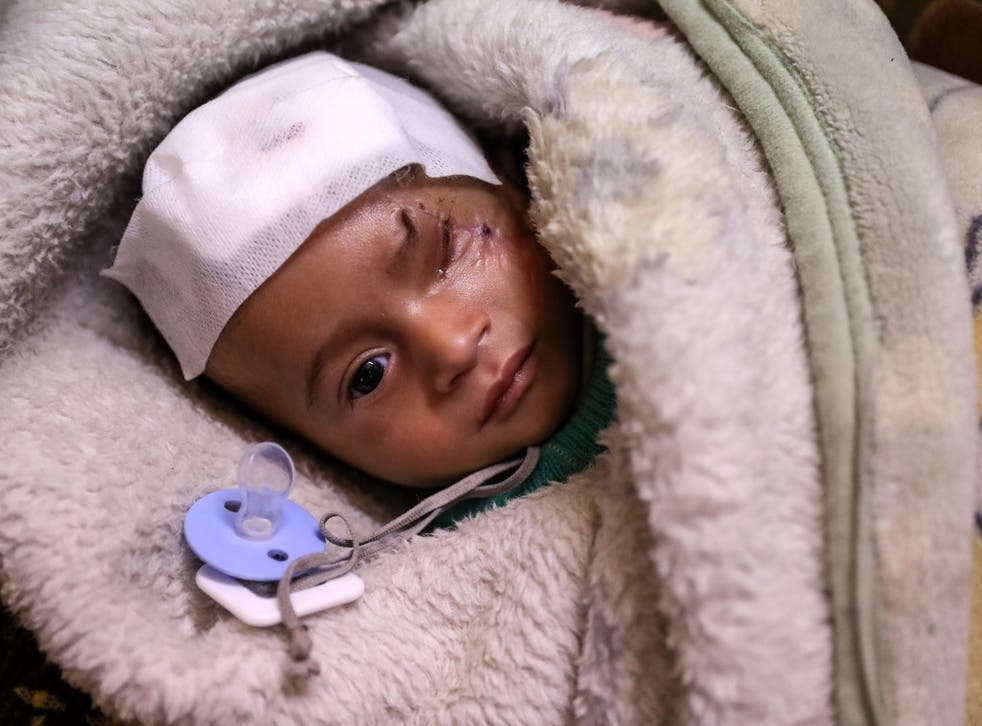 Imagine that you are trapped with your family in a town under siege. Food and fuel are running out. Your children are hungry, cold and terrified by air raids and artillery. In the chaos, hundreds of people in urgent need of medical care have little prospect of treatment.
Welcome to eastern Ghouta, the enclave held by anti-government forces near the Syrian capital of Damascus. More than 400,000 civilians – a population the size of Bristol – are being subjected to military tactics that combine medieval siege and starvation with 21st century military ordnance.
UN demands that humanitarian aid be allowed into eastern Ghouta have been treated, in the main, with studied indifference. Last week it was reportedly agreed that a few children needing urgent treatment could leave, but only if government officials held by rebel forces were released in exchange.
So if you and your family were caught up in such horrors, how much help should you receive from the outside world? The Independent's distinguished commentator Mary Dejevsky recently posed some tough questions about this under the headline "Even humanitarian aid for sick children in Syria can make the conflict worse – that's the sad truth about war".
However admirable the intent, she argued, doesn't aid inevitably bolster one side in the given conflict, prolonging the suffering that entails, and giving rise to unscrupulous dealmaking? Isn't this "the cruel, undiscriminating reality of war," she asked? And do appeals to international human rights laws have any meaning in a world where hospitals can be used as safe havens for combatants?
These reflections go to the heart of some of the great challenges facing organisations such as Save the Children, which has strongly supported UN calls for humanitarian access to eastern Ghouta. The places where human rights and humanitarian principles are confronted by military might and strategic realpolitik are every bit as difficult as Dejevsky suggests. Our staff encounter these difficulties every day in some of the most hostile environments of the Middle East, Africa and Asia.
Where I part company with Dejevsky is in the conclusions she draws. Almost 150 years ago, the founding fathers of the Geneva Conventions established rules to constrain the brutality inherent in war. Their legacy includes painfully negotiated codes to protect civilians, children and populations under siege. Do we now want to tear up that legacy and allow the "undiscriminating reality of war" to define what is acceptable?
As head of a charity working with children on the front lines of armed conflict, I am painfully aware of the limited protection provided by international human rights law. Two weeks ago I spoke to Moen, a seven-year-old Rohingya refugee in Bangladesh. He had seen his father shot and killed, his sister raped, and a friend burnt to death in an attack by an armed group in Myanmar.
UN investigator denounces human rights situation in Myanmar
Schools supported by Save the Children in Syria have been bombed and children killed. Our teams in South Sudan, Iraq, the Democratic Republic of Congo and Nigeria are supporting young girls who have been raped and countless children traumatised by acts of unspeakable violence.
What we are dealing with is not a failure of the law, but a culture of impunity surrounding the perpetrators of heinous crimes against children. Yes, human rights provisions can be abused by armed combatants. But is that a credible reason for abandoning laws designating as potential war crimes and crimes against humanity the killing, maiming and rape of children, the forced recruitment of child soldiers, the obstruction of humanitarian aid, and the bombing of classrooms? Surely we should be striving to enforce these laws and uphold the universal values they reflect.
Dejevsky questions whether a focus on children affected by armed conflict should override other considerations. Perhaps I'm biased, but I think she is wrong. Eglantyne Jebb, Save the Children's founder, once said: "The only international language in the world is a child's cry." If we cannot find common cause in defending children in conflict against gross violations of their most basic rights, what hope is there for the future of multilateralism, international cooperation and universal human rights?
The time has come to end the culture of impunity. We must find more effective ways of enforcing compliance with human rights and humanitarian laws. The children and civilians whose lives have been devastated have a right to justice, through national courts where possible and through special courts – such as those set up after the Rwanda genocide and the conflict in former Yugoslavia – or the International Criminal Court where necessary.
The UK could set an example by enshrining in national law an authority to prosecute or seize the assets of individuals implicated in crimes against children.
While the High Court has concluded that continued arms sales to Saudi Arabia are consistent with the letter of export licensing law, the Government could – and should – determine that without an immediate cessation of the current blockade that has prevented aid from reaching the starving and sick in Yemen, they are inconsistent with the spirit of the UK's humanitarian values.
Those values are powerfully reflected in the role played by the Department for International Development and UK aid in saving lives and rebuilding futures.
Last year was one of the worst on record for children affected by armed conflict. Changing this picture won't be easy. But surely we owe the world's children our best efforts in 2018.
Kevin Watkins is chief executive of Save the Children
Register for free to continue reading
Registration is a free and easy way to support our truly independent journalism
By registering, you will also enjoy limited access to Premium articles, exclusive newsletters, commenting, and virtual events with our leading journalists
Already have an account? sign in
Join our new commenting forum
Join thought-provoking conversations, follow other Independent readers and see their replies