According to Ofcom, we've rediscovered watching TV in the living room – but it's not what it was
The main TV holds forth as priest in the pulpit, while the smaller devices provide additional solace to the media worshippers in place of prayer books or rosary beads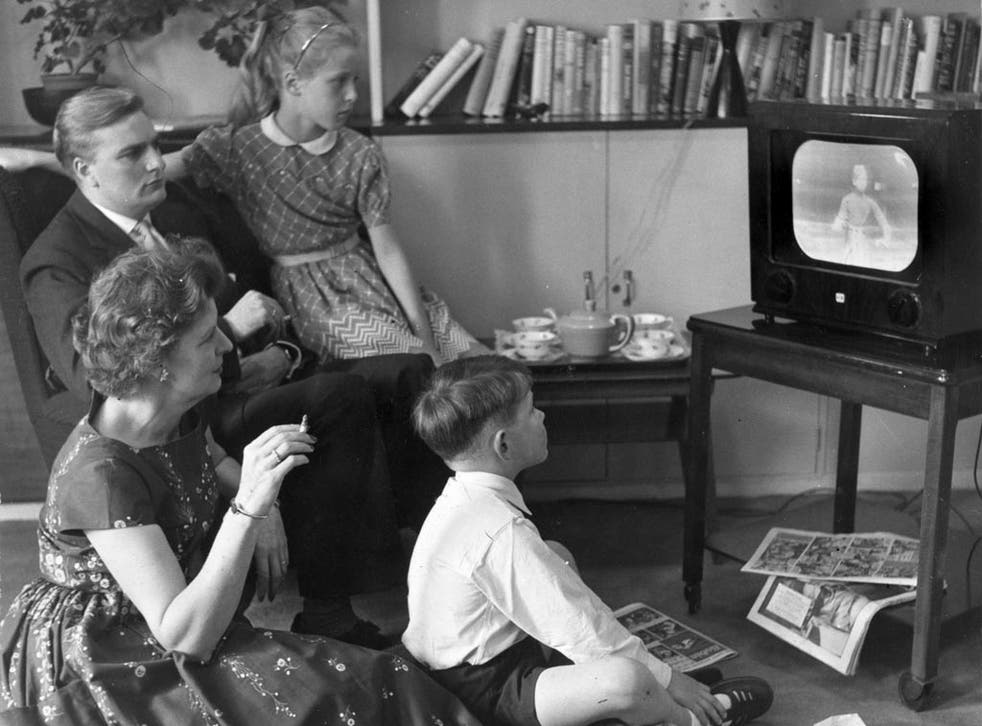 A survey by the communications watchdog Ofcom finds that families are once again gathering around the television set in the living room. So far so good, the traditionalist will be thinking. But the family members are bringing their smartphones, laptops and tablets with them, in order to engage in "media meshing".
"A few years ago we would be talking about last night's television at work or at school," says an Ofcom spokesperson. "Now we're having those conversations live while watching TV, using social media, text and instant messaging."
The phenomenon is related to our tendency to watch more TV but on fewer sets. Forty-one per cent of houses now have only one TV, as against 35 per cent 10 years ago. But that one TV is likely to be gigantic and sophisticated, the family clustering around it out of reverence. It does seem we are presented with a coherent picture of media worship, the main TV holding forth as priest in the pulpit, while the smaller devices provide additional solace to the worshippers in place of prayer books or rosary beads.
On the face of it, this is a reversion to the heyday of the living room, which was the 1970s. Before and after that decade, it was marginalised. My grandfather's Victorian terrace house in York represented the pre-living room era. He had a front parlour. This was pretty, light filled, decorated with his most prized ornaments, furnished with his most comfortable chairs, and absolutely never used. It was for "best" – special occasions that never in practice arose until finally one came along in the form of my grandfather's own funeral, when the wake was held in that room.
He had spent most of his life in the pokey back parlour, sitting on a hard wooden chair which he attempted to make comfortable by two tatty cushions demoted from the front parlour. In his later years, that chair was directed towards his little black and white television, but the TV was not the point of the back parlour. The point of it was to preserve the sanctity of the front parlour, by providing a location for all the sordid activities that would have sullied the front parlour, including eating (the food carried through from the narrow kitchen extending from the rear of the house). So the back parlour was a living room, but did not boast of the fact.
By the 1970s, the penny had dropped. Nobody went into front parlours. So the suburban semi in which I was raised had a big living room, the term "living" in this context meaning "watching TV". We didn't have media meshing in those monolithic days, just fights over which channel to watch.
There was a decent-sized kitchen in that house, but food in those days was not yet central to family life. Our olive oil was in the bathroom cabinet. I recall, aged 16, proposing to make a moussaka. I asked my dad, "Have got any garlic?" "No we haven't got any bloody garlic," he said, in a disgusted tone. But more elevated homes were progressing towards the modern mindset of not being able to tolerate being away from food for very long. Hence the era of "knocking through" to expand the kitchen and create a "family room", a trend associated with Sir Terence Conran, who declared that "the kitchen is the hub of the home".
"Family room" sounds good unless, like me, you hate everything prefixed with the word "family". It is an easy sell for estate agents, who can announce, "And here's the family room, where you can all get together after a hard day's work", as opposed to, "As you can see, there are lots of little rooms, so you can all get away from each other after a hard day's work." Insofar as they ever come out of their bedrooms, I see my teenage sons in our own kitchen/ family room, but unlike most in the genre, it doesn't have a TV, so this occurs only at mealtimes.
As far as I can see, we are still in the era of the kitchen/family room, and most of the living rooms I know are as little used as my grandfather's front parlour. I like our living room, and I will often (in winter or summer) light the fire in there, and then go round the house, knocking on my sons' bedroom doors, trying to drum up custom: "The fire's going in the living room, if you want to..."
"If I want to what?" the boy will say, looking up from his device.
I do not own a tablet, so I do all my viewing on the living room TV, and I have more success with my sons when I say, "I'm watching the England game tonight." In that case we might make a sort of appointment to convene in the living room, and when I think of those occasions, the Ofcom survey begins to make sense.
My sons are perhaps uneasily aware that our family life has become atomised, but they will still turn up with their devices, as an insurance policy against such boredom as I am about to inflict by my naive or ill-informed remarks on the game. This is arguably a good thing: the conversational bar is being raised. I will have to say something really clever to get their attention because they have granted me the boon of their physical but not necessarily their mental company. Whether this constitutes any great loss on my part is a matter we needn't go into.
Andrew Martin is the author of numerous works of fiction and non-fiction, including 'How to Get Things Really Flat: A Man's Guide to Ironing, Dusting and Other Household Arts', published by Short Books
Join our new commenting forum
Join thought-provoking conversations, follow other Independent readers and see their replies