Affairs with his Secretary, incompetence, amateur boxing... how John Prescott defies political gravity
The former Deputy Prime Minister is a rare beast indeed. But why exactly does the career of this former merchant navy seaman sail so effortlessly on?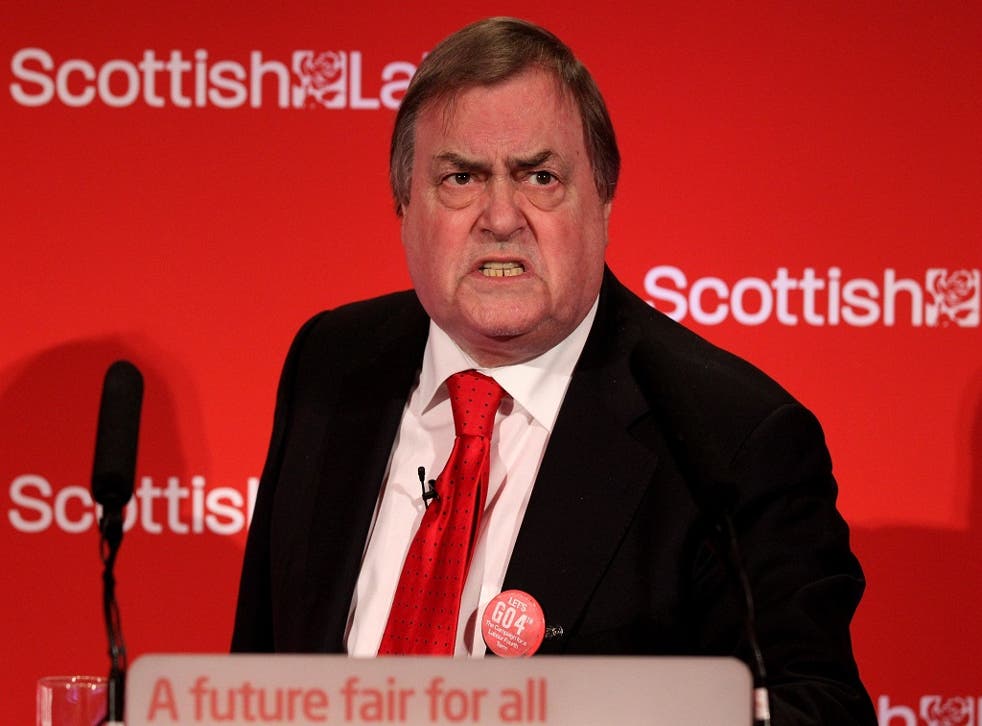 John Prescott is right. That is not a sentence I thought I'd ever put down on paper. The former Deputy Prime Minister yesterday complained that it was wrong for the independent adviser to the Government on policing and criminal justice, Lord Wasserman, to have argued that people should exercise their vote in next month's police commissioner elections, because otherwise "they'll be kicking themselves that they allowed John Prescott to win in Humberside as opposed to someone else".
Yes, it did seem odd to single out Prescott for personal attack in the context of trying to raise the public's involvement in elections which seem likely to produce an embarrassingly low turnout. Apart from anything else, the fact that such a prominent figure as Prescott is standing has generated more column inches and therefore publicity about these contests than any other candidacy has achieved.
On the other hand, I can understand why Wasserman, a Conservative appointee who therefore sits opposite the 74-year-old Lord Prescott on the benches of the Upper House, felt provoked into indiscretion. The political indestructibility of the former MP for Hull East is deeply perplexing to anyone who has studied the man's career in office.
Six years ago, it emerged that while Deputy Prime Minister he had been engaging in sexual acts with his diary secretary Tracey Temple not just in his state-funded apartments in Admiralty Arch, but even in his office, where Ms Temple gave him the full Lewinsky under the gaze of a portrait of Oliver Cromwell. It's not necessary to be a feminist to believe that Prescott was using his position of power for his own sexual gratification, and exploiting the vulnerability of a much younger employee.
This, by the way, was the same man who at the 1996 Labour Party conference derided the then Transport Minister Steven Norris for his sexual adventurism and went on: "This Tory Government have the audacity to talk about morality. For too many Tories, morality means not getting caught."
Yet when Prescott was "caught" he kept his job as Deputy Prime Minister. What happened was that all his departmental responsibilities were removed from him, while he retained his full salary and pension entitlements, along with his two grace-and-favour homes at public expense.
Housing fiasco
Actually, this represented a good result (if belated) for the taxpayer, as it was in his role as Secretary of State for the Environment, Transport and the Regions that Prescott did most harm. There was his "Pathfinder programme" under which innocent title an estimated £2.2bn was blown in bulldozing thousands of homes, removing their inhabitants and building many fewer new homes (eventually) for the miserably displaced occupants and others on the housing waiting list. The idea was to stimulate house prices in poorer Northern areas by shrinking the amount of property available. Brilliant: homes are too cheap, so let's make them more expensive.
One of the victims of this barmy policy was Liverpool, as one of its favourite sons, the comedian Alexei Sayle, recently recorded: "Housing in Liverpool has been hit hard by John Prescott's cretinous Pathfinder scheme. A while ago Warren Bradley, the deposed Lib Dem leader of the city council, admitted that their efforts connected with Pathfinder, along with the former Labour government, to compulsorily purchase and demolish thousands of 19th-century homes, had left many communities 'looking like war zones'."
Perhaps Prescott would claim his idea was right, but it was ruined by the incompetence of underlings. This was his response to the finding by a committee of MPs last year that his programme of replacing England's 46 fire service emergency call centres with eight new purpose-built sites linked by an untested IT system had wasted £500m of public money: the new sites have never worked, will never work, and stand empty. When the Labour chair of the Public Accounts Committee, Margaret Hodge, produced her eviscerating report on this characteristically Prescottian grand projet, the former Deputy Prime Minister declared it was the fault of incompetent civil servants. This provoked the Fire Brigades Union to protest that "only a minister who doesn't know what's going on blames others. Prescott has no excuse. He was told by the FBU among others.... The central failing was political. Prescott was the prime mover."
Politically immune
Yet still the career of this former merchant navy seaman sails on, untroubled by waves which would have broken up weaker personalities. He is one of those rare figures whose character and public persona somehow make him immune to the normal laws of politics. So when John Prescott throws a (perfectly executed) left to the jaw of a member of the public, as he did during the 2001 election campaign, his standing actually improved. That would not have been the result had either Gordon Brown or Tony Blair behaved similarly, even if provoked by an egg-throwing voter. Perhaps the point is that they would never have done so, while Prescott, a much less well-trained politician, reacted in a more human fashion. His strength, boxing prowess apart, is that he does not seem like a politician even when acting in a very political way.
Boris Johnson is the turbo-charged Conservative version of this phenomenon, much to the discomfort of notionally more senior figures in his party. The public – as I have observed by their reaction when I have been in his company – see Boris as one of them: not really a politician at all, but a good bloke who tells it as he sees it.
In the same way, judging from one journalistic report from the canvassing in Humberside, Prescott still prospers: "Young men clutching camera phones asked to have their photo taken with him as Prescott continued to crack jokes." This act has even survived Prescott taking the title of Baron Prescott of Kingston upon Hull in the County of East Yorkshire, having earlier told a newspaper (when asked if he'd take a peerage) "I'm against too much flunkery and titles".
So do not be surprised if this terrible man triumphs again.
Join our new commenting forum
Join thought-provoking conversations, follow other Independent readers and see their replies