Like an agitated 15th century Pope, David Cameron reverted to 'Flashman' type in PMQs today
Our columnist asked a simple question in the Chamber earlier today. The answer he received was pure obfuscation. What does that say about the Tory leader?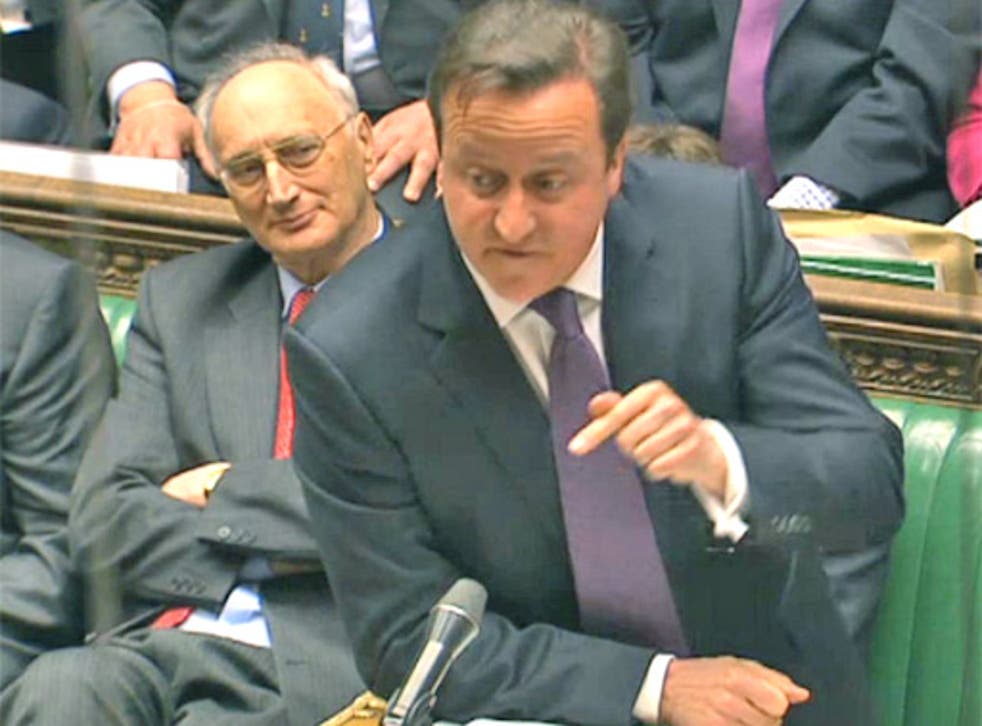 We all know that the Prime Minister sometimes suffers from the pink rage; that a mist descends upon him, he throws caution and geniality to the winds and snaps back at MPs in his weekly ordeal in the Chamber of the Commons. Some call it Flashman. It reminds me more of the girl in the old Clarks ad who said "my mother tells me that when I grow up I'm going to be a proper little madam". But today the Prime Minister surpassed himself as he flailed around in response to a simple question from me.
All I wanted to know was why he is refusing to publish all the texts, emails and other forms of communication between him, Rebekah Brooks, Andy Coulson and the Murdochs. Is it because they are too salacious and embarrassing for him, or because there is one rule for him and another for the rest of us? After all, all Jeremy Hunt's special adviser Adam Smith's texts and emails were handed over to the Leveson Inquiry and he resigned. So how can Cameron blithely refuse to publish all his interactions, especially since the terms of reference for Leveson include the relations between politicians and newspapers?
Extraordinary
I had thought Cameron might respond by saying that there is no such stash of material. But he didn't. Nor has his office denied its existence on any of the countless opportunities they've now had. So I can only conclude that there is more material that Cameron doesn't want us to see it, that he has not given to Leveson and that the public have a right to see.
The most extraordinary thing, though, is that Cameron point blank refused to answer my question and declared, like an angry and agitated fifteenth century pope, that he will not deign to answer any questions from me until I have apologised for what I said about him in Parliament earlier this year on 21 April - when I pointed out that Rupert Murdoch's initial list of meetings with Cameron provided to Leveson was rather longer than Cameron's list of meetings with Murdoch. It seemed that Murdoch had a better memory than Cameron. As it turned out I had rather jumped the gun. Leveson had not yet published Murdoch's evidence and Rupert subsequently amended it – so I apologised to the House of Commons on 9 May.
But the real giveaway is that Cameron has used this trick before. On 25 June he refused to answer a question from me about the murder of Sergei Magnitsky – and said he would not do so until I apologised – completely ignoring the fact that I have apologised. Everyone was outraged at the time, but like most Cameron positions this one didn't last. On 27 June he did answer me, about the Arms Treaty, and on 12 September he replied again when I asked about women's redundancies and the lack of women in the Cabinet.
Hypocrisy
So I can only conclude that it was the nature of today's question that really wound him up and he knew that he had no better answer than to obfuscate.
I could of course get all hoity toity back with him. After all the whole point of parliament is that MPs get to put ministers on the spot and the Commons resolved in March 1997 that ministers 'should be as open as possible with Parliament and the public, refusing to provide information only when disclosure would not be in the public interest.' That phrase is even part of Cameron's own ministerial Code.
But the truth is that he has proved not just that he's a bit of a bully, but that he's hiding something. And in the end it'll all come out whether he chooses to answer me in the chamber or not.
Join our new commenting forum
Join thought-provoking conversations, follow other Independent readers and see their replies