Al Jazeera plays a dangerous game in Egypt
Mohamed Fahmy's theme at his press conference will be that "journalism is not political activism"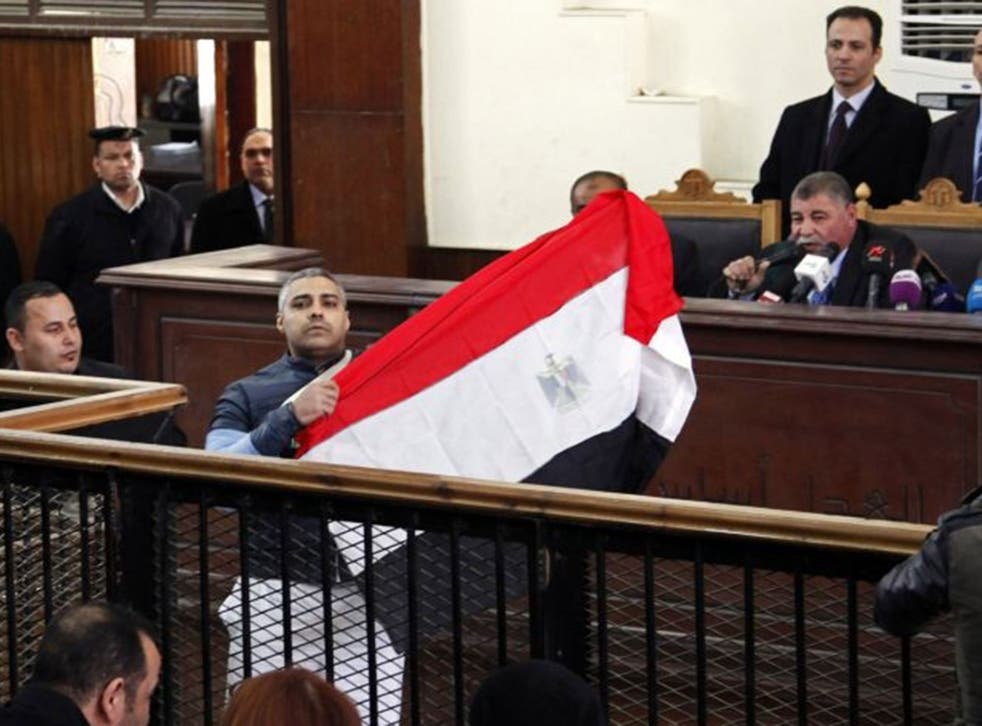 In a few hours' time, in Cairo, Mohamed Fahmy will hold a press conference which every reporter will want to observe. The Al Jazeera journalist, who spent 411 days in Egypt's gruesome Tora prison on trumped-up state charges of "terrorism", refused, even after a long Cairo lunch – no alcohol, of course, but heaps of prawns and sea bass – to tell me exactly what he's going to say. But I have a dark suspicion that by the time he finishes speaking, his employers at the Qatari television network will rue the day he was ever sent to trial.
Al Jazeera's position in this bleak affair is no secret. Fahmy, a Canadian citizen – along with fellow journalists Peter Greste and Bahr Mohamed – was sent to prison, falsely accused of supporting the "terrorist" Muslim Brotherhood after Field Marshal and now elected President Abdel Fattah el-Sisi deposed the equally elected Brotherhood president Mohamed Morsi in 2013. In jail, Fahmy discovered dozens of ardent student supporters of the Brotherhood who described to him, he says, how they had been given camera equipment and helped by Al Jazeera's Egyptian offshoot, Al Jazeera Mubasher Misr ("Al Jazeera Egypt Live") to film protest demonstrations in the Cairo streets.
Even more damaging, according to Fahmy, is that the Egyptian franchise – loathed by el-Sisi's military administration, which almost immediately banned the channel – also used, in Arabic translation, his own reports from Al Jazeera's international English-language channel, despite his protests that to do so would invite his own arrest and that of his colleagues. Confronted by security police who played Fahmy tapes of his own dispatches on Mubasher Misr, the journalist discovered that he and his colleagues were not operating under the requisite television licences in Cairo.
But first, a deviation. In prison, Fahmy found himself surrounded by Isis "jihadis" and Brotherhood supporters. "When the assassins shot dead the Charlie Hebdo staff in Paris, the young 'jihadis' in the Tora prison around me were shouting 'yes, yes' in support of the killers!" The bin Ladens and Zarqawis of the future, Fahmy says, "are being born in the Tora prison".
Back to journalism. After well over a year in jail, and following much reflection, Fahmy's theme at his press conference will be that "journalism is not political activism". He says: "Al Jazeera Mubasher Misr was openly for the Brotherhood and against the military. Its managers in Qatar didn't understand the rules of journalism – they were so biased, and broke the code of journalistic ethics. Then they put on a panel show with graphics and studio guests to condemn Egypt and replayed my reports. This was Brotherhood propaganda. Then they set up a new network in Turkey, in English, and it was pro-Brotherhood."
Fahmy enjoys making broad brushstrokes. "Al Jazeera started well in 1996 – but gradually became part of 'the struggle'. They took on the role of agents of democratic change instead of being a neutral messenger. Every journalist must challenge governments. But Al Jazeera crossed this line, especially in Egypt. There were guys I met in prison, young guys, Brotherhood sympathisers, who had been sending material to Al Jazeera Mobasher Misr. This is not 'citizen journalism'."
And then came the killer line. "Why doesn't Al Jazeera investigate its own back yard, Qatar? It makes no mention of opposition meetings in Qatar, where there are no labour unions and no political parties and no protection. Mohamed al-Ajami is sentenced to years in prison for writing a poem 'inciting hatred against the Emir' of Qatar.
Fahmy reports that Al Jazeera – to which I occasionally contribute – still refers to "100 journalists imprisoned in Egypt". "But it's not true. I was in prison with all these thousands of men; there are nine Egyptian journalists in trade unions who are in jail and five others who had no press credentials – the rest are students with iPads and calling themselves 'citizen journalists'."
Is there a bit of Stockholm Syndrome getting loose here? Off the record, Al Jazeera officials have suggested that Fahmy has been operating under duress from the Egyptian government although their initial denials that Mubasher used Fahmy's reports are no longer made. "I agree with what el-Sisi did in uprooting the Brotherhood," Fahmy says, shockingly. "I witnessed first-hand the cancer of political Islam and how it was eradicating the modernity of the Egypt I know. Waiting four years [for the next elections] and using 'experimental drugs' on a cancer patient will leave him dead. We had to extract the tumour."
Heavy stuff! As if sensing this, he slows down. "But I do believe it went way too far. The clampdown on civil liberties in Egypt, on the press and human rights groups and the clogged judicial system should be a first priority in the next stage of el-Sisi's reforms. Egypt is caught between the Baathist-Saddam times – when everything had to go the president's way … and this modern model that el-Sisi is trying to use…"
Well, Fahmy has at last got his Canadian passport – handed to him, he tells me, by the Canadian ambassador next to his embassy car outside the court "so that journalists couldn't see" – but his press conference should be a riveting performance. "There's a cold war between Egypt and Qatar [which supports the Brotherhood]," he says. "And there's also a 'cold war' between me and Al Jazeera." How soon, I wonder, before we see an interview between Fahmy and el-Sisi?