Banning Khat is another pointless drug law that will do more harm than good
It raises millions in taxes, has been chewed on for centuries, and is harmless. So why is Khat now illegal?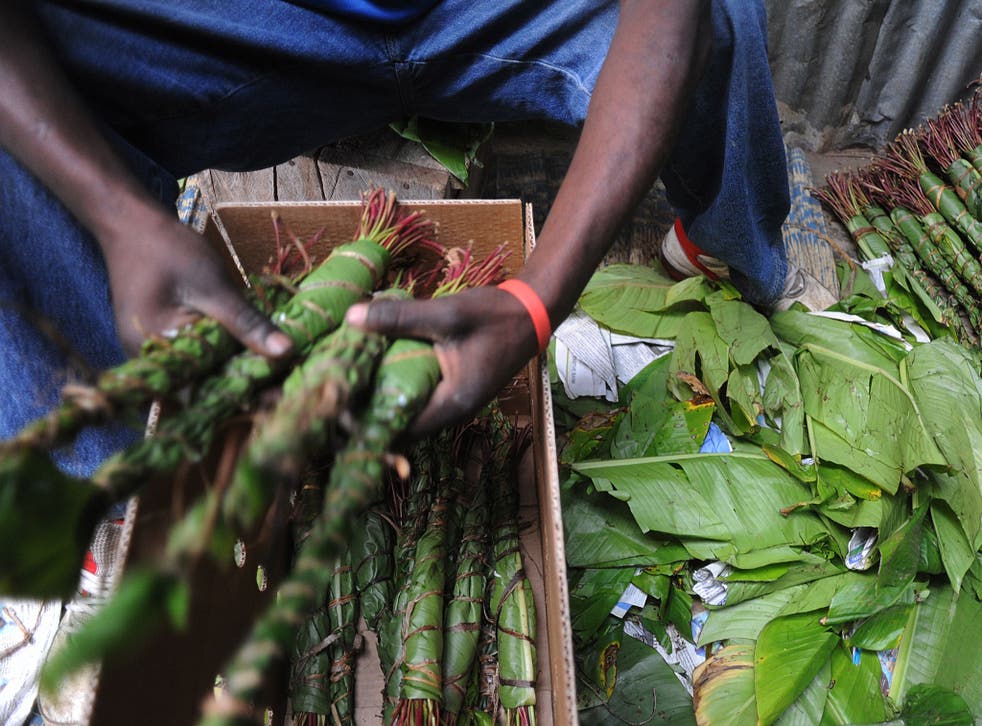 Today, khat joined the range of prohibited substances that fall under the Misuse of Drugs Act 1971. Those who distribute this Class C drug can now face 14 years imprisonment – the same maximum sentence that applies to individuals who cause death by dangerous driving, and four years more than the maximum penalty for sexual assault.
So what exactly is khat, and why has it attracted such harsh legislation?
Khat is a mixture of leaves and herbs that provides a mild stimulant sensation when chewed, and is most prevalently used in Britain by immigrant communities – predominantly those from Somalia, Ethiopia, and Yemen. There is a long history of khat use in East Africa, and its consumption is nothing new to Western observers; in an 1856 journal article, Charles Dickens remarked that khat "[acts] upon the spirits of those using them, much as a strong dose of green tea acts upon us in Europe".
The movement to criminalise khat in the UK first gained momentum in 2008, when Baroness Sayeeda Warsi outlined a desire to ban the substance – describing the plant as "addictive", "carcinogenic" and "beginning to tear apart the social fabric of certain communities".
However, Warsi's perceptions have been directly contradicted by academic research. Last year, the Advisory Council on the Misuse of Drugs – comprised of psychiatrists, professors and other experts from a range of backgrounds – conducted a study into the effects of khat use.
The ACMD stated that "khat has no direct causal link to adverse medical effects" and that "no robust evidence has been reported to demonstrate a causal link between khat consumption and the [societal] harms described". They concluded that it would be "inappropriate and disproportionate" for khat to be added to the growing list of prohibited substances.
The Government's decision to ignore this advice has attracted widespread criticism; Niamh Eastwood, director of Release – an independent group of drug policy experts - denounced the government for "once again" choosing to "ignore the evidence when it comes to drug policy".
As with the prohibition of many other drugs, the banning of khat will also lead to deeper and more dangerous social problems than its actual use. The estimated annual import value of khat in the UK was £13.8million, which brought in almost £3million in tax revenue each year.
Drug addiction, overdoses, and a very brief history of Heroin

Show all 14
Now that the market has been delegitimised and deregulated, it's inevitable that khat importation and distribution will be monopolised by criminal gangs who can raise prices, launder money, fund more destructive criminal enterprise, and of course, pay no sales tax into the system.
At the same time, khat users, who are primarily ethnic minorities from unrepresented and disadvantaged communities, can now be imprisoned for up to two years for mere possession.
Video: How does khat affect communities?
Danny Kushlick, founder of the UK-based Transform Drug Policy Foundation, castigated the government for implementing a law that ignores expert advice. "[It] creates a new income stream for organised crime [and] unnecessarily criminalises a minority group of Somalis and Yemenis", he said.
The prohibition of Khat yet another example of the uninformed and dangerous policies that characterise the ongoing failure of the UK's war on drugs. And it's not just one or two communities that are losing out, but all of us.
Join our new commenting forum
Join thought-provoking conversations, follow other Independent readers and see their replies