Bill Cosby: Isn't it obvious why his accusers have stayed silent up until now?
What we're hearing now are the final pathetic roars of a man who has always got exactly what he wanted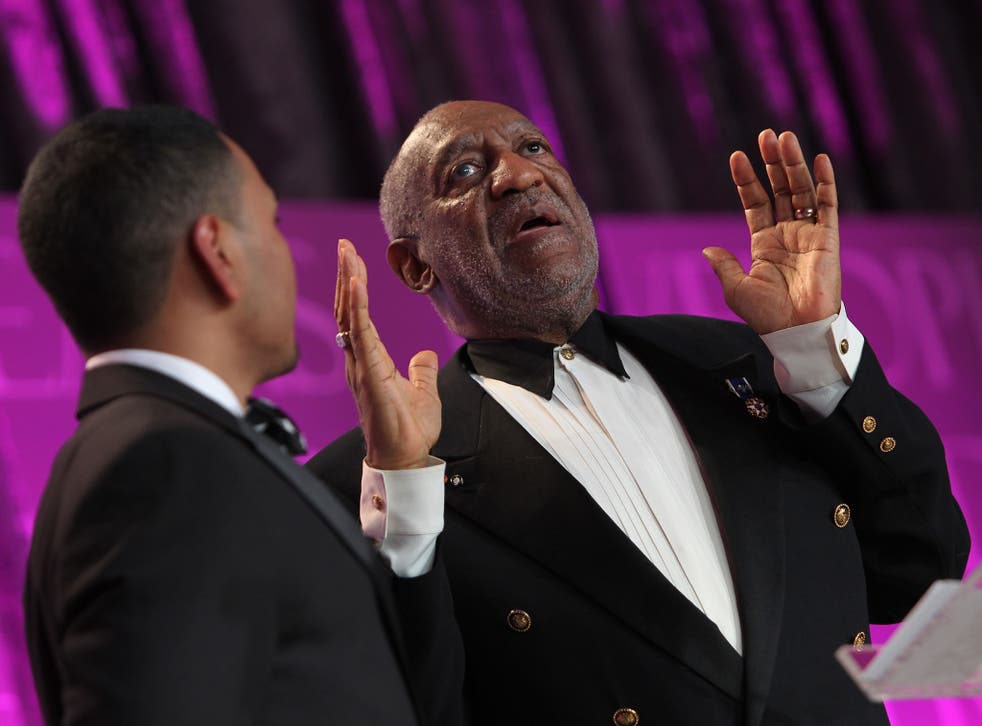 America is currently experiencing with Bill Cosby what I want to call a "Savile" moment. Namely, the point where historic hearsay about a well-loved man – so disturbing and unpalatable that no one wants to believe it – has gathered voice to the point it is impossible to ignore.
Cosby, aka Dr Cliff Huxtable – that zany, warm, approachable man who brightened up a billion 1980s childhoods – is accused of using this god-like influence for highly nefarious means. Cosby's remaining fans – he appeared on stage at the weekend – and his very vocal attorney, Martin D Singer, point to the fact that the accusations are historic, and therefore somehow laughable. Because, say the fans, who wouldn't report a sexual assault instantly? So why now? For the money, of course! I've heard this neat and, to my mind, unconvincing reply a hundred times in recent years, as women have begun to wage war on historic abuses of male power.
I find it interesting that my generational elders – here and it seems Stateside too – will fall over themselves to admit how things these days "ain't wot they used to be", and how notions of sexism, shame, secrecy and deference to power have now changed for the better. But then the very same people will often refuse to see that these bygone social attitudes led to a whole lot of hidden abuse.
"Why speak up about your abuse now if not for the cash?" they parrot, while being fully aware that a young girl in the 1970s who accused any very famous man of assault would most likely be ignored, castigated for causing trouble, accused of being a temptress, or have the details taken patiently and then placed in the bin.
Interestingly, Cosby first faced a possible trial in 2006 over an alleged assault on a woman called Andrea Constand. Thirteen other women heard the story, recognised details of drugging and sexual assault common to their alleged experiences, often from long ago, and agreed to testify.
Bill Cosby: Career in pictures

Show all 20
These included a former trial attorney Tamara Green, who said in a recent Newsweek interview: "A lawyer told me I would be crazy to come out after 20 years and accuse him. But I waited and waited to see who would back this girl up, and nobody else would. The Cosby team started smearing her, making her seem petty and loose and cheap."
After Green's alleged assault aged 19, she recalls Cosby making a star appearance at the terminal cancer wing that her brother resided in. "By the time I got to the hospital, my brother was glowing that the great Bill Cosby had given him a portable radio," she says.
When the Constand vs Cosby trial was settled out of court and the stories of the 13 other women – as far as Cosby was concerned – silenced, it's important to note that Tamara Green's legal career was over.
"It was," she says, "a career-ender when I came forward. All my clients were suddenly interested in was whether I was a liar, or a former hooker, or a philanderer. People want their lawyers to be serious-minded intellectuals, honest and honourable people. It casts a shadow on your character if you dare to attack one of these icons."
Green's story is just a footnote in the lengthy allegations against Bill Cosby, but it's also crucial to any modern comprehension of why women sit on rape allegations for decades, or never speak up.
Cosby's behaviour over recent months, as stories have resurfaced – as more women, including Janice Dickinson, a model and TV host, have offered similar allegations of drugging and abuse – is fascinating. Footage appeared last week of the comic actor being tackled, very lightly it must be said, by the Associated Press on fresh accusations. Cosby simply responds: "We don't speak about that," before making loaded comments about the reporter's integrity and insinuating that his people will be calling the journalist's boss to encourage more quashing of this unacceptable event, and finally adding to offending hack, "If you want to consider yourself to be serious, then it won't appear anywhere."
Cosby's rather impotent fury, to me, seemed like the final pathetic roars of a man who for a very long time always got exactly what he wanted – without challenge. I'm sure the penny is starting to drop for Bill Cosby that, in 2014, it's not that easy to shut the world up.
Join our new commenting forum
Join thought-provoking conversations, follow other Independent readers and see their replies