#BlameOneNotAll: Do men who don't hurt women actually need to be congratulated?
The campaign vilifies women speaking out about their experiences of sexism, and patronises men standing on the side of equality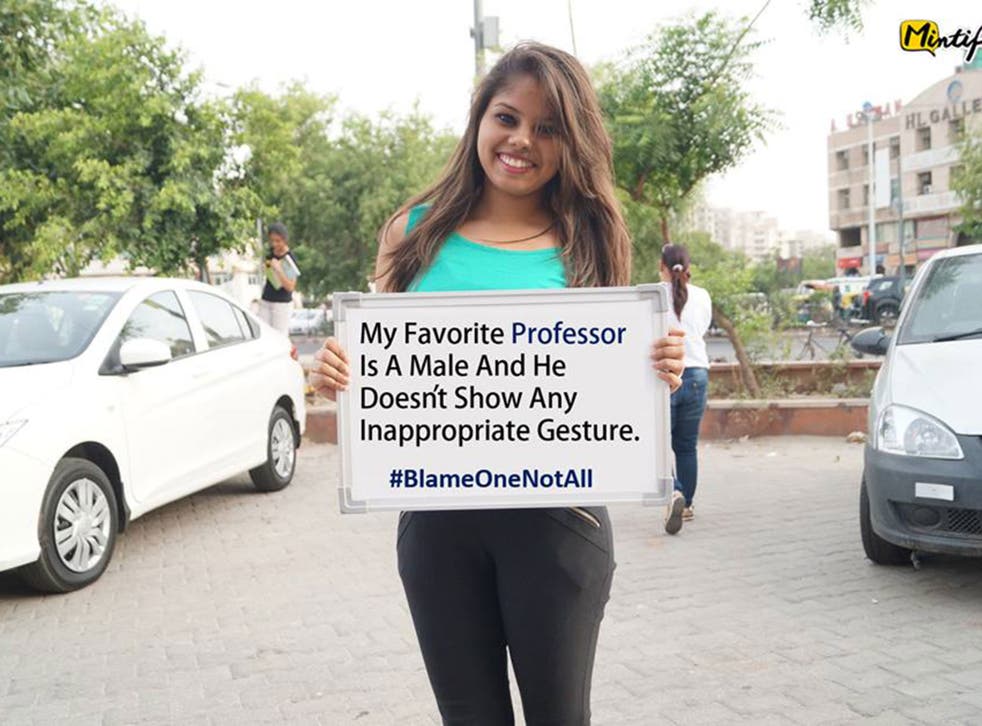 If there's one thing you count on when you write about feminism and gender issues, it's that someone on the internet will pop up to say 'but not all men are bad!!'. And now there is an actual campaign to promote this oh-so-clever observation. The #BlameOneNotAll campaign, created by Indian media company Mintified, asks women to have their pictures taken holding signs thanking their uncles for not being pervy or their cab driver for not touching them up, to highlight the fact that "not all men are rapists." Instead, what the campaign does is vilify the women speaking out about their experiences of sexism, and patronise the men standing proudly on the side of gender equality.
It's just another example of "Meninists" trying to silence women because what they have to say has bruised their ego. #BlameOneNotAll is an attempt at concentrating on each individuals' actions rather than critiquing a social structure that has forced millions of girls and women around the world to be subjected to systematic sexism, sexual violence and abuse. By saying 'not all' we're allowing many to excuse themselves from a situation they claim isn't their problem.
Of course there are many good men, but do they need to be constantly reminded? We don't need to hand out certificates to congratulate them; the men in the world who love and respect women don't do it so they can be commended for simply being a decent human being. The good guys don't need awarding for making a woman feel comfortable on public transport, or allowing a woman to walk past them without catcalling, or not raping the person they met in a club because she was too drunk to consent.
It's tiring to have to revisit this situation again, having to defend a woman's right to speak out about their experiences. I didn't realise women were required to catch the names of all the men that have sexually assaulted, harassed or raped them, to make sure they are the only ones in the firing line. I didn't know I was supposed to ring up all my guy friends and say "oh by the way I don't mean you!" when tweeting about my experiences of sexism.
If the supporters of the #BlameOneNotAll and #NotAllMen campaigns actually focused their time and energy changing the system that props them up, think of the progress that could be made. If these men were really worried about people thinking that they were a rapist, they would be addressing the behaviours of their fellow men, not attacking the brave women retelling their experiences of sexism and abuse.
Feminist Quotes From Leading Men

Show all 18
I don't see all men as rapists and misogynists. However, I do hold all men accountable in helping their female friends, colleagues and family fight to change a frightening system where it's estimated that 1 in 5 women worldwide will be victims of rape or attempted rape in their lifetime.
So rather than thanking the men that haven't attacked me, I'm going to thank those that have stood beside the women in their lives to fight global sexism, rape, domestic and sexual violence, female genital mutilation, sex trafficking, and female abuse. But obviously these men don't have time to be thanked, they're too busy being decent members of society.
Join our new commenting forum
Join thought-provoking conversations, follow other Independent readers and see their replies