The Boston Marathon is supposed to show humanity at its best
If you need any convincing about the selflessness of a casual marathon runner, count the people wearing shirts saying "for Grandpa" or with cancer charity logos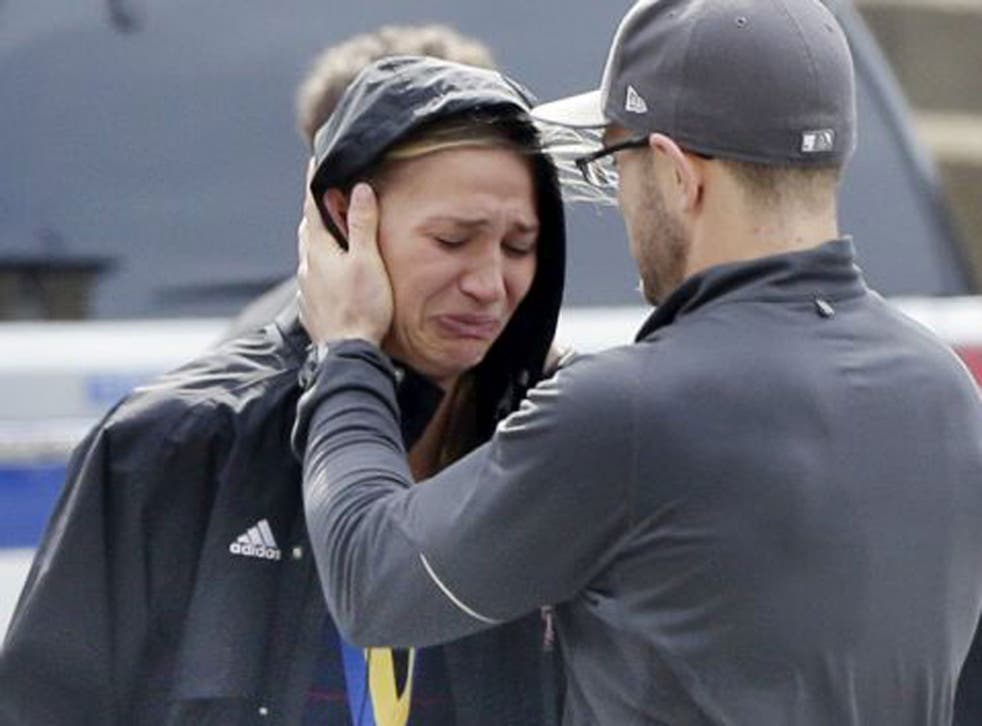 Runners can get a little evangelical about their sport. They say nothing comes close to the essence of the human spirit, or the purity of movement, than when you are jogging along the side of a road.
There is something in that of course – after all, all you need to go for a run is a pair of shoes and a bit of gumption.
No doubt a good many people running the London Marathon this weekend will discover just how much human spirit they have at around mile 21 at Limehouse.
Just as the runners in Boston nearing the finish line at around the four-hour mark did on Monday.
They will have been tired, proud and wanting to get the darn thing done. They will most probably have felt satisfied that the charities they had entered the race for were about to benefit from their efforts.
They would have been buoyed by the throngs of people, complete strangers, shouting their name (if they had had the foresight to get it printed on their shirt) and handing out sweets.
And they will have been getting a little choked up at how nice humans can be to each other – and that a mass running event can show all that is good about being alive.
The last thing they will have been thinking is that they would not make it home, or that a member of their family would leave the event missing a limb.
Terror anywhere is abhorrent. Innocent people lose their lives for the cause of a maniac wanting to push their political barrow, or someone wishing to tell the world just how annoyed they are at everything.
Terror at a sporting event is even more distasteful. After all, the participants and spectators are there as an escape. It is supposed to be a diversion from the world.
But possibly the worst kind of event that could be targeted is a mass running event. Many of the runners – particularly the slower, four hours and above, ones – would have been running for some altruistic purpose. If you need any convincing about the selflessness of a casual marathon runner, stand on Tower Bridge on Sunday around two hours after the London Marathon starts and count the people wearing shirts saying "for Grandpa" and a cancer or heart charity's logo underneath.
The four-hour Boston runners may not have been in the race for anything else than to show some appreciation for a charity and possibly to have a good story for the office the following morning. They certainly weren't in it to win.
The people who planted the bombs most probably knew this – the Boston Marathon, or any big city race, provides a perfect storm of media coverage and public horror that so many innocents could be targeted.
But as horrifying as it is, as sickening that people doing what people were born to do – run – and helping others through charity sponsorships were targeted, Monday's atrocity is not an excuse to stop holding these events. After all, they do show that there are still good people in the world, as the stories of runners carrying on beyond the Boston finish line to the nearest hospital to give blood showed.
So it is reassuring to hear the London Marathon will go ahead this weekend. Because, as any evangelical runner will tell you, if anything can display that humans are OK most of the time, it is watching 35,000 of them punish themselves over 26.2 miles.
Join our new commenting forum
Join thought-provoking conversations, follow other Independent readers and see their replies