Cakegate leaves a funny taste. Is this really the way for gay campaigners to fight for tolerance?
Aggressively targeting Christians could potentially backfire on the gay community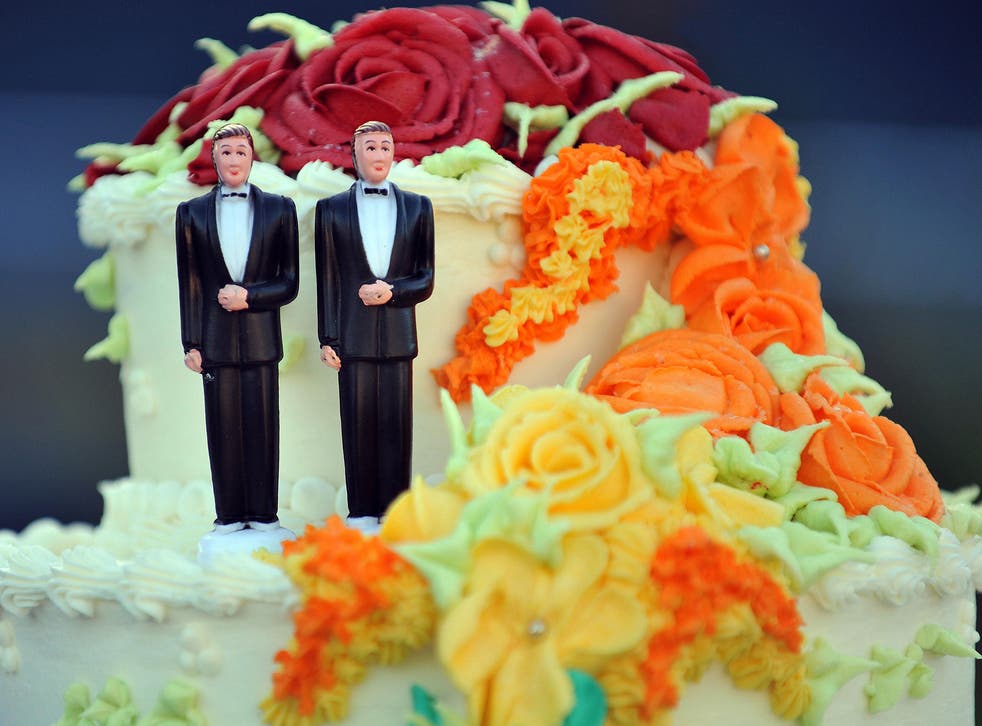 A bakery in Belfast could be taken to court for refusing to make a cake for a gay couple. Has the world gone mad? I have consistently campaigned for gay rights and wholeheartedly support equality for all, but cakegate made me stop and think.
Ashers bakery in Newtownabbey, Northern Ireland, is run by Christians, and named after a verse in the Bible, so they don't make any secret of their ethos. The company refused to bake a cake decorated with Bert and Ernie from Sesame Street, emblazoned with the slogan "Support Gay Marriage".
I support gay marriage, but surely a bakery is allowed to not bake a cake if it finds it offensive, especially as there are plenty of other places happy to fulfil that order. Or do you think that refusing smacks of discrimination? It's a hard call.
Actually, ordering a cake from this particular bakery sounds like a set-up, designed to attract as much publicity as possible. It's got nothing to do with cakes and everything to do with confrontation. The Equality Commission in Northern Ireland has written to the bakery warning it faces possible legal action.
The man who ordered the cake, campaigner Andrew Muir, says "businesses should not be able to pick and choose who they serve … there would not be any debate if the cake had depicted an anti-racism or anti-ageism slogan".
Mr Muir is right. But there might have been an equally almighty fuss if the cake had depicted a big throbbing cock. The bakery would surely have refused to bake those cakes too. Is that discrimination against freedom of expression?
I worry that aggressively targeting Christians will ultimately backfire on the gay community. This is just the latest example of Christians facing action by gay campaigners. The most famous example concerns committed churchgoers Peter and Hazelmary Bull, who owned a hotel in Cornwall and who refused to let two gay men share a bedroom.
Their policy (only heterosexual married couples could share) was stated on their online booking form, but they forgot to mention it when taking a booking from Mr Hall and Mr Peddy, who were in a civil partnership.
In pictures: UK's first gay weddings

Show all 16
The hotel owners offered them two rooms, but this was not acceptable. Legal action ensued and the Bulls were found guilty of discrimination. They lost appeals all the way to the Supreme Court, although – unusually – they were not ordered to pay their costs. Finally, the European Court of Human Rights is being asked to rule on the case.
Baroness Hale, the deputy president of our Supreme Court, has been reflecting on this saga, and delivered a speech last week asking for "a more nuanced approach" in dealing with cases of alleged discrimination. She wondered if the law was doing "too little" to protect Christians.
These cases involve two sections of the European Convention on Human Rights – Article 9, the right to freedom of thought, conscience and religion; and Article 14, dealing with discrimination and equality. David Cameron and Justice Secretary Chris Grayling seem to be sympathetic, saying that people must be able to follow their consciences. Cameron, in particular has been making much of his Christianity – unlike Tony Blair he "does" religion.
So how can we balance the spiritual needs of believers with the rights of gay people? It's not an easy call, and of course some cases involve right-wing Christian groups who actively oppose homosexuality. Some gay campaigners feel the only way to deal with that is by confrontation – hence cakegate. I just wonder if taking people to court over a bed and breakfast or a sponge cake is really the right way to move forward to greater tolerance and understanding. I loathe bigots. But will these tactics win hearts and minds in the long term?
The laborious process of holding a fundraiser
After all the hoo-ha surrounding the Conservatives' summer ball, with stories of a Russian wife paying £160,000 to play tennis with David Cameron and Boris Johnson, I was curious to see what kind of fundraising bash Labour would stage. Would donors have to come in disguise? Would there be a ban on foreigners?
I managed to get an invitation from my old pal Peter Mandelson. Our paths first crossed when he was working on Weekend World for London Weekend Television in the early 1980s and I was presenting youth programmes from an adjacent office. Peter's team was famous for coming up with the longest questions in the history of political journalism. When delivered by presenter Brian Walden, baffled guests would frequently have to ask for them to be repeated.
Labour's party, at the Roundhouse in north London, was well organised. Tessa Jowell, who played a key role, told me it had been as delicate a task as delivering the Olympics. Labour managed to attract some good names, including Patrick Stewart and Eddie Izzard. Artists who donated work for the auction were of the first rank – Anish Kapoor, Grayson Perry, Mark Wallinger and Antony Gormley, who contributed a sculpture that sold for £105,000. Even Ed Balls managed to fool someone into paying £24,000 to play football with him. Stephen Fry was an entertaining host and the food was pretty good. Ed Miliband made a decent speech, managing to avoid mentioning hard-working families once. Well done! (He couldn't resist dropping in "one nation", but that was quickly out of the way.)
I sat opposite his dour spin doctor, the former Times journo Tom Baldwin, and jotted down a few thoughts on Ed's speech in my programme, but when I got home, I found it had been switched for a blank one. Dirty tricks? Surely not! Labour would have been proud of my austerity frock. It cost A$25 in an Australian thrift shop.
Who can do satire when real life can be beyond parody?
The night after the Labour bash, I went to the National Theatre to see Richard Bean's Great Britain, which claims to be a topical work based on our modern media and all its recent tribulations. All I can say is that Drop the Dead Donkey covered the same ground on telly ages ago and with much more panache.
This enterprise is far too pleased with itself. It's overstuffed with actors, graphics and verbiage. Too long, too slow and it doesn't tell you anything you don't know already. It's a complete waste of Billie Piper's huge talent.
The real world of newspapers – as shown in the hacking trial – is beyond parody. It's been my life since I was 21. You could accuse me of being cynical and jaded, but this play isn't trenchant satire or biting investigative journalism. It seems too wet and floppy. I'm looking forward to London Road author Alecky Blythe's new work, Little Revolution, at the Almeida, based on the 2011 riots. This writer has proved she can deliver topical social comment.
It's a shame more men haven't had a close shave
The other night I met an earnest young man in a smart suit, wearing a scarf, sporting a profusion of facial hair. After he left, I realised it was my former heart-throb, the sharp man about town Tinie Tempah, who had succumbed to the trend for boring beards. It started with the hairy nerd in the John Lewis ads, who looks like the younger brother of ZZ Top, sporting a full bush on his chin. The look has been dubbed kinfolk man, and comes with tweedy jackets or wrinkly linen trousers rolled up at the hems and drab haircuts. Forget it! I don't know a single woman who finds a full beard remotely attractive.
Join our new commenting forum
Join thought-provoking conversations, follow other Independent readers and see their replies