Cameron's patronising attitude towards women will cost him the election
Ninety five years after women got the vote, the Tory Conference will see 128 fringe meetings at which not a single woman is due to speak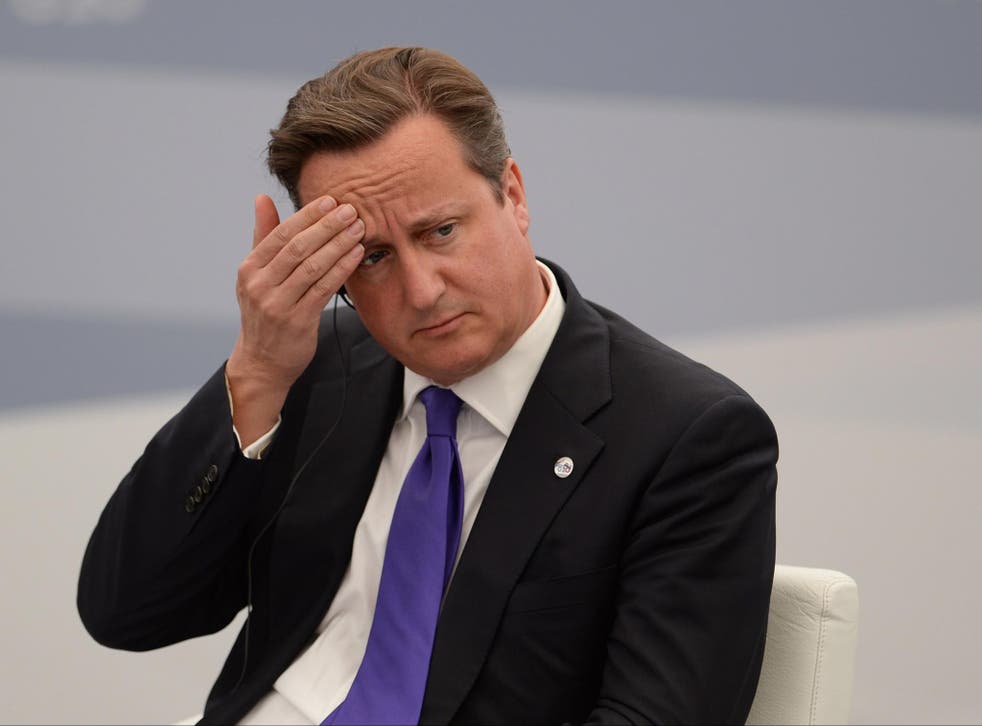 January 2006. I had managed to beg, borrow or steal two tickets for Mary Stuart at the Apollo Theatre with Janet McTeer and Harriet Walter. As we took our seats, a couple in front of us were squabbling and as the lights were about to go down the woman turned to the man and said angrily: "The worst of it is, you're soooo bloody paytronising." He turned to her, kissed her on the forehead and said, "It's patronising, my dear."
And that's pretty much the attitude of David Cameron's Conservative party towards women. Cameron's own personal air of back of the classroom ribaldry – telling Angela Eagle to "calm down dear", sniggering at Nadine Dorries that she is "extremely frustrated" – doesn't help. Nor does William Hague's defence that "you only have to look at our highly accomplished wives", a phrase that drips with over-egged manly condescension. As they stumble from leering to superciliousness, it feels like watching a bunch of teenagers from an all-boys school suddenly discovering girls.
Two years ago Baroness Warsi opened conference and doubtless Theresa May (below), Maria Miller and Justine Greening (notwithstanding missing the Syria vote) will be given as much airtime as possible this year to mask the fact that despite Cameron's promise of a third of his ministers being women by 2015, just five out of 32 attending Cabinet (and only 22 out of 122 in total) are women.
But one simple fact tells you all you need to know about today's Tory Party. Ninety five years after women got the vote, the Tory Conference this year will see 128 fringe meetings at which not a single woman is due to speak. One of them on fair pay. I can hear one of the few Tory women to make it into parliament, Therese Coffey or some such, decrying this as political correctness and trotting out the line about preferring to get there by merit, but do they really believe there isn't one conservative-minded woman fit to sit on each Tory panel?
I'm not saying Labour is perfect. I turned equality terrorist this week, cancelling my attendance on one panel when no woman was invited and refusing to start another until a woman could either replace a man or be added.
But Cameron's problems run far deeper. Most family budgets are managed by women. They don't have to read about a living standards crisis, they are living it. The rising costs of childcare, food and fuel plus frozen wages all impact directly on women. So, when Cameron and Osborne pat themselves on the back on their self-awarded lap of honour for "rescuing" the economy, women just think they're out of touch. And that will lose Cameron the election.
Does anyone marry for £150 a year?
One probable announcement in Manchester will be of a "married tax allowance". This is bad policy and even worse politics. It is High Tory political theology from a distant era. It does nothing to channel public funds to where they are needed. The man who leaves his wife and children and marries again will get it, while the divorced wife with children soldiers on without, just because she does not remarry. It pretends to espouse family values, but it is offensively naïve to think anyone really marries (or indeed should marry) for £150 a year tax relief. So let's call it what it really is, the "unmarried tax", and make sure it follows the pasty tax, the bedroom tax and the charity tax into history.
Miliband's big ambitions
It's a common trope in politics – the under-estimated tortoise defeating the over-confident hare. But this week must have shown people something about Ed Miliband. His ruthlessness has a purpose – and it's extremely ambitious. He doesn't want to tinker round the edges. He wants to make the market serve the common good. If that means breaking monopolies, or challenging the bumptiously arrogant captains of utility firms, or helping small and medium sized businesses with their rates bills at the expense of the corporation tax paid by a mere one in 10 British companies, so be it.
Some, including the hyperbolic Mr Gove, opine that this demonstrates a return to the politics of the 1970s. But in an era of zero hours contracts, of job insecurity, of part-time work and pernicious welfare cuts, it feels as if the Tories have taken us back to the 1930s. So we need to replace Osborne's Downton Abbey capitalism with policies that strengthen the economy by giving everyone a share in rising prosperity. The energy price freeze commitment is just the start of building that Social Capital-ism.
How much is that dodgy innuendo?
Ed Balls had fun at conference. First he told delegates that Yvette Cooper had been rehearsing her speech in the car on the way down. She just got to a section on the heroines of the past and was waxing lyrical about that great doyenne of the party, Barbara Castle. Unfortunately spellcheck had replaced Castle with Cartland, an unlikely feminist icon.
More notably, Ed promised that, having seen the pictures of Cameron undressing under a beach towel, he will never take his shirt off in public and joked that "for a prime minister it was a surprisingly small towel". Tom Bratby of ITV went all po-faced and declared that British politics had hit a new low. I wonder. In 2001, my Lib Dem opponent was Gavin Cox. He said something silly about drugs policy, so I called for him to stand down. The Mirror headline? "Bryant Demands Cox Withdraw". And the next day, when he refused to resign? "Cox stands firm". And then, when I played in a charity rugby match in Cardiff and managed to bring down some hulking former Welsh cap, the BBC declared "we gather that Mr Bryant is very proud of his tackle". The media clearly allow themselves saucy innuendo, which is nowhere more appropriate than on the seafront.
Join our new commenting forum
Join thought-provoking conversations, follow other Independent readers and see their replies