Cameron stole Blair's phrases, and then put all New Labour's ideology in a removal van
The Prime Minister got his conference to stand and applaud a speech that said Britain wasn't so great if you were female, gay, a Muslim or poor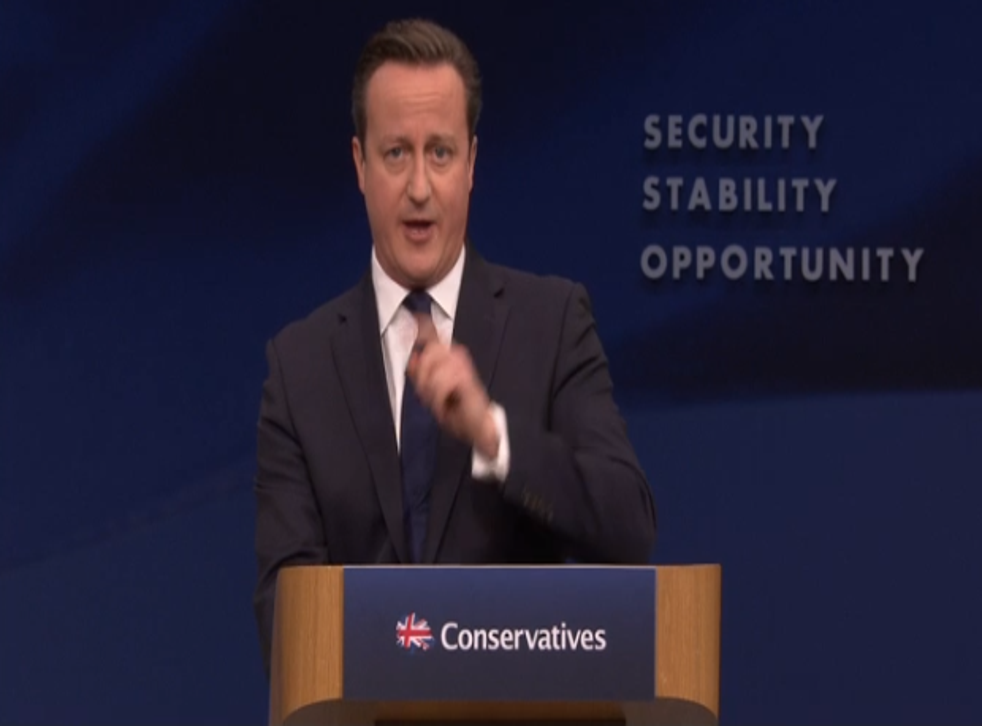 I started by mocking David Cameron for lifting phrases from his predecessor-but-one as Prime Minister. He spoke about the morning of 8 May: "As dawn rose a new light, a bluer light, fell across our isle." Silly poeticism, I thought, before recognising the echo of Tony Blair's "a new dawn has broken, has it not?" Then Cameron was on "a journey" and even claiming to be the first prime minister ever to have said he wasn't going to fight another election, which Blair said in 2004. Indeed, Blair said almost the same thing about not have much time left and therefore being in a hurry to get on with change.
As Cameron went on, however, I started to worry less about the borrowings from Blair and the clunkiness of the speech-writing ("Labour: you're not for working people, you're for hurting people"), and to pay more attention to the message. Because this was a big speech with a big message.
Cameron and George Osborne have made it clear that they intend to occupy the centre ground (or common ground as they prefer to call it when Tory activists are listening), but this was still an unexpectedly bold invasion of that admittedly vacant territory. The stuff about extending home ownership sounded hollow: that aspiration is going backwards as the deep economics of the housing market favour buy-to-letters. But the promise of an "all-out assault on poverty" sounded as if he really meant it. He spoke of the interlocking problems of mental illness, addiction, violence and the care system, and there was a welcome name-check for Frontline, the programme designed to get top graduates into children's social work.
But he went on: "People with white-sounding names are more than twice as likely to get a job," and said: "This is disgraceful." He said he didn't want to see people discriminated against because they are gay or disabled. As the father of two daughters, he didn't want them to end up earning less just because of their gender. "The point – it's so important this –" he said, in one of the most persuasive passages in a speech that I've heard recently, is that he wanted "our party to get this right".
"Yes, us," he said, acknowledging that many people watching, and many of the people in the hall, wouldn't think it was his party's job. "I want us, the Conservatives, to end discrimination and finish the fight for real equality in Britain today." And they stood.
He has done it before. He got them to clap gay marriage long ago, in opposition. And he has got them to clap themselves as the party opposed to poverty before. It was a harder mission today, because it meant overlooking the cuts to tax credits that are going to start hitting the working poor next year. But at least the Conservatives are tough on the causes of poverty, even if they are not tough on poverty itself.
The silence on tax credits apart, this was a New Labour speech delivered by a One Nation Tory.
Join our new commenting forum
Join thought-provoking conversations, follow other Independent readers and see their replies