Christian Easter eggs and child abuse: The creation of a parallel universe by the Church
Creating a choice in products for people of faith reinforces the sacred-secular divide in society - and it's this ghetto culture that leads to checks being veiled with spirituality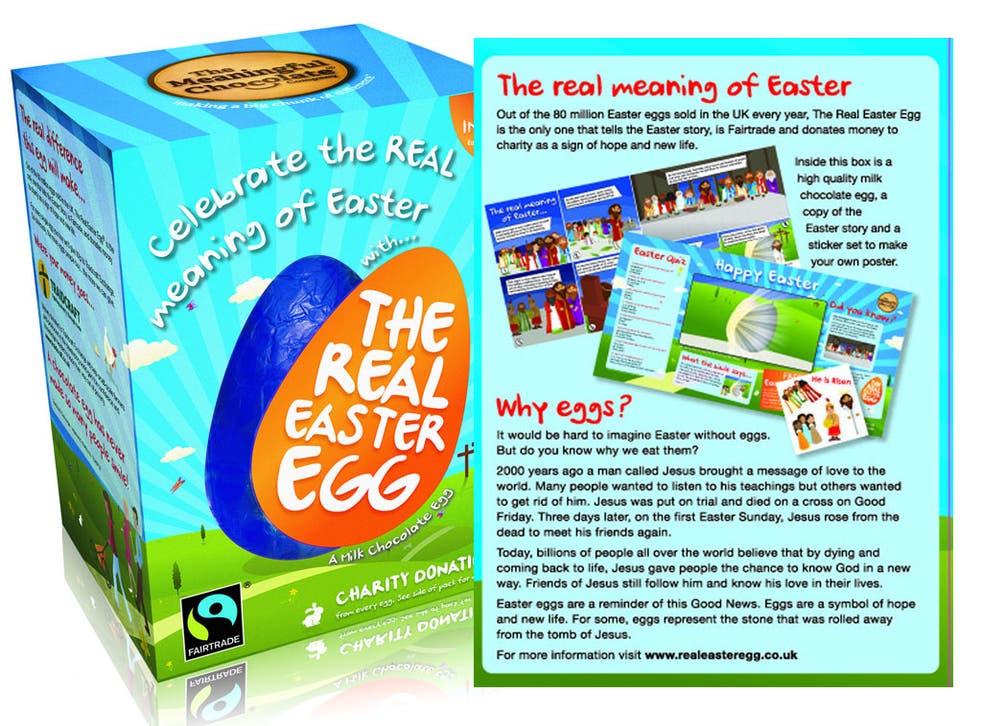 It's been reported that 'religious Easter eggs' claiming to represent the "real" message of Easter will be more widely available in supermarkets due to campaigns from Christians.
Apparently, after a three-year 'pestering' campaign, Tesco, Morrisons, Sainsbury's, Waitrose and the Co-Op have agreed to stock the products. The Bishop of Hereford said he expected there to be a "real demand for an egg explaining the religious understanding of Easter on the box" and he encouraged shoppers to "hunt out a Real Easter Egg and complain if they are not being stocked."
I'll confess, Easter eggs are something I can't resist buying. Lured by the shiny colours I feel like I'm five years old again, clutching my prize and gleefully scoffing it all by myself. It's a delightful part of Easter for me and far from detracting from the story of Christ it echoes the joy of that message. I'm a Christian, but I've never felt I needed a Christian version of an Easter egg, just as I've never felt I needed a Christian version of shoes, clothing or breakfast cereal.
Ten years ago when I moved to the so-called 'Bible Belt' of America I had the shock of my life. American Christians have invented their own version of everything. From 'Testamints' (minty sweets containing a Bible verse), to clothing ranges, to coffee mugs saying "I love Jesus a Latte" and even religious toilet seat covers. Christian music in the States is a totally separate genre from pop, rock or classical. I was part of that scene for a while, but with less and less ease over the years as I met thousands of young people who were banned from 'secular music' or 'secular culture'; a deeply unhealthy, head-in-the-sand reality.
The problem is this: creating a choice for people of faith between a 'Christian product' and a 'regular' one merely reinforces the sacred-secular divide in society. The idea of complaining to supermarkets that fail to stock these religious Easter eggs seems like the antithesis of what I'd want to be known for as a believer. "Hi Waitrose, let me yell into your ear about your lack of Christian branded Easter eggs" seems like an oxymoron if our faith is about love and graciousness towards others.
Having tweeted my thoughts on this I've already been criticised by some fellow Christians who feel I'm not celebrating this opportunity for the Gospel to be shared. Yet I can't imagine Bob the Plumber walking into Sainsbury's, seeing a chocolate egg with a message about Jesus on it and instantly falling to his knees in confession and conversion. The eggs will be purchased by Christians and probably given to unsuspecting 'unbelievers' who although grateful for the free chocolate will be bemused by the cut-out-and-keep paper Jesus figurines inside it.
I had flash-backs to the American Bible Belt when I visited Vatican City last summer. I was stunned by its mystery and secrecy. It seemed an entirely self-contained universe with its own postal service, stamps and prior to the Euro, its own currency. It felt eerily similar to the Bible Belt's merchandise shops as every few yards they sold Catholic versions of everything from cushions, to jumpers and tea sets.
I say all this with great respect for my many American Christian and Catholic friends. I also respect and appreciate the vision of The Meaningful Chocolate Company; the folks producing these eggs, who are using Fairtrade chocolate and have only the best possible motives for creating their products. But simultaneously it does hit a nerve for me; that of the dangerous sacred-secular divide which through many small steps accumulates into a ghetto culture where things can seem normal that in fact really should not.
This leads me to the much heavier issues that have been in the news lately; the devastating stories of sexual abuse and cover-ups within the Church. I may be mocked by those missing the nuance of what I'm saying; suggesting that I'm blaming Easter eggs for sexual abuse, but I hope people will interpret this piece more intelligently than that. The abuse scandals have plagued the headlines daily and most of us wonder how things like this can go on behind closed doors and only now come to light. It would seem that somehow, step by step, an alternate reality is formed within many religious institutions where normal levels of checks, balances and expectations are veiled with spirituality and disconnectedness. Things become part of the furniture and no one can speak from the outside to challenge them.
These ghettos happens when Christians retreat. It's what I tasted in America, meeting a generation of Fundamentalist youth who had been home-schooled and never allowed to watch TV or go to a movie theatre. Dressed in Christian clothing and listening to only Christian music, hundreds of them have shared opinions with me about their world views, saying things that were, frankly, utterly bigoted and shocking, yet uttered with genuine naiveté from within a ghetto culture.
So my point is simply this: tiny bricks gradually build high walls. As they often say in America, "Culture is King". The Americans have realised faster than us Brits that it's not our ideals, our strategies or our goals that define us - it's our culture and that can be invisible when we're on the inside. Christian culture, language and practice is already extremely foreign and inaccessible to most of the watching world. The last thing we need is an increasingly Christianised version of products at the supermarket or a sense that buying them will genuinely promote the message of Jesus. For me that's just another brick in the wall.
I believe Christianity is supposed to engage with the world in a spirit of love, not be sequestered away in a bunker. I don't believe we need our own line of confectionary, jumpers or tea-sets. I don't believe our hierarchies should be veiled in secrecy behind locked doors, or that hidden memos in hidden vaults should contain the real story of the Church's secret past.
Sure, laugh at me for being bothered by the presence of a Christian Easter egg in Tesco's, but for me it hints at something much deeper that disturbed me during my Bible Belt years: the sacred secular divide and the strange cultures that can form when we retreat into our own parallel universe. I for one will not live in a ghetto of faith and anything that smells of that, however faintly, makes me uncomfortable.
Response from David Marshall, creator of the Real Easter Egg:
We offer people a chance to give something more meaningful and culturally educational at Easter. The Real Easter Egg is the UK's only charitable Easter egg on the market. We have given away more that £60,000 in donations from sales to Traidcraft Exchange and the Fairtrade premium we pay all go to support some of the poorest communities on the planet. Just as many people like to send Christmas cards with a religious message, so we think it's positive for there to be an Easter egg available which is similarly explicit about its religious connection.
Join our new commenting forum
Join thought-provoking conversations, follow other Independent readers and see their replies