Come on, Beyonce. Who are you trying to kid with this all this homely 'Mrs Carter' business?
Despite it being 2013 not 1066, women still chuck away their names because 'it's just what you do'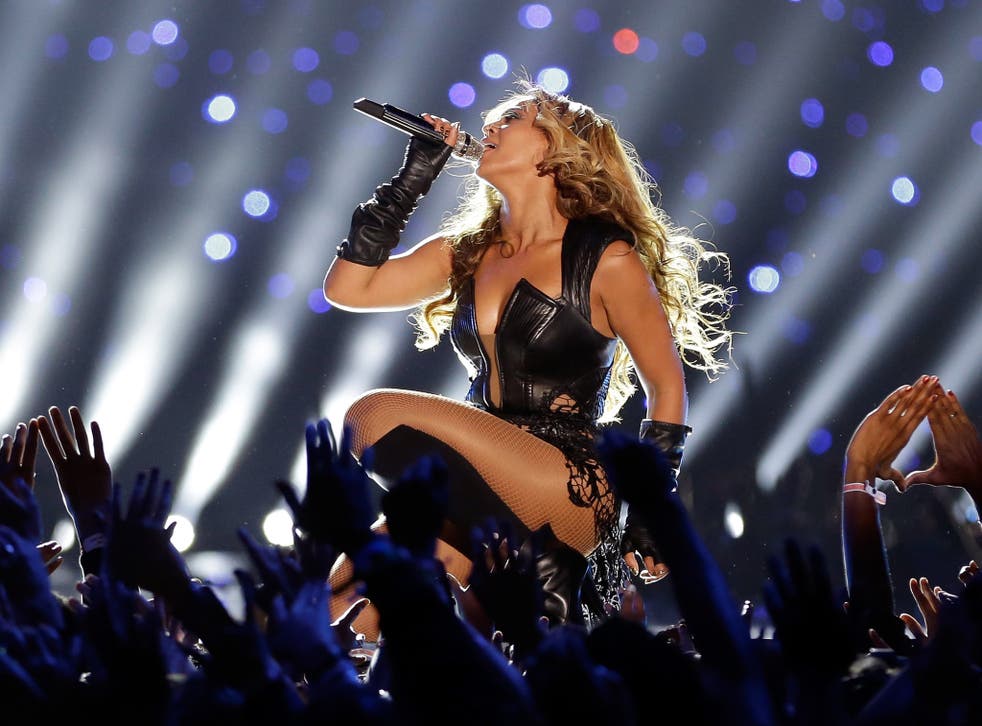 Are you a Mrs Carter fan? She performed at the Super Bowl on Sunday. You must know Mrs Carter? She's one of the most recognisable showbiz brands in the world? Oh yes, until Saturday she was Beyoncé Knowles, her of the "Independent Woman" mantra, the lyrics I found enormously spiriting back in 1999 when I was skint, without portfolio and trying to write columns for magazines who simply didn't really employ women.
Beyoncé's words were a bloody tonic. Be resilient, be independent, don't give up and wait for someone else to carry you. Buy your own house, shoes, diamonds. I've watched Beyoncé stand solo at the 02, in a single spotlight beam, having dispatched all her band and backing dancers off stage, and send ripples of joy through 20,000 people by slightly tensing one bum cheek and letting out a trademark roar. And now – February 2013, wed to Jay-Z (Shawn Carter), and having recently had her first child – she's off on tour as Mrs Carter on The Mrs Carter Tour.
Ah, Mrs Carter, a homespun merchandising moniker fragrant with Good Housekeeping notions of baked peach cobblers. There she is standing coyly behind hubby as he talks manly wotnot with Obama, with the overriding notion that showbiz is mere whimsy compared with important things like being in charge of issues surrounding Him Indoors' fresh underpant supply. She's Mrs Carter – Jay-Z's wife.
"I'm every woman and this is just a natural part of the path of life! I'm so in love," she appears to be saying. Maybe she had too much gas and air giving birth to Blue Ivy. I'd have expected this of that toxic nitwit Rihanna. Let's face it, when RiRi inevitably marries the man who hospitalised her she will no doubt celebrate with a classy face tattoo saying MRS RIHANNA BROWN. But you, Beyoncé, are smart.
Oh it's just a name, you might say. But until now, like all good business people, Beyoncé has known the rock-solid value of her own name, especially written in bold on a business contract. Not your husband's name, not Daddy's name, not your manager's name because he understands this stuff and you don't – your own name.
Your name – writ large – cuts out the crap of potential future legal grey areas. It stops people in the future standing with their hands out wanting their cut of something you worked for. Now – all of a sudden – it's a volte-face. Your message to a billion little girls is that your surname isn't important. You took 30 million quid off Pepsi last month to say you drink their soda. I wonder, did you scribble "Mrs Jay-Z Carter" on that contract too? And then did you toss it into a communal pot while you pureed some carrot? Or do you have a vast legal team, a watertight pre-nup, and the common sense to be sure that Beyoncé Knowles gets every single cent she is quite rightfully due?
Despite it being 2013 and not 1066, women – just everyday women, not women who play the 02 – still chuck away their own family names and the name they established a career in as it's "just what you do". We change our names because over centuries we've been hoodwinked – by the Bible, by parliament, by the banks, by Disney, by our peers, by our in-laws and by sniffy people with forms who want boxes ticked – into thinking that losing your name is no big deal.
This is plutonium-grade hokum. If losing your name wasn't a big deal then men would do it. They'd fall in love, set a wedding date and then happily take up their mother-in-law's surname, skipping to the bank to merrily swap their wage slip to their wife's surname, before changing their passport, their CV, their business email, their Facebook account, in the process potentially losing hundreds of lucrative business acqauintances. And their babies – should they create them – would all carry their mother-in-law's name, almost like their old pre-marriage self had vanished.
But men don't do this. Or perhaps one or two do. And neither will Beyoncé. She's a pop star. She'll just flog a few million tour tickets on the back of this domestic goddess guff, then cast off Mrs Carter and be Beyoncé Knowles again. Little girls: it's not so easy for you.
A shock to my gay-filled life
I'm pro gay marriage. I'm pro gay equality. I'm heavily pro my gay friends experiencing the delight of wrestling plans to serve chicken en croute to 200 people, crash-dieting for wedding pics, and bickering over the John Lewis gift registry and the sanity of requesting Le Creuset ramekins. Let them eat cake too, I say. And more seriously, let my friends love and be loved exactly as I can.
This week's debate has been a giant poke in the ribs for folk like me who float through my big gay-filled life rarely meeting bigots. Perhaps they shut up in my presence. The music I listen to, the drama I love, the restaurants I eat in, the clothes I wear; all the brainwaves of men who may – at some time or other – been partial to a penis. Or women who've, gasp, chosen to love another woman.
God forbid I ever wake up in a dreary gay-free world. To watch politicians grumbling that they're far from bigoted, they simply don't believe in gay equality, has been mesmerising. Same too that Clive and Cyril getting hitched after 20 years in love will take away from the sacrosanct status of Katie Price in a white gown with her boobs out – third time's a charm – in a Sandals ceremony. But gay marriage is on the horizon. Try to relax about it. These people know how to do a buffet.
Don't take away my beloved Scotland
In the event of a Yes vote in next year's referendum, Scottish Independence Day would be in March 2016, according to a transition paper published by Deputy First Minister Nicola Sturgeon. As an English person I shall miss Scotland sorely if it goes. Scotland is an excellent place. We English should have treated her better, visited her more, acknowledged her presence, not just for two weeks in August, like a holiday fling. I lived in Scotland for almost five years, in almost perpetual sideways drizzle, never tiring of the culture, dialect, humour and my daily history lessons (English – "wee bastards"; Scots – "brave, noble, highly sexed warriors" etc). If they build the wall again in 2016, I'll find a way to climb over it.
Join our new commenting forum
Join thought-provoking conversations, follow other Independent readers and see their replies