Congo and the UAE have destroyed their ivory stockpiles. Here's why that's so important
 In part, it is symbolic - but there are practical benefits, too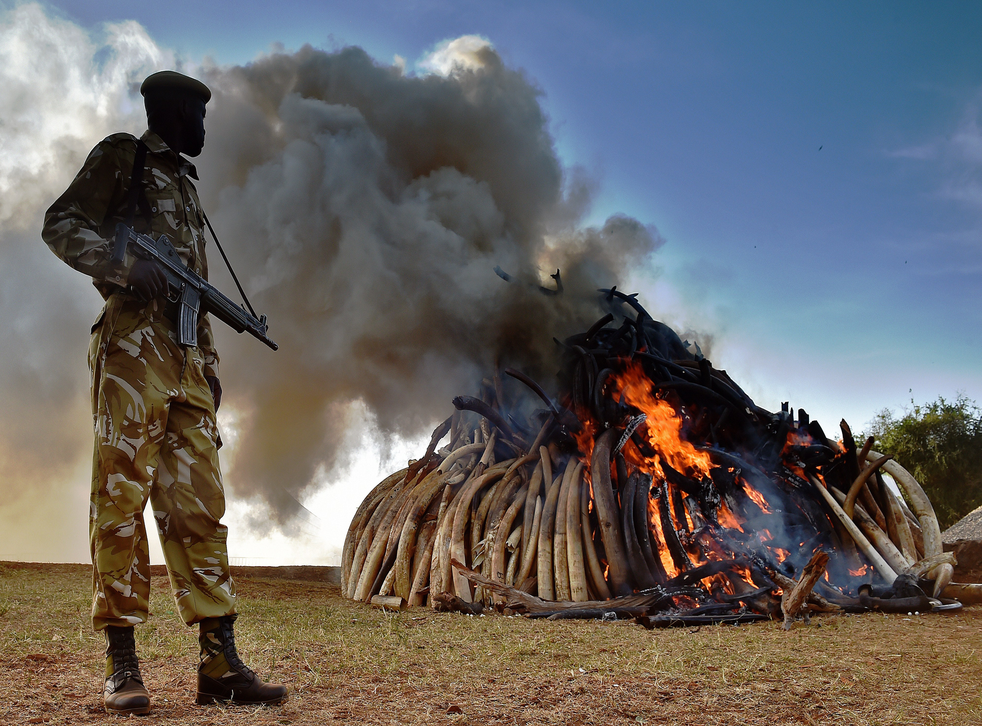 Today, in Dubai and Brazzaville the governments of UAE and the Republic of Congo publically destroyed their ivory stockpiles. Separated by 1000s of miles, sitting on different continents and facing very different challenges, both countries are united in their determination to end the illegal ivory trade.
They are not alone. More and more countries across the globe are destroying their ivory stockpiles: the roll includes Gabon, the Philippines, USA, China, France, Chad, Belgium, Hong Kong, Kenya and Ethiopia, making UAE and Congo the 11th and 12th countries to do so within the last three years.
Malawi has committed to destroy its entire national stockpile as soon as it has completed the prosecution of two men arrested for driving a truck carrying 2.6 tonnes of ivory hidden under bags of cement.
Why are these countries destroying their ivory? In part, it is in protest: to send a message to the world community to stop buying ivory. In part, it is a message: symbolizing a countries' intention to adopt a zero-tolerance attitude to poachers and traffickers.
But it is much more than that. The international trade in ivory has been banned since 1989, when it marked the collapse of the then principle ivory markets in Europe and America and the beginning of a steady decline in demand in Japan.
In the intervening 25 years, governments have accumulated stockpiles of ivory seized from poachers and traffickers, accumulated from naturally dying animals and recovered from 'problem animal' control. This ivory can't be sold, because of the ban. Seized ivory, like drugs and arms, can never be sold.
Given the scale of the crisis – 100,000 elephants were killed in Africa in the three-year period 2010–2012, and as few as 400,000 are thought to remain – there is no prospect politically of any sales being approved by CITES in the foreseeable future. This means these ivory stockpiles are worth nothing to governments and the citizens of the countries holding them.
But the cost of maintaining these stockpiles is substantial. Moreover the incitement to corruption is vast as ivory is worth huge sums on the black market, meaning such stockpiles are a lure for the criminal. No fewer than six stockpiles have been robbed in the last year, some by fiercely armed gangs and people – including poorly paid guards – have died trying to defend stockpiles.
Putting ivory stockpiles beyond economic use is not a silver bullet to stop the poaching crisis. However, it is a critical component, and as part of a common policy it can act powerfully in aiding good governance and diminishing demand, as well as demonstrating cash-strapped African countries' commitment to act.
In February 2014 at the London Conference on Illegal Wildlife Trade, Botswana, Ethiopia, Gabon, Chad and Tanzania launched the Elephant Protection Initiative (EPI). Last month, Gambia, Uganda and Malawi joined too.
This African-led, partnership-based initiative calls for countries and civil society to join together behind a common policy to close all ivory markets, to put ivory stockpiles beyond economic use, and to properly fund elephant protection, sustainable community development and law enforcement under the African Elephant Action Plan that was agreed by all African elephant range countries in 2010.
We should all applaud the governments of the UAE and Congo today. We should support those countries who demonstrate their commitment through action. Only if we all pull together under a common plan can we secure for ourselves and our children a future with elephants.
Alexander Rhodes is Chief Executive of Stop Ivory and a solicitor at Mishcon de Reya. Stop Ivory is a UK registered Charity which provides technical and financial support to the Elephant Protection Initiative.
Join our new commenting forum
Join thought-provoking conversations, follow other Independent readers and see their replies