The day the Everyday Sexism Project won - and Facebook changed its image
The social network had buried its head in the sand on gender violence and '#FBrape' until my campaign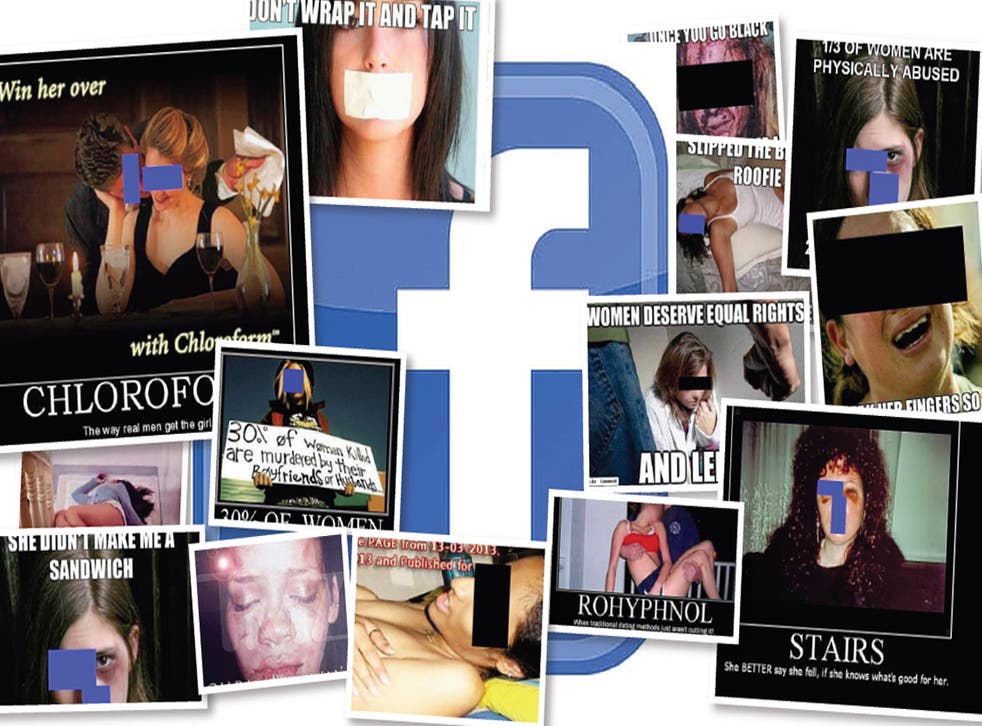 Last week, the Everyday Sexism Project, "Women, Action and the Media", along with writer and activist Soraya Chemaly, launched an international campaign against Facebook content that they felt incited rape and domestic violence.
For women's rights groups, and many female users of the social network, this was nothing new. For some years now campaign groups have lobbied Facebook to address the plethora of violently misogynistic images and comments that appear. What was new this time was Facebook's response.
Last Tuesday night, the web giant released a rare public statement acknowledging our campaign and confirming that it would act on each of the commitments we had called for in our open letter. They have agreed not only to update their guidelines and policy on hate speech with input from women's organisations, but also to improve training for its moderators.
This means that the kind of content we highlighted – images of women beaten, bloodied and bruised with captions such as "Next time, don't get pregnant", or groups like "fly kicking sluts in the uterus" – will no longer be shared and "liked" on the site.
We aren't talking about sexist jokes, or about censoring free speech – Facebook already censors a great deal of content, from breast-feeding pictures to images of women post-mastectomy. Instead, we are talking about a move away from tolerance of violent portrayals of misogyny – and the corresponding suggestion that boasting and laughing about rape and sexual assault is acceptable.
We are seeing a natural, cultural progression away from the acceptability of gender prejudice, in the same way that public pressure and challenging social norms led to other forms of hate speech, becoming unacceptable.
Facebook's public response is a milestone. The fact that it realised it was necessary to respond to this campaign marks a real shift. Such incidents as the horrific Delhi gang rape, and the Steubenville teen-rape case in Ohio, made headlines around the world and we are reaching a global tipping point in our attitude. In a world in which one in three women will at some point be raped or beaten, it should be no more acceptable to make "jokes" about it than it is to use racial slurs.
The sheer numbers of people who joined our campaign in just one week, men and women, testifies to the strength of public feeling. More than 60,000 tweets and 5,000 e-mails were sent using the #FBrape hashtag, while advertisers were flooded with demands to suspend their accounts with Facebook.
One protester recreated an image that Facebook had refused to remove, a graphic portrait of a little girl with two black eyes, but using a composite of profile pictures of Dove's Twitter followers. He released it with the words: "Dove, these are your customers." Others filled Dove's Facebook page with requests for it to follow through on commitment to empower women by removing Facebook ads.
Numerous small businesses voluntarily joined the movement, withdrawing their adverts from Facebook without being targeted by the campaign. One company, Down Easy Brewing, wrote: "Our measly few dollars a month will not make a dent in the Facebook bottomline, but our conscious as a corporation and as human beings will rest a little easier ... Stand up to the bullies."
And Facebook's landmark reaction is also a testament to the attention that large companies and public bodies will have to pay to this social shift, because this wave of protest is not going away. It is simply no longer adequate to excuse sexism and misogyny under the guise of banter.
It is also no longer possible for a platform as large and influential as Facebook to distance itself from the content uploaded by its users.
This all has real implications, for forms of gender hate elsewhere. For too long, women who object to mainstream and accepted misogyny have been silenced with the mocking argument that they are uptight, overreacting, or need to learn to take a joke. It is an effective form of silencing – by branding derogatory and hateful material "banter"' or "distasteful humour" because you immediately isolate and alienate the objector as a bitter prude.
But, like any other form of bullying, this line immediately falls flat when challenged. And so many women are now combining their voices to achieve victory in cases like this one that they can no longer be silenced.
Companies can no longer hope to stick their heads in the sand, as Facebook had done, and hope that the commotion will blow over.
Join our new commenting forum
Join thought-provoking conversations, follow other Independent readers and see their replies