Despite claims that anti-Semitism is on the rise in the UK, it's Israel's critics who need protection
Those who dare speak out against the massacre in Gaza face real danger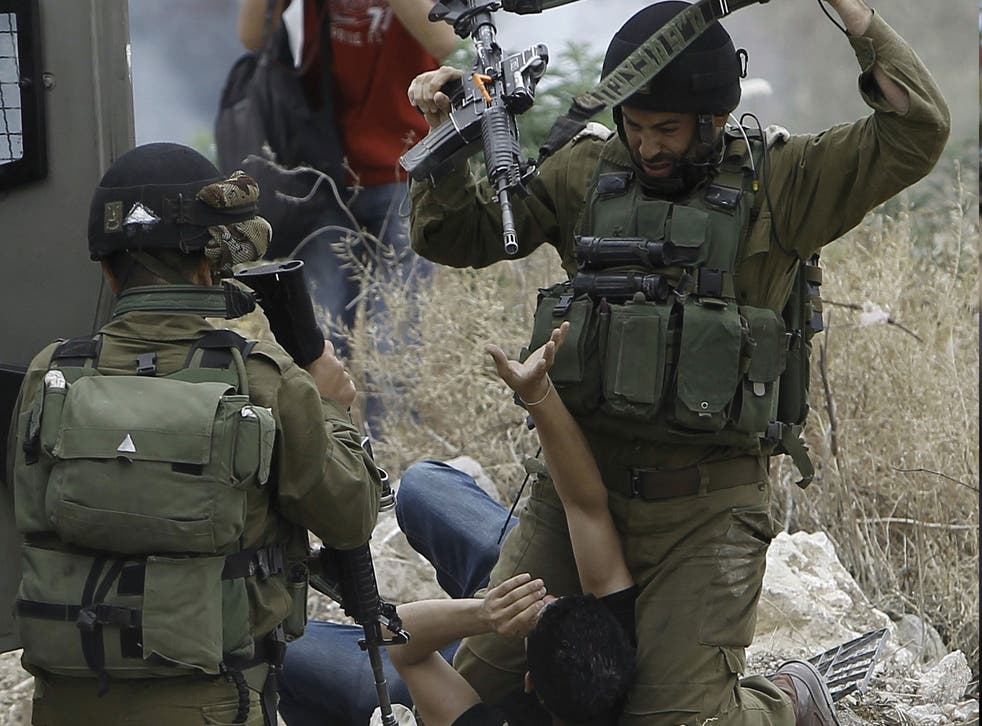 The horrors of Gaza continue to unfold after the guns fall silent, with thousands of displaced victims scoured the ruins of their bombed homes for whatever meagre salvage they can find, wondering what tomorrow may bring.
Around the world, Jewish communities are now trying to regain the sympathy they forfeited by blindly supporting the devastating Israeli offensive. The traditional way of doing this is to announce a rise in anti-Semitism and whipping up fears of "another holocaust".
The latest harbinger of "holocaust" was the decision by the Tricycle Theatre in North London not to host this year's Jewish Film Festival unless the festival gave up funding from the Israeli Embassy. The theatre cited its principle of political impartially and offered to replace the lost fund, but the festival refused. There followed a media storm claiming – you guessed it – "outrageous anti-Semitism".
The reality is that those who really need bodyguards do not live in London, Manchester or Leeds. They are my brave Israeli friends and colleagues who have attempted to do nothing more than protest peacefully against the Gaza massacres.
Gideon Levy has been reporting on the plight of Palestinians, mainly on the occupied West Bank, for decades. He writes a weekly column in the respected Haaretz newspaper entitled "The Twilight Zone", in which he describes life as second-class citizens – or worse - under the hostile and often brutal Israeli occupation.
Week after week he has been telling the real stories of real people living within a few miles of Israel's legal borders and subject to regular victimisation by illegal settlers who are invariably protected by the army and the civil authorities alike.
Levy 61, was never popular – in Israel the truth seldom is. But it was only last week, when we appeared together on the BBC programme World Have Your Say, that I learned that the paper had assigned him a bodyguard.
It followed an incident in Ashkelon, a seaside town north of Gaza, at which some Hamas rockets had been targeted. Although there were neither casualties nor significant damage to property, Levy, who was looking to interview the locals, was set upon by them. As they assaulted him, they cried "Leftie", "traitor" and "Arab whore".
In pictures: The children of Gaza

Show all 30
Earlier this week, Israel's Coalition Chairman Yariv Levin demanded that Levy be put on trial for spreading lies "in the service of the enemy". The Likud member added: "Gideon Levy is the lowest kind of provocateur. When someone who lives among you turns himself into an enemy mouthpiece, while spreading lies, out of the hope that this will undermine your ability to wage war – this is called, in simple Hebrew, 'treason'."
Levy's "crime" is an article in which he accused Israeli pilots of killing innocents, something which is generally accepted as simple fact, regardless of the excuses presented by official spokesmen. He will, of course, never stand trial – but Yair Levin's type of hot-headed incitement has already claimed one noted victim.
On the evening of 4 November 1995 the Israeli Prime Minister, Yitchak Rabin, generally seen as the country's last hope for peace with its neighbours, was assassinated by a religious/nationalist zealot. Over the preceding weeks and months the Likud Party leader had enthusiastically addressed rallies at which posters portrayed Rabin in a Nazi SS uniform or being the target in the cross-hairs of a sniper.
That Likud leader, who strenuously denied he was inciting violence and shrugged of any connection to the assassination, was one Benjamin Netanyahu. So when Netanyahu's coalition chairman put a target on Gideon Levy's back, it was time to get him a bodyguard.
Similarly, members of B'Tselem (Hebrew for "in the image of [God]"), are also in need of close personal protection. The NGO was founded in February 1989 by a group of prominent Israeli lawyers, academics, journalists, and members of the Knesset. Its stated goals are to document human rights violations in the occupied territories, combat denial and help to create a human rights culture in Israel.
B'Tselem has come under serious fire since 2011, when Foreign Minister Avigdor Lieberman charged the group with abetting terrorism and weakening Israel's defense forces. This is virtually a licence to kill, and B'Tselem are regularly set upon by thugs chanting "Death to the Arabs – Death to the Lefties". Bodyguards are especially needed as, in physical confrontations like the Gaza protests of recent weeks, the police tend to side with the bullies, not the victims.
Meanwhile, in London, fear about a so-called rise in anti-Semitism is being fuelled by the Jewish Community Security Trust. The CST are the people who raise millions to pay for armed guards to protect schools, synagogues and other Jewish institutions from, er, anti-Semitic attacks. They say 304 incidents have been recorded since the start of the year. Apparently, the Metropolitan Police have been informed, but 232 of these "attacks" have consisted of "abusive behaviour" (such as verbal abuse or graffiti), which may hurt feelings, but doesn't take lives.
The CST has warned that the situation "could deteriorate significantly." But the bottom line, in my opinion, is that there is no more anti-Semitism in Britain now than there has ever been – and there has not been much for the past 50 years - unless you make it your business to seek it out, dig it up, and plaster it all over the place.
The CST will shout and scream, but I have been living in this country – among gentiles, god forbid – for over 40 years, and never encountered anti-Semitism nor had first-hand reports of it from Jewish friends and family.
We are fortunate enough to live in a very open-minded and, dare I say it, open-hearted country which understands that racism, sexism, and all those other isms are unacceptable in polite society.
Real anti-Semitism still does exist in places like Hungary and to a small extent France. We do not need to import it into this mainly green and pleasant land.
Register for free to continue reading
Registration is a free and easy way to support our truly independent journalism
By registering, you will also enjoy limited access to Premium articles, exclusive newsletters, commenting, and virtual events with our leading journalists
Already have an account? sign in
Register for free to continue reading
Registration is a free and easy way to support our truly independent journalism
By registering, you will also enjoy limited access to Premium articles, exclusive newsletters, commenting, and virtual events with our leading journalists
Already have an account? sign in