Do female chefs have to be thin and pretty? Not where I'm looking
Rachel Khoo has singled out Channel 4 for criticism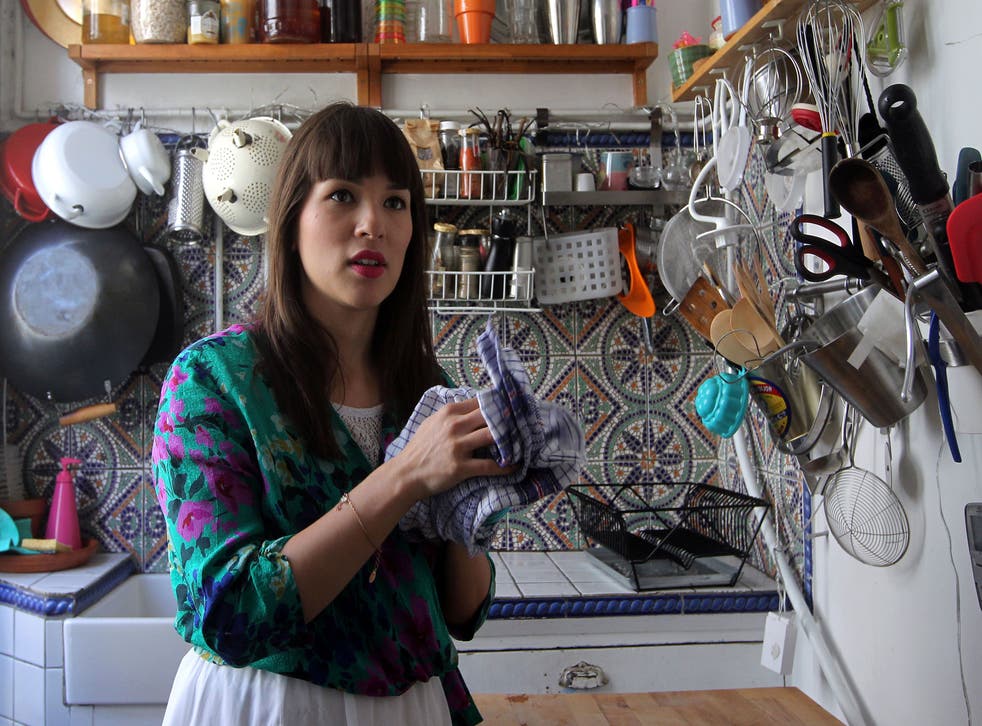 There's an Instagram account called youdidnoteatthat which, it says in its biog, "speaks the truth in this mixed-up world of too many macarons and ice cream cones used as props". It's an anonymous aggregator of images from other people's accounts in which women pose with food. But they don't look like they actually eat the sugary, stodgy treats - hence the name.
You might argue that it's as invasive and cruel as laughing at overweight women. Who knows whether "aprilovee" really did eat those nachos. Maybe "sarahstage" didn't throw those doughnuts in the nearest bin but actually tucked in. The account has caused something of a furore in the US, with as many people saying "about time" as saying "stop skinny-shaming".
I think it's funny and shallow, but maybe that's just me. I was reminded of it yesterday morning when I saw the television chef Rachel Khoo in the Radio Times complaining that only pretty female chefs get on television. This is the same Rachel Khoo who is never seen putting any food in her mouth ("I hate eating food on camera – I always cringe"), and who is photographed with smokey eyes and poker-straight blow-dry, stirring a suspiciously clean saucepan, from a distance.
Oh, Rachel. Saying "I know I look a certain way and that's partly why I'm on TV – if I were really ugly and fat, I don't think I'd have had the same chance" is not – unlike your berry and almond tart – guaranteed to win you friends. Ugly is more a personality trait than a physical attribute these days.
Khoo singles out Channel 4 for particular criticism in its lack of female chefs, but Channel 4's current promo slot, titled "Born Risky", shows just how inclusive and perception-challenging it is.
And as for fat, I have two problems with that. First, one person's fat is another person's normal. Unless we're talking morbidly obese. People who work hard at being slim love to weigh their peers with their eyes and deliver such zingers as "Don't you look well" ("Well" being a euphemism for chubby).
Second, I would no more trust a skinny chef than a dentist with yellow teeth. Yes, if you work in a professional kitchen it is gruelling, and many chefs have exercise habits to match their furiously-driven personalities (I'm thinking here of cycling nut Simon Rogan, gym-addict Sat Bains, and a bunch who are cycling across Rajasthan this summer in aid of the Action Against Hunger charity), but they don't hold back when it comes to enjoying food.
After the World's 50 Best restaurant awards last month, many top chefs and the team from the number one place, Noma, went to infamous joint MeatLiquor till the early hours, gorging on Dead Hippie burgers and fries.
So I think what we're talking about here is the difference between a chef/cook and a presenter of a food programme. There may not be as many female chefs on TV, as Rachel says, but that's because there aren't as many female chefs full stop. But it's changing, and I'll bet the commissioning editors of every channel are wooing Florence Knight, major rising star; Angela Hartnett and Clare Smyth already add their gravitas to Great British Menu and MasterChef, of course.
Chefs can look any damn way they please because they are selling their skill, pure and simple. Everything about Tom Kerridge or Angela Hartnett says I love the preparation and eating of food. There has never been, and might never be, as brilliant a cookery programme as that hosted by Simon Hopkinson (author, incidentally, of the book voted most useful cookbook of all time: it's called Roast Chicken and other Stories). His calm, clear instruction and obvious love of food done properly sang out. And he's not given to coy glances to camera with a dessert spoon.
I hesitate to mention the marvellous "Two Fat Ladies" because it was a rubbish name, like the "Hairy Bikers", but on both counts, enthusiasm and technique win over glamour and a groovy wardrobe.
Incidentally, it's Twitter Restaurant Week, and today is the day to proudly upload photographs of you actually eating your lunch or dinner, using the hashtag #restaurantselfies (shame they didn't call it #youDIDeatthat). Rachel Khoo would not like it, but I do.
I'll tolerate your food intolerance
And while on the subject of food, we hear that a spike in food intolerances has driven a 50 per cent rise in "free from" ranges in the last two years. Or is that a spike in our perceived food intolerances? We've all met the faddy eater who claims to not be able to eat wheat/dairy/meat/sugar, but for whom it's actually a diet choice rather than a medical one. Twenty per cent of us believe we have a food allergy or intolerance, when health research puts the figure closer to two per cent. (I'm not being snippy about genuine allergies here; my mother has Coeliac disease and it is a horrible, debilitating condition. Ditto a colleague with a peanut allergy.)
I suppose one should applaud the supermarkets and food manufacturers for seeing an opportunity, and pricing accordingly for almond milk and gluten-free bread; those with medical needs can get such items on prescription. But what to make of Tesco - the supermarket that labels its mineral water "may contain nuts" - introducing nutless peanut butter? Rather like meat-substitute sausages and the like, it sounds like the devil's work. Give 'em jam.
Don't judge a hurricane by its cover
If, as Eleanor Roosevelt said, "A woman is like a teabag – you don't know her strength until she's in hot water", some might suggest updating it to, "A woman is like a hurricane, underestimate her strength at your peril."
Yes, you see, it turns out that hurricanes with female names (following the one masculine, one feminine convention dreamt up by some dummy) cost more lives. Not because they're more deadly, but the "softer" names lull those in its path into not taking enough precautions.
A US study by the National Academy of Sciences of hurricanes from 1950-2012 rattles off plenty of supporting data but you could fit a flying barn through the holes in it (in case you were wondering, Katrina "didn't count", being too extreme).
Frankly, if I heard a major, life-threatening storm was coming I'd put more trust in the meteorological information than the name. It could be called Hurricane Fuzzypeg and I'd still pack the car and get the hell out of Dodge.
Join our new commenting forum
Join thought-provoking conversations, follow other Independent readers and see their replies