Do we really want pop stars from public school?
Music has been affected by a political conspiracy that assumes that the creative arts are just for the rich or the posh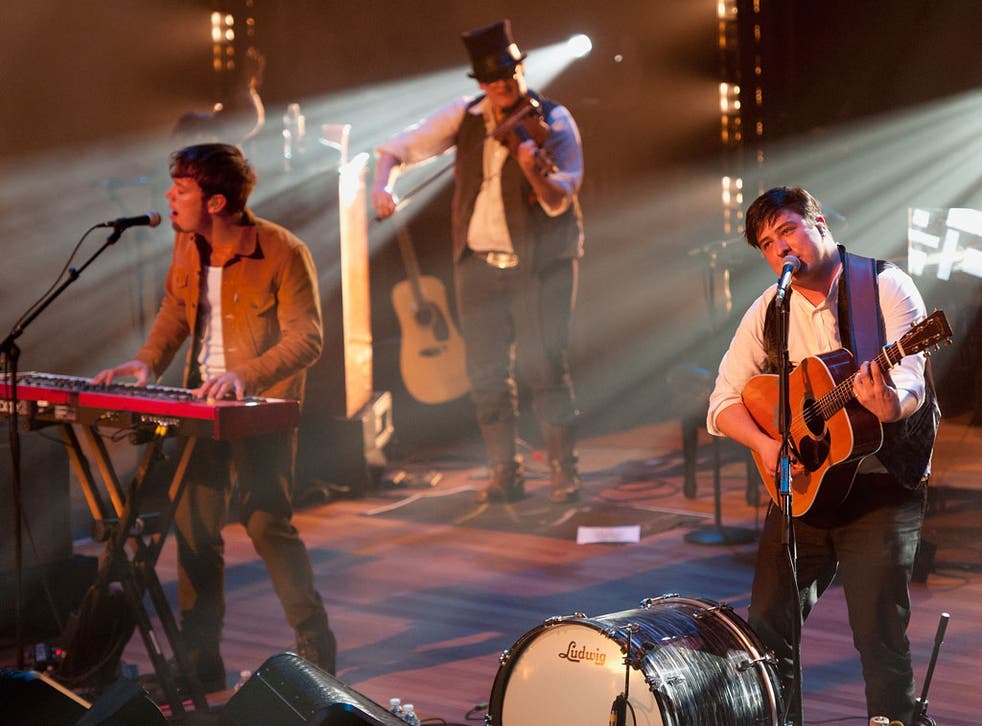 This week, the singer Sandie Shaw was giving evidence to the Culture Select Committee of the House of Commons.
She was a star almost half a century ago, and has seen how things have changed in her industry in that time. She told the committee: "Finance is the biggest barrier for emerging artists... At the moment, unless you're Mumford & Sons and come from a public school and have a rich family that can support you, you're on the dole and you're trying to work, and by the time you get a sniff of a record contract you just grab anything that they might offer you."
Is this really true? Can it be said that most pop artists, these days, come from public school backgrounds? A survey in 2010 claimed that 60 per cent of chart pop acts were privately educated. To Mumford & Sons one might add Chris Martin of Coldplay, Lily Allen, Florence Welch, Pixie Lott, Will Young, La Roux… It's all a very long way from the rebellious youth who made rock'n'roll in the first place. Meanwhile, people from ordinary backgrounds are reduced to making their way through exactly the kind of talent competition that was open to Sandie Shaw in 1962.
"So many artists are disadvantaged," Shaw said. "They cannot start because of their background and the best music comes from those in challenging backgrounds. It comes from Glasgow, Manchester, Essex. It comes from places and people that are really struggling to make some meaning out of their existence." The trouble is, she implied, that none of this is able to get a hearing, and British music is reduced to stuff like Mumford & Sons and Coldplay, which indeed sounds like solicitors' children doodling on their Christmas presents.
Music has been affected by a political conspiracy that assumes that the creative arts are just for the rich or the posh. I think both political parties bear some responsibility for this one. But it isn't just the musical profession that bears the consequences. A 2009 report by the Sutton Trust found that most positions in society had grown more accessible to the state educated over time – FTSE chairmen, lawyers – or, as in the case of medics, the situation had not changed. In the case of top journalists, however, the proportion of those educated privately had actually increased over 20 years. Shockingly, only 14 per cent of journalists on national newspapers were, the Sutton Trust found, educated at comprehensive schools – of which I have the honour to be one.
The situation in music is, obviously, regrettable but perhaps not all that significant. The decline in state-educated journalists really matters. There is a certain sort of public school-educated commentator whose views on society are comically remote from what working people experience – largely, I have to say, those journalists on the left-wing side of the argument. And does it go beyond journalism? It would be interesting to know what proportion of successful writers now went to public school. One always feels one knows when a novelist never sets foot on public transport: the plausibility of their dialogue suffers. And if a writer, from birth, is cosseted in secure, expensive learning experiences and isolated from ordinary people by money, what breadth of experience will he have to offer a reader?
Really, I suppose, this undeniable tendency of beginners in the arts – not just music and literature, but in drama as well – to come from wealthy backgrounds is a result of the increasing professionalisation of the business. You need to train, and master the business, and amass useful contacts, and get a diploma, and present yourself well to reach even the first point on the ladder. All rather middle-class skills. For the moment, those professional demands are letting a glorious talent like Adele through, as well as those boring Mumford boys. In the future, we'll have to dance to solicitors' sons' music, read their boring novels about holidays in Venice, read the boring newspaper columns of the daughters of accountants. Some of them will be OK, but this is the trouble: there'll be no choice.
Farewell, Uncle Monty; we won't see his like again
Richard Griffiths, who died yesterday, was a marvellous actor, both live and on screen, who had the undeniable quality of elevating roles into an iconic status. It's perfectly possible to imagine any of the boys in Alan Bennett's The History Boys being played by other actors. Even the actresses who followed the wonderful Frances de la Tour would have made their mark in a few minutes. But I doubt any audience that had seen the film would ever be able to erase Griffiths from the mind's eye; he just was Hector, permanently, inhabiting and creating the role in exactly the way Marilyn Monroe or Cary Grant did. What is there to do for anyone who follows? Impersonate.
There is no finer moment in Griffiths' career than Uncle Monty, in Withnail and I. Scabrously politically incorrect though the film now is, I don't think anyone is going to object seriously to the spectacle of Uncle Monty regretting that he will never play the Dane, or athletically trembling on the verge of getting lucky with the film's narrator. It is really one of the great joyous spectacles of British film. He was one of a kind, and you know that casting directors reached for his name with relief and pleasure, and not just because of his arresting personal appearance. I have no idea who will take his place in those important roles; perhaps, like Celeste Holm or Marlon Brando, no one ever will, quite.
Twitter: @PhilipHensher
Join our new commenting forum
Join thought-provoking conversations, follow other Independent readers and see their replies